What did the Dow do today, June 18, 2015? Get all your stock market closing numbers and important news here…
What Did the Dow, S&P 500, Nasdaq Do Today?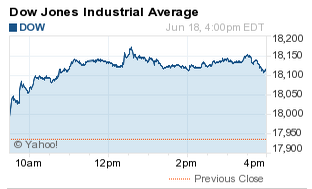 Dow: 18,115.78; +180.04; +1.00%
S&P 500: 2,121.22; +20.78; +0.99%  
Nasdaq: 5,132.95; +68.07; +1.34%
The DJIA today gained 180 points and the Nasdaq hit a 15-year high as traders showed some optimism over Greece and cheered news that the U.S. Federal Reserve will wait until later this year to raise interest rates.
Tech giant Microsoft Corp. (Nasdaq: MSFT) offered the biggest boost to the Nasdaq and the S&P 500, rising 1.6% on the day. The Dow's best performer today was 3M (NYSE: MMM), which added 1.6% on the day.
The S&P 500 Volatility Index (VIX), the market's fear gauge, slumped more than 8%.
What You Need to Know
What Moved the Dow Today: All 30 Dow components rose Thursday as investors were optimistic on news that the Federal Reserve will delay raising rates until later this year. News of potential economic reform in Greece also added a boost to confidence. Greek Finance Minister Yanis Varoufakis pitched a handful of new reform proposals to creditors this afternoon in a meeting in Luxembourg.
What Oil Did Today: WTI oil pricesslipped 0.1% after the Energy Information Administration reported that gasoline inventories and crude stockpiles increased at Oklahoma delivery hubs. Meanwhile, Brent oil gained 0.3% to hit $63.87 per barrel.
Stocks to Watch: FIT, HOG, UBS, RAD, WBA, CVS, ORCL
Stay informed on what's going on in the markets by following us on Twitter @moneymorning.
Now Today's Top Story for Investors: Learn How to Put an Extra $125,000 in Your Pocket