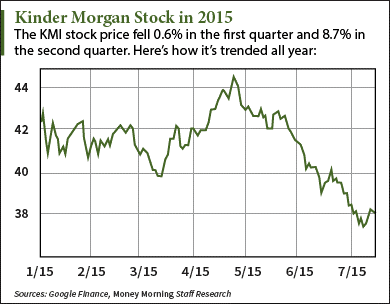 Energy giant Kinder Morgan Inc. (NYSE: KMI) reports its second-quarter earnings after the closing bell today (Wednesday).
The report takes on added importance because the Kinder Morgan (NYSE: KMI) stock price has fallen 10.1% in 2015.
The Kinder Morgan (NYSE: KMI) stock price tumbled 8.7% in the second quarter alone, marking the stock's largest quarterly drop since falling 16.6% in Q2 2012.
Kinder Morgan is the largest energy infrastructure company in North America. It operates more than 80,000 miles of pipeline and 180 terminals for the transportation and storage of oil and natural gas.
The company made headlines last November when it decided to roll three Kinder Morgan assets together. CEO Richard Kinder consolidated Kinder Morgan Energy Partners LP, Kinder Morgan Management LLC, and El Paso Pipeline Partners LP in a $76 billion deal. The transaction made the company the third-largest energy company in North America.
But KMI's consolidation couldn't insulate its stock as oil prices fell 23.3% from the deal's announcement to the end of the year.
Kinder Morgan's downturn this year is hardly a surprise as most oil companies fight to stay profitable amid low oil prices. Many Big Oil firms' Q1 earnings were their worst in years. For example, Exxon Mobil Corp. (NYSE: XOM) posted $4.9 billion in earnings. That's a 46.2% decline from Q1 2014, making it the company's worst earnings in more than five years.
But the Kinder Morgan (NYSE: KMI) stock price is performing better than some of these supermajors. Although KMI is down 10.1% this year, Royal Dutch Shell Plc. (NYSE ADR: RDS.A) and Chevron Corp. (NYSE: CVX) have dropped 13.9% and 14.8%, respectively, over the same period.
But does that make KMI stock a buy now?
As the KMI Stock Price Falls, Here's Your Investing Strategy
Despite the firm's slight edge over other large energy firms, Kinder Morgan is not a buy right now. Even if the KMI stock price surges after the earnings release today, it will only be a temporary inflation.
According to Money Morning Chief Investment Strategist Keith Fitz-Gerald, there are two better oil stocks to invest in right now. That's because both companies operate in the midstream sector, meaning they gather and store oil rather than produce it.
You see, midstream companies are like toll booths in that they remain profitable as long as oil is produced. The nature of their services insulates them from volatile energy prices.
One of the stocks has skyrocketed 36.2% since Fitz-Gerald first recommended it on Jan. 7. Here's a breakdown of both companies and their strong long-term growth potential...
Follow me on Twitter: @AlexMcGuire92