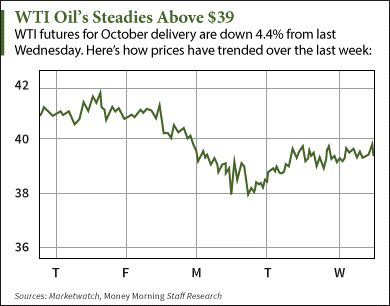 WTI crude oil prices edged lower today (Wednesday) even after a supply report from the U.S. Energy Information Administration (EIA) showed a slight decline in oil stockpiles.
At 10:30 a.m., WTI crude oil prices fell 0.53% to trade at $39.10 a barrel. The U.S. benchmark has been extremely volatile this week as global stock markets crashed and oil demand continued to slow in China. The WTI crude oil price is down 3.3% so far this week.
Brent crude oil prices saw slight gains after the EIA report. The international benchmark traded up 0.25% to $43.32 a barrel. Futures are down 4.7% since last Friday.
Today's decline in WTI crude oil prices came after the EIA stated that U.S. oil supply fell 5.5 million barrels last week. At 451 million barrels, inventories are near an 80-year high. Decreased supplies typically send prices higher, but this week's stock market volatility is having a bigger impact on WTI crude oil prices.
But Money Morning Global Energy Strategist Dr. Kent Moors says crude oil prices will rebound by the end of the year. That's because the low-price environment is ushering in a wave of M&A activity that will strengthen the market and drive up prices.
In fact, the largest oilfield services company in the world just made one of the biggest energy acquisitions of the year.
Schlumberger Ltd. (NYSE: SLB) announced this morning that it will buy oil maintenance firm Cameron International Corp. (NYSE: CAM) for $12.74 billion in cash and stock. The deal values Cameron at $66.36, a 56% premium to yesterday's closing price. It marks the second-largest oilfield services merger in the last year behind Halliburton Co.'s (NYSE: HAL) $34.6 billion buyout of Baker Hughes Inc. (NYSE: BHI).
Consolidation is expected to continue throughout the year, making the energy sector much leaner by the end of 2015.
"We will see a restructuring of assets throughout the upstream (production) to midstream (transport and soon export) to downstream (refining and distribution) process," Moors explained. "All of these will hand us some very nice investment opportunities down the road."
Alex McGuire is an associate editor for Money Morning who writes about commodity prices. Follow him on Twitter at @AlexMcGuire92 for the biggest commodity updates.
You'll never guess where the United States gets its oil from… A new poll shows that three out of four Americans think the U.S. imports most of its crude from Iraq and Saudi Arabia. This chart shows how they couldn't be more wrong…