The energy market is entering a very competitive and profitable environment. Oil and gas stocks will gain momentum this year as mergers and acquisitions (M&A) pick up and energy prices rebound.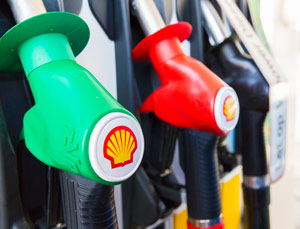 Today's low-oil-price environment is perfect for M&A. Just yesterday, the largest energy merger in more than a decade happened between Royal Dutch Shell Plc. (NYSE ADR: RDS.A) and BG Group Plc. (OTCMKTS ADR: BRGYY).
"The Shell-BG [transaction] will be a huge deal, dwarfing anything else out there," explained Money Morning Global Energy Strategist Dr. Kent Moors. "This is also the first clear megamerger option crossing the oil-gas division. We will see more of these as the new energy balance among a widening number of energy sources kicks in."
Now more small oil and gas stocks are about to be seized by bigger ones. The process will result in a new group of heavyweight companies that will lead the market into the "new energy age."
"The most likely targets of M&A activity will be energy companies with attractive land leases, pipelines, or other assets, high levels of debt, and declining cash flows," Moors said. "These types of companies could hand their shareholders a quick profit in 2015 if they get targeted."
M&A has revived the oil and gas sector before. In fact, it has created many of the consolidated behemoths ruling the energy market today...
The History of M&A Among Oil and Gas Stocks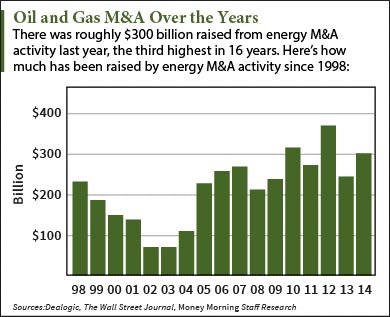 M&A activity is a typical response to bottoming oil prices.
In 1998, crude oil traded near lows of $19 a barrel. Prices had been collapsing due to a financial crisis in Asia that almost caused a global recession.
The energy market reacted with a string of deals that transformed the industry over the next five years. These megamergers represented the birth of Big Oil, especially in 1998 and 1999.
BP plc. (NYSE ADR: BP) bought Amoco Corp. in August 1998. The $64.3 billion deal was the biggest oil merger ever at the time. BP also went on to buy Atlantic Richfield Company (ARCO) the following April for $27 billion.
Shortly after the BP-Amoco deal, Exxon snagged Mobil for $85.6 billion. The merger created Exxon Mobil Corp. (NYSE: XOM), which has been the largest U.S. oil company in the world ever since.
The early 2000s saw more huge transactions. Chevron Corp. (NYSE: CVX) bought out Texaco in a $45.8 billion deal in 2001. Conoco's $23.49 billion merger with Phillips created ConocoPhillips (NYSE: COP) the following year.
With oil prices down nearly 50% since last July, the cycle has already started up again. The last quarter of 2014 saw many high-profile oil mergers reminiscent of the late 1990s and early 2000s.
Halliburton Co. (NYSE: HAL), the second-largest oil services firm in the world, acquired number three, Baker Hughes Inc. (NYSE: BHI), for $34.6 billion last November. The newly combined company gives it the edge to compete with the oil services leader Schlumberger Ltd. (NYSE: SLB).
Master limited partnerships (MLPs) have also had their share of deals. Kinder Morgan Inc. (NYSE: KMI) consolidated its MLP interests in a $73 billion deal in August 2014. They included Kinder Morgan Energy Partners LP, Kinder Morgan Management LLC, and El Paso Pipeline Partners LP.
With M&A activity expected to maintain momentum, there are two oil and gas stocks to watch after their deals close this year...
Two Oil and Gas Stocks Set to Surge from M&A in 2015
If there's one thing to take away from M&A this year, it's that Royal Dutch Shell stock has huge growth potential.
[epom key="ddec3ef33420ef7c9964a4695c349764" redirect="" sourceid="" imported="false"]
Shell's $70 billion buyout of BG Group will create the world's largest independent producer of liquefied natural gas (LNG). The deal allows the two European energy giants to eliminate overlapping production and become insulated from low oil and gas prices.
The companies are already looking into new growth prospects. Shell hopes to use BG's assets to break into the deep water and integrated gas businesses. These assets include oil and gas fields around Brazil, East Africa, and Australia.
According to Shell CEO Ben van Beurden, deep water and integrated gas operations could generate $30 to $40 billion of cash flow a year.
"LNG is a very important component of this," Beurden told The Wall Street Journal. "The whole idea is that we turn the company on the back of this deal into a much more focused company, very, very strong in gas and very, very strong in deep water."
The second stock with huge growth potential is Energy Transfer Partners LP (NYSE: ETP).
ETP acquired Regency Energy Partners LP (NYSE: RGP) in January for $18 billion - making it the largest MLP merger so far this year. Once the deal closes, ETP's new $32 billion market cap will make it the second largest MLP on the market behind Enterprise Product Partners LP (NYSE: EPD).
The merger provides a range of strategic advantages for ETP's oil and gas production. With Regency's assets, ETP will have a presence in the Permian Basin, Eagle Ford Shale, and Marcellus Shale.
The Bottom Line: M&A activity usually saves oil and gas stocks from low energy prices - and it's coming to the rescue again. Investors will find no shortage of profitable opportunities as large companies move to acquire smaller ones throughout the year.
More on Energy Prices: There is a natural source of energy that, pound for pound, contains three times the long-term power of natural gas. And its only emission? Plain water. The problem surrounding this alternative source has always been one issue: storage. But now a company on the rise has found a solution. Here's more on this renewable energy breakthrough...
Follow me on Twitter: @AlexMcGuire92
Related Articles: