Everyone – from the suits on Wall Street and the pundits on television to individual retail investors – is talking about the U.S. Federal Reserve raising interest rates for the first time since 2006 – and what's going to happen to stocks, bonds, and commodities here in the United States.
There's a lot of noise out there, and it's difficult to separate the valuable, useful information from the nonsense.
Today, I'm going to tell you exactly what's going to happen with the Fed rate hike and what it's going to do to stocks, bonds, and commodities.
But there's a hidden impact to the Fed's impending interest rate hike that people aren't talking about. I'll tell you about that, too.
And, of course, I'll show you what you can do to protect yourself – and make money from what everyone else is so afraid of.
Here's what's happening…
The New "Normalization"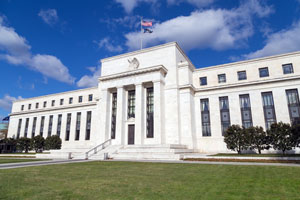 First of all, the Fed isn't going to raise rates by very much or for very long when they eventually lead us back to "normalization."
What does the Fed mean when it talks about normalization? They mean raising interest rates to where they might naturally be if we actually had a free market.
But we don't have a free market – not here in the United States and not globally.
That's because central banks have almost completely hijacked the free-functioning market that determines interest rate levels.
Left on their own, interest rates move up and down based on the supply and demand for money, credit, and loans.
It's that simple.
With a limited amount of money in a financial system and a high demand for money, lenders will charge borrowers more because they can, so interest rates will rise.
If there's not much demand for money, lenders will lower the interest they charge borrowers to entice them to borrow – otherwise they don't earn anything.
During the financial crisis and the subsequent Great Recession, the Fed pushed down interest rates to stimulate borrowing and consumption. But there still wasn't demand.
Then, under the guise of lowering rates more (which is hard to do when they're at zero) to stimulate the economy, the Fed began quantitative easing, buying bonds from banks to flush them with cash.
But here's the rub…
There still wasn't demand for money throughout the economy. However, well-off individuals, institutions, and corporations could borrow as much money as they wanted at rock-bottom rates, and they did.
But because the economy wasn't growing and there was no need for capital expenditures on plant and equipment, or any desire to start or expand businesses, massive amounts of cash got parked in financial assets like stocks and bonds.
Hence the country's great stock and bond market rallies in the face of stagnant economic growth.
Now the Fed's talking about normalizing rates.
But they can't normalize rates for several reasons…
Why a Fed Rate Hike Won't Fix This Mess
Join the conversation. Click here to jump to comments…
About the Author
Shah Gilani boasts a financial pedigree unlike any other. He ran his first hedge fund in 1982 from his seat on the floor of the Chicago Board of Options Exchange. When options on the Standard & Poor's 100 began trading on March 11, 1983, Shah worked in "the pit" as a market maker.
The work he did laid the foundation for what would later become the VIX - to this day one of the most widely used indicators worldwide. After leaving Chicago to run the futures and options division of the British banking giant Lloyd's TSB, Shah moved up to Roosevelt & Cross Inc., an old-line New York boutique firm. There he originated and ran a packaged fixed-income trading desk, and established that company's "listed" and OTC trading desks.
Shah founded a second hedge fund in 1999, which he ran until 2003.
Shah's vast network of contacts includes the biggest players on Wall Street and in international finance. These contacts give him the real story - when others only get what the investment banks want them to see.
Today, as editor of Hyperdrive Portfolio, Shah presents his legion of subscribers with massive profit opportunities that result from paradigm shifts in the way we work, play, and live.
Shah is a frequent guest on CNBC, Forbes, and MarketWatch, and you can catch him every week on Fox Business's Varney & Co.