The Panama Papers controversy just got a whole lot messier…
Allegations have surfaced that Hungarian-born mega-billionaire George Soros funded the massive leak implicating several global high-profile figures. Among those named are Argentinian President Mauricio Macri, Iceland's Prime Minister Sigmundur David Gunnlaugsson (who has since resigned), UK Prime Minister David Cameron, China's President Xi Jinping and, most notably, Russian President Vladimir Putin.
Mainstream media has particularly latched onto Putin's association, which is indirect. The papers named Putin's longtime friend, the cellist Sergei Roldugin, as the owner of two offshore firms involved in a number of suspicious deals. For example, one of Roldugin's companies received a loan of $6 million in 2007, which was written off three months later for just $1, reported the BBC yesterday.
This focus on Vladimir Putin was no accident, however.
We think it's exactly what George Soros wanted.
All because the Russian president wouldn't allow the liberal mega-donor to set up shop in Kremlin country.
Here's how the suspicious Soros link to the Panama Papers scandal surfaced…
George Soros: The "Parent" to a Hundred Journalists
Soros' beef with Putin runs deep.
Organizations belonging to Soros have been deemed "undesirable" in Russia. Last year, the Russian Prosecutor General's Office officially proclaimed Soros' Open Society Foundations and the Open Society Institute Assistance Foundation as "undesirable groups." Russian citizens and organizations were henceforth forbidden to participate in any of their projects.
On Feb. 10 of this year, Soros wrote an op-ed for Project Syndicate alleging that that Putin is "no ally" to U.S. and EU leaders. The billionaire claimed Putin's sole intent as Russia's president was "to gain considerable economic benefits from dividing Europe."
With that in mind, take a look at how the Panama Papers were leaked — and manipulated by Soros-funded media…
The leak was made public by the International Consortium of Investigative Journalists (ICIJ) and its partner organizations Sunday night. The 2.6-terabytes worth of information exposed how Panama-based law firm Mossack Fonseca created and managed shell companies to help hide the money of various political figures and their associates worldwide.
German newspaper Suddeutsche Zeitung first broke the story, followed by The Guardian with an article entitled "Revealed: The $2bn Offshore Trail That Leads to Vladimir Putin."
As more headlines about the Panama Papers surfaced, primarily across Europe, media industry watchers noted two disturbing anomalies…
There seemed to be a specific focus on Vladimir Putin.
Prominent U.S. news outlets such as The New York Times, The Washington Post, or The Wall Street Journal were not reporting on the leak.
Though ICIJ hasn't commented on why certain outlets were left out of the story, some have theorized that Western – largely American – media entities were dropped because of who funds the consortium: Mr. Soros.
The investor is a major contributor to ICIJ, as is the Ford Foundation and the Carnegie Endowment.
One particular blogger, Craig Murray, a former British ambassador to Uzbekistan, had a lot to say about the Panama Papers' leak being intentionally streamlined.
"Do not expect a genuine expose of western capitalism," he wrote on Sunday. "The dirty secrets of western corporations will remain unpublished."
Which makes sense: Soros wouldn't want the spotlight turned back onto high-profile Americans like himself, after all. Better to focus global attention across the pond using their own media outlets.
And Soros, as one of the chief financiers, would have the power of sway to direct which companies and countries get the most global attention.
"Expect hits at Russia, Iran, and Syria and some tiny 'balancing' western country like Iceland," Murray wrote. "A superannuated UK peer or two will be sacrificed – someone already with dementia."
(Check, check, and check.)
Murray went on to explain how the corporate media – The Guardian and BBC in the UK, for example – have exclusive access to the Mossack Fonseca database, but that they are "protecting themselves" from even seeing western corporations' sensitive information by only looking at documents which are brought up by specific searches. (Read: The reporters are being directed as to how they go about with their "investigations." We can only guess who's doing the directing.)
"What if [the journalists] did Mossack Fonseca searches on every listed company in the western stock exchanges, and on every western millionaire they could trace?" Murray surmised. "That would be much more interesting."
Well, then George Soros might have to extract a bullet from his own foot.
If he is the true financier of the data dump, that is…
WikiLeaks also seems to think this is the case. The international whistleblowing group further fueled suspicion that Soros — and the U.S. government — were behind the massive leak on Twitter yesterday: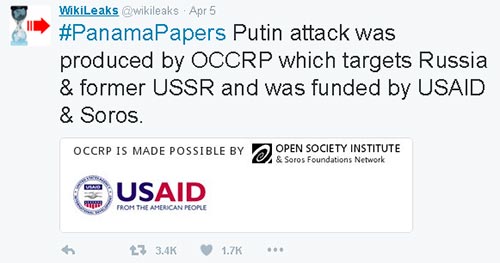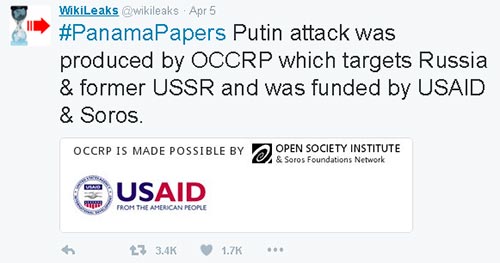 The group accused the U.S. Agency for International Development (USAID) of collaborating with financier George Soros for funding the "Putin attack," saying that doing so was a "serious blow to [USAID's] integrity." ("OCCRP" stands for the "Organized Crime and Corruption Reporting Project" – a group that indeed targets Russia and the former USSR, according to a report posted on RT.com yesterday.) The group's tweets continued:


On Monday, the head of the ICIJ Gerard Ryle said that Putin was not the target of the leak; rather, the consortium's focus was to shed light on murky offshore practices on a global scale.
Regardless of Ryle's statement, mainstream media's focus on Putin is undeniable.
"Many outlets chose the Russian president's photo to illustrate the revelations when leading with the story," RT.com reported on Monday. For instance, the British media turned a blind eye to Prime Minister David Cameron's father, who was implicated in the Panama Papers. They chose to instead focus on Putin. In fact, 76% of British media outlets mentioned Putin by name in their stories, while only 24% noted Cameron's family's role in the massive tax evasion leak.
This reporting aberration could be George Soros's doing. He partially funded the ICIJ's investigation, and so he certainly should have a say in how it's reported.
How much truth do you suspect lies in George Soros' connection to the Panama Papers? Tell us on Twitter @moneymorning, or like us on Facebook.
Trump/Soros 4-Ever: We all know of George Soros' distaste for fellow billionaire Donald Trump. In a December 2015 Guardian op-ed, he urged voters to disavow the GOP front-runner. And in a January 2016 interview with Bloomberg, the liberal mega-donor likened Trump's message to ISIS'. But there's a twist to this tale. You see, there is a Trump-Soros connection from the past that Soros isn't mentioning…
Related Articles: