The Chinese government is not happy about U.S. President Barack Obama's decision to lift a decades-long arms trade embargo with Vietnam.
On Monday, the POTUS announced his decision, further ratcheting up tensions between China and the States over the territorial conflict in the South China Sea.
President Barack Obama lifts arms embargo on Vietnam, Reuters, May 23, 2016.
While Beijing claims it welcomes Vietnam's pursuit of normal and friendly relations with any country, there's a catch:
"So long as [renewed relations are] conducive to this region's stability and development," China warns U.S. officials and other countries involved in the South China Sea dispute.
China Warns U.S., "If Korean or Vietnam Wars Are Replayed, We Must Defend Ourselves"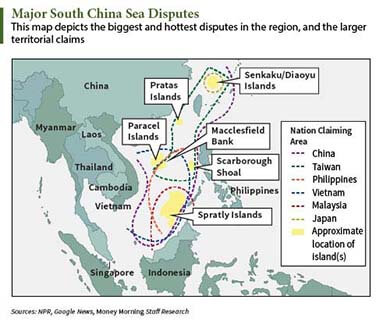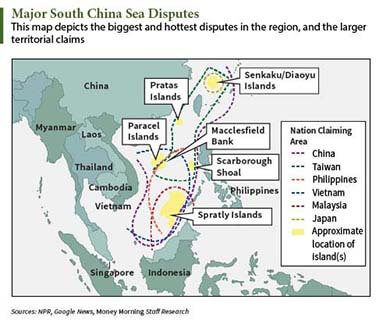 China's muted response today comes as a surprise to many who were privy to Beijing's much more aggressive threat last Friday…
That's when Liu Zhenmin, a vice minister in China's Ministry of Foreign Affairs, stated his country was not afraid to repeat a Korean or Vietnam War.
China Likes Trump? One of the most prominent Chinese news outlets is betting Trump will beat out Clinton for the Oval Office. Here's its surprising pro-Trump rationale…
"The Chinese people do not want to have war, so we will be opposed to the U.S. if it stirs up any conflict," he said, reported Daily Mail UK last Friday. "Of course, if the Korean War or Vietnam War are replayed, then we will have to defend ourselves."
Mainstream media largely reported on Monday that the president's move should indeed be perceived as an indirect threat to China. The president stated that the United States and Vietnam have mutual concerns about maritime issues and the importance of maintaining freedom of navigation in the South China Sea.
President Obama also reminded the world that while Washington doesn't take sides on the territorial dispute, it does support a diplomatic resolution based on "international norms" and "not based on who's the bigger party and can throw around their weight a little bit more," reported FOX News this morning
Now that's a direct reference to China if we've ever heard one.
Should we be worried about China's threat to the U.S.? Tell us on Twitter @moneymorning, or like us onFacebook.
Massive Ammo Cache for a Mr. Dragon, First Name "Red": According to the Pentagon, China's People's Liberation Army (PLA) is preparing for major military conflict. China, however, paints a different picture for its increase in military spending…
 Related Articles: