The price of silver per ounce has been slipping all week, but we still see double-digit gains ahead for the precious metal in 2016.
Before we share our newest silver price target, here's what's been behind this week's silver price drop…
Why the Price of Silver per Ounce Is Down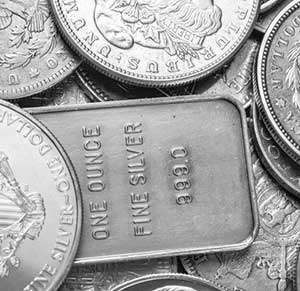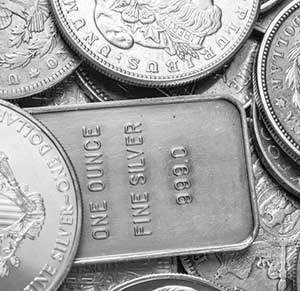 After starting the week at $19.72 and slipping to $19.34 on Thursday, the silver price per ounce was down $0.19, or 0.79%, at $19.68 Friday afternoon.
A strong rally from stocks this week is the biggest reason for the slump in silver prices. Wednesday, the Dow closed at a seventh consecutive record high and logged its ninth straight session of gains.
Trending Now: Five Moves to Calm Your Nerves (and Keep Your Money) in Choppy Markets
As investors piled into stocks, the CBOE Volatility Index (the market fear gauge) closed at 11.77. That was the VIX's lowest level since August 2014. The VIX fell for the sixth consecutive session mid-week, its longest losing streak since April.
A spate of better than expected earnings reports also had investors pouring into stocks this week. The bar for corporate earnings was set very low this quarter, making it easier for companies to beat earnings per share (EPS) estimates.
But simply "beating" estimates is not a sign of strength…
With about 7% of S&P 500 companies having reported at the start of this week, Q2 2016 profits are on pace to fall by 5.5%, according to FactSet. If that pace continues, it will mark the fifth consecutive quarter of declining profits. Sales are down 0.6%.
And that weakness will actually be good for the price of silver per ounce in 2016.
Another reason silver prices fell this week was the European Central Bank's decision Thursday to leave interest rates unchanged. The ECB kept the rate on the main refinancing operations at 0.0%, the marginal lending facility rate at 0.25%, and the deposit facility at -0.40%.
While the ECB didn't move this week, the bank said it planned to keep rates low for an "extended period of time." Additional stimulus is expected as the fallout from the UK's June 23 vote to exit the EU unfolds.
Central banks continue to have a major impact on the price of silver per ounce…
The Bank of Japan and the U.S. Federal Reserve both hold meetings next week.
The BOJ is expected to implement more monetary easing when it meets July 28-29. The Fed is overwhelmingly not expected to hike rates at its July 26-27 meeting. Still, any tone or hint of an interest rate hike will be closely watched.
A spate of economic data suggests the U.S. economy is on solid footing, and Brexit fears have faded. In fact, a Wall Street Journal survey of economists conducted over the last several days reveals an interest rate hike is expected as early as the Fed's Dec. 13-14 policy meeting.
Next Up: Why We Never Trust Big Bank Oil Price "Forecasts" (Especially Now)
But a lot can happen between now and then. And the outcome of the U.S. presidential election is a wildcard that could seriously rattle markets.
This uncertainty is providing a cushion for silver prices in the short term. And looking even farther out, we see the price of silver per ounce climbing above this year's high of $20.73 hit on July 11.
Where We See Silver Prices Headed in 2016
Money Morning Resource Specialist Peter Krauth says a temporary pullback in silver prices is to be expected after this year's sharp gain.
Silver has been and remains one of the best-performing asset classes this year, with prices up nearly 50% at their 2016 peak.
Krauth sees the silver price rising to $22 by the end of the year. That's a gain of 12% from today's silver price.
The biggest catalysts for silver prices include:
The increasing use of negative interest rates as well as a lack of confidence in and ineffectiveness of global central banks.
Historically low yields and instability of bonds. Some 33% of all government bonds today have negative yields. On July 13, stalwart Germany became the first Eurozone country to sell 10-year debt at a negative yield.
Silver tends to trade in tandem with gold, but silver prices have some catching up to do. The gold/silver ratio – the amount of silver it takes to purchase one ounce of gold – sits at 66. Back in 2011, the ratio was closer to 35, while the historical average is around 15. In short, silver is currently cheap compared to gold. That attracts savvy investors and will drive up prices.
Supply from silver mines is expected to fall this year after consecutive record highs. After more than a decade of annual increases, the World Silver Survey reported global silver production dropped in 2015.
Sales of silver coins are selling at a record pace. The U.S. Mint continues to ration weekly sales of the popular American Eagle silver coins. Sales of these coins totaled 2.84 million in June. Year-to-date sales sit at 26.3 million coins. That's up 20.5% from the 21.79 million coins delivered through the first half of 2015.
Investors can tap the silver market and future grey metal gains with exchange-traded funds (ETFs).
Krauth recommends the iShares Silver Trust (NYSE Arca: SLV) and Silver Trust (NYSE Arca: SIVR). SLV tracks the price of silver, while SIVR holds the actual metal. These ETFs are up 41.5% and 41.7% this year, respectively.
Up Next
The marijuana industry has been an afterthought for investors for years.
But that's about to change. In fact, it has already grown into a $7.1 billion industry. And that's just the start.
Click here to read our free marijuana penny stocks report…
Follow us on Twitter @moneymorning and like us on Facebook.
Related Articles: