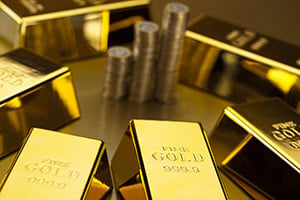 Today, Money Morning Executive Editor Bill Patalon is bringing investors his favorite gold stock to buy now.
You see, gold prices are up 26% in 2016 and headed even higher. But this top gold stock is set for even bigger gains. In fact, Patalon says this gold stock could gain another 47%.
Before we get to Patalon's gold stock pick, here's why gold prices are climbing this year and will continue higher...
Gold demand began soaring at the start of 2016. As the Dow dropped 10% to start the year, and the S&P 500 plunged 5.5% during the first two months, gold closed Q1 2016 up 16.1%. That was gold's best start to a year in three decades.
Editor's Note: Looking for the best gold exchange-traded funds to buy this year? Find all five of our picks in our new gold investing guide.
The growing use of negative interest rates and lack of confidence in global central banks has also drawn investors to gold. According to Bank of America, $13 trillion worth of global debt now has a negative yield.
The UK's June 23 decision to leave the European Union has created uncertainty that will affect global markets for years. The actual impact of the Brexit vote is a frightening unknown that will plague global trade and the financial sector for years. That uncertainty has prompted investors to find refuge in safe-haven gold.
Global central banks continue to be active buyers of gold. According to Capital Economics, central bank gold demand in Q1 2016 increased 28% year over year (YOY). The key reason banks are buying gold is to diversify away from the U.S. dollar, with several economies looking for protection against currency volatility.
The U.S. Federal Reserve's lower-for-longer interest rate stance continues to be a key gold price catalyst. The strong July jobs report put a 2016 interest rate hike back on the table, but the likelihood of a hike still remains extremely unlikely. And even after the Fed moves again for only the second time in nearly a decade, it will be highly accommodative. Rates will remain at rock-bottom levels for the foreseeable future.
Retail demand for gold is high. Gold coin sales in Q2 2016 were up 72% from the same period a year earlier, according to GFMS, a unit of Thomson Reuters.
Right now, gold prices are flirting with a two-year high. At the same time, stock markets are logging record closes. Bonds are also rallying. You typically don't see the trio moving in tandem.
Yet the most interesting thing, Patalon says, is that investors trying to profit from gold have a better investment option than buying physical gold.
Don't Miss: The best dividend stocks continue to raise their payouts. The best of the best do so for 50 years in a row... like these "dividend kings"...
The biggest gains will be from gold-mining stocks. And one of them is the clear winner. It's up 79% since Patalon first recommended it, and he sees total gains of 130% by the end of the year...
Buy This Gold Stock Today Before It Climbs Again
Gold miners have been this year's star performers.
"Of the 28 gold-mining stocks with a market valuation of at least $300 million, every last one is outperforming the S&P 500," Patalon writes. "What's more, 20 of the 28 have at least doubled, with 10 of the 28 having tripled in value (or more)."
Yet there is one that stands out. It's Goldcorp Inc. (NYSE: GG).
Headquartered in Vancouver, Canada, Goldcorp engages in the acquisition, exploration, development, and operation of precious metal properties in Canada, the United States, Mexico, and Central and South America.
Over the last several years as it reigned in spending and cut costs, Goldcorp emerged as one of the mining sector's most efficient gold producers. According to a recent report, the company dropped its "all-in" mining costs to below $850 an ounce last year.
The company said it can achieve an even lower cost this year. Goldcorp projects it will produce 2.8 million to 3.1 million ounces this year at an "all-in sustaining cost" of $850 to $935 per ounce.
"Even at today's lower price of gold, that's close to $500 in pure cream," Patalon explains. "As gold prices move higher, Goldcorp's margins will expand - and its share price will surge."
Legendary investor Jim Grant, founder of Grant's Interest Rate Observes, is also bullish on gold. He owns the miners, including Goldcorp. He believes gold will earn back some long-overdue respect as a true store of value.
At $17.85, Goldcorp is up 54.41% year to date. And that's just the start...
"Analysts have a high-water price target of $26.50 on Goldcorp, which is 47% up from current prices and nearly 130% above where shares were on Jan. 1," Patalon said.
The Election Fiasco Unravels: Voters who dislike both Donald Trump and Hillary Clinton are desperate for a third candidate. They might not know it, but they have one already...
Follow us on Twitter @moneymorning and like us on Facebook.
Related Articles: