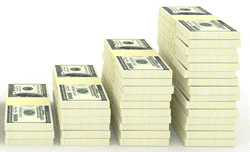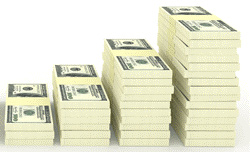 History has shown that timing the market almost never works for retail investors. From 1984 to 2014, the average investor in all U.S. stock funds earned just 3.7% annually, according to The Wall Street Journal.
During that same time, the S&P 500 returned 11.1% annually.
That's why today we are bringing our readers one of the best investments for 2016 that offers safe, solid returns no matter what the market does.
In fact, Money Morning Executive Editor Bill Patalon says this type of investment offers an "unbeatable strategy."
But before we go into more detail about one of the best investments for 2016, we want to make sure our readers know why most investors have such a difficult time making money in the stock market.
The simple answer is investors don't leave their money in the markets long enough to profit. The WSJ says there are a variety of reasons why investors pull their money out:
House payments
Tuition
Retirement
The biggest reason, though, is fear.
Investors are told to buy low and sell high, but they normally do the opposite. They invest at peak prices and then sell when the markets are volatile.
This means they miss out on huge gains, even with the best investments.
Take the 2008 stock market crash, for example. According to TheSimpleDollar.com, if you invested $10,000 in the stock market at the start of 2008, you would have $6,000 at the end of that year.
Investors panicked, selling their stocks and exchange-traded fund (ETF) investments for losses.
Trending: A Backdoor Way to Profit Now on a New $240 Billion Market
But if you invested in a fund that tracked the performance of the Dow Jones Industrial Average at the end of 2008, your investment would have climbed by 114% from the Dow's opening this morning of 18,595.65. If you had left your money in the stock market from the start of 2008 and weathered the downturn, you still would have profited 39% through today. That initial investment would be worth $13,900.
However, many investors fled the market during the crash and completely missed that massive rebound.
And because of the experiences of 2008, investors are cautious of what is going on now in the markets. Even though the major indices are trading at record highs, there's nothing to support what's happening.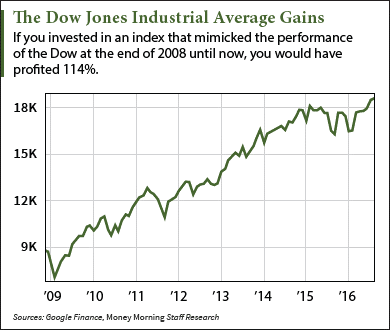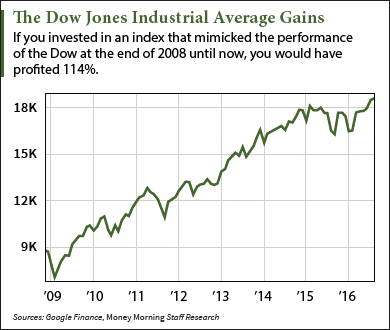 You see, identifying the best investments for 2016 is only the start to profitable investing. You have to keep your money in the market to make money.
And if you keep your money in this pick, you will own one of the safest investments available that provides market-beating gains…
This Market-Beating ETF Is Part of Our Best Investments for 2016
The Vanguard Total Stock Market ETF (NYSE Arca: VTI) made our list of best investments for 2016 back in April.
Since we recommended VTI in April, it has climbed 4%. In comparison, the Dow is up 3%.
VTI includes investments in large-, mid-, small-, and micro-cap stocks regularly traded on the NYSE and Nasdaq. These are some of the best-performing companies in the market.
You see, VTI has a long history of providing investors with safe returns at minimum risk. Over an eight-year average, VTI stock has been profitable in nine out of 12 months.
In comparison, the SPDR S&P 500 ETF Trust (NYSE Arca: SPY), which mimics the performance of the S&P 500, has only been profitable in seven out of 12 months over a 10-year average.
But because this made our list of best investments for 2016, we are focusing on future gains…
The Dow, Nasdaq, and S&P 500 are hitting all-time highs, seemingly every day. And when the markets as a whole do well, VTI shareholders do very well.
VTI provides better returns, though, because the ETF doesn't include every stock listed on the Dow or NYSE. It's focused on having the top performers and strongest companies in its portfolio.
And where VTI investors benefit the most is they essentially own the highest-performing stocks in the markets through VTI's fund for a fraction of the cost. Amazon.com Inc. (Nasdaq: AMZN), VTI's sixth-largest holding, opened at $768.45 per share this morning.
In comparison, VTI's opening price today was $112.51.
Overall, VTI's top 10 holdings are a strong mix of growth stocks and blue-chip stocks across a variety of industries:
VTI also pays a modest dividend with a yield of 1.82%. Investors can use it to either reinvest in VTI for more shares, or cash it out.
The Bottom Line: One of the best investments for 2016 is VTI, an exchange-traded fund. VTI mimics the performance of the stock market as a whole, but focuses on having the top-performing stocks in its portfolio. As long as investors keep their money in VTI, it is one of the safest investments to provide market-beating gains every year.
Don't Miss: The Internet of Things revolution will create a $6 trillion market – and these five stocks are the best way to grab a piece of those gains for yourself.
Follow us on Twitter @moneymorning and like us on Facebook.