The new millennium brought with it the five largest Chapter 11 bankruptcy filings in U.S. history.
The past decade has seen four of those alone, brought on by - you guessed it - the 2008 stock market crash.
With the help of Uncle Sam or a competitor firm, some of these corporations were able to continue operating.
Others were not so lucky.
Here's a look at the five largest Chapter 11 bankruptcies in U.S. history, including the cause of their epic downfalls and how much they were worth at filing...
The Five Largest Chapter 11 Bankruptcy Filings in U.S. History
Largest Chapter 11 Bankruptcy Filing in U.S. History No. 5: CIT Group Inc. (NYSE: CIT)
CIT group is a financial holding company that provides capital to middle-market business clients and their customers in more than 30 separate industries.
Seven years ago, the company nearly bit the dust after the 2008 financial crisis.
You see, on Nov. 2, 2009, CIT filed for Chapter 11 bankruptcy. It had $71 billion in assets at the time, making it one of the largest-ever corporate bankruptcy filings in U.S. history.
On the day CIT filed for the protection, its share price fell to $0.25, down 94% from its 2009 high of $4.58. CIT also received the not-so-glamorous award of being the first firm to fail after being bailed out by the U.S. government for $2.3 billion that year, which meant that massive inoculation of cash from Uncle Sam and taxpayers was all for naught.
Exposed: The real reason Congress gets nothing done isn't partisan gridlock. It's that the primary duty of our elected representatives is no longer making laws. Here are their new priorities...
However, by April 2013, CIT had repaid or refinanced $31 billion of its debt. Share prices climbed 58% that year, and the firm repurchased $200 million of its own stock.
Today (Aug. 16), CIT stock is worth $35.22 a share - up 13,988% from November 2009.
Largest Chapter 11 Bankruptcy Filing in U.S. History No. 4: General Motors Co. (NYSE: GM)
The 108-year-old automaker filed for Chapter 11 bankruptcy protection in June 2009. The value of its assets was $91 billion at the time.
But GM suffered from lousy auto sales well before the Great Recession. Former Chief Executive Rick Wagoner launched a restructuring plan for GM in 2004, but the company still lost nearly $90 billion in the five years between the plan's initiation and the company's bankruptcy filing.
In June 2009, the U.S. government agreed to provide GM with another $30 billion in aid, in addition to $20 billion the automaker had already borrowed. In return, Uncle Sam got a controlling stake in the company. As did Uncle Canuck - the Canadian government put up $9.5 billion in order to obtain a 12.5% stake of GM.
The government-funded bailout worked. In Q1 2013, the automaker posted better than expected profits of $1.18 billion. On Dec. 20, 2013, GM's share price was $40.99, up 60% from where it sat once it had resumed trading again on Aug. 12, 2011, at $25.75.
Today's GM share price is $31.86.
Editor's Note: This General Motors rival is currently building what could be the world's "smartest" car, and no is paying much attention... which means there's a profit to be made...
Largest Chapter 11 Bankruptcy Filing in U.S. History No. 3: WorldCom
WorldCom was once a long-distance provider that started in 1983. It filed for bankruptcy in July 2002. With assets worth around $104 billion at the time and a debt load at $41 billion, its filing marked the largest corporate bankruptcy ever -- until the Great Recession.
The telecommunications company was caught up in the middle of a scandal, caused by accounting fraud -- in fact, WorldCom is No. 2 on our list of the five biggest corporate scandals in U.S. history, here.
In sum, the month before it filed for Chapter 11 protection - in June 2002 - WorldCom admitted it had "incorrectly" accounted for $3.8 billion in operating expenses.
Few experts or officials expected WorldCom's service to deteriorate noticeably at the time, reported The New York Times on July 22, 2002. That was in spite of the fact its executives were under suspicion of (and eventually pleaded guilty to) fraud charges, with CEO Bernard Ebbers sentenced to 25 years in prison in 2005.
WorldCom did deteriorate, though.
Twenty-one months after it filed for Chapter 11 protection, the firm changed its name to MCI. The bankruptcy process allowed MCI to dramatically pare its debt down from $41 billion to about $6 billion.
But regardless of the optimistic outlook, the rebranded company had yet to pay $36 million towards former employees' severance packages that it had agreed to cough up in October 2002. When MCI was later acquired by Verizon Communications Inc. (NYSE: VZ) in February 2005, lawsuits pertaining to these unpaid packages were still open.
These employees eventually tried to unionize to get their money back -- but didn't even get recognition for bargaining power until August 2008.
Finally, in October 2009, former MCI/WorldCom employees reached a $3.5 million settlement with their one-time employer, right smack in the middle of the financial crisis.
Now, here's a chart that shows how much the top two largest Chapter 11 bankruptcies in U.S. history absolutely dwarf the others -- both in terms of asset value and damage to global markets they wrought...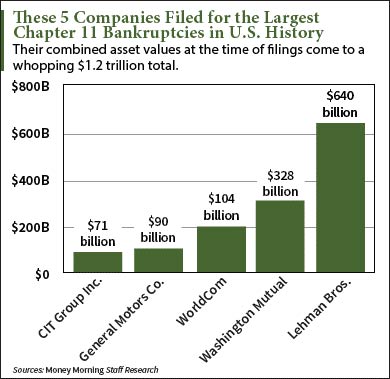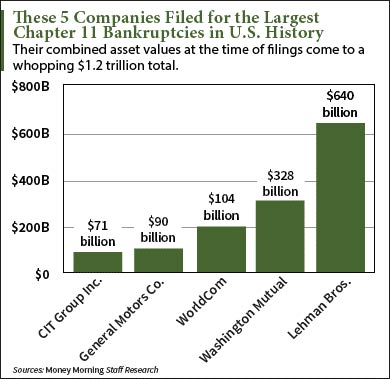 Largest Chapter 11 Bankruptcy Filing in U.S. History No. 2: Washington Mutual
As of June 30, 2008, Washington Mutual Inc.'s total asset value was $307 billion, with 2,239 retail branch offices operating in 15 states.
But then September rolled around...
On Sept. 15, 2008, WaMu received a credit rating agency downgrade, which spawned a "bank run" by its customers (think: 1929 stock crash - when everyone scrambled to banks to take out their money). For nine straight days - until Sept. 24, 2008 - WaMu clients withdrew a sum total of $16.7 billion in deposits.
On Sept. 26, 2008, the bank filed for Chapter 11 bankruptcy. It was immediately delisted from the NYSE.
The Federal Deposit Insurance Corporation (FDIC) sold WaMu's $307 billion in assets to JPMorgan Chase & Co. (NYSE: JPM) in a government auction for a paltry $1.9 billion.
WaMu immediately attempted to sue JPM, claiming it was not paid enough for its "thrift sale." JPM turned around and sued the government for not honoring its obligations to absorb legal claims stemming from WaMu's 2008 failure.
In June 2013, the U.S. District Court in Washington sided with JPMorgan, requiring the government shoulder some of the fiscal responsibility for WaMu's pre-recession soured mortgage loans when it sold the bank for $1.9 billion.
Exactly how much Uncle Sam (read: taxpayers) has to pay has still not yet been established.
On Aug. 3 of this year, Bloomberg reported that an "accord" was close at hand...
Editor's Note: Deutsche Bank's Lehman-like behavior smacks of a scenario we all saw just about eight years ago. Here's why investors are worried about the big bank...
Largest Chapter 11 Bankruptcy Filing in U.S. History No. 1: Lehman Brothers
The famous investment bank Lehman Brothers filed for bankruptcy on Monday, Sept. 15, 2008, to become the largest global investment bank casualty of the 2008 recession. It had $640 billion in assets at the time.
That same day, the Dow Jones Industrial Average closed 500 points in the negative (-4.4%) -- at the time the largest point drop in a single day since the days following the attacks on Sept. 11, 2001.
You see, Lehman was the country's largest underwriter for mortgage-backed securities, meaning it provided the money for transactions in the housing market that - as the world soon learned - were primarily subprime (i.e., allotted to individuals with poor credit histories).
This made Lehman extremely vulnerable when the housing market burst. People were unable to pay their mortgages.
In order to fund these underwriting endeavors, Lehman had posted the assets of its own hedge fund clientele over and over again (this is called "re-hypothecating"). Of its $40 billion in hedge fund clients' assets, Lehman had re-hypothecated $22 billion. So when the investment bank filed for bankruptcy, the hedge funds associated with that $22 billion in re-hypothecated assets were all frozen.
And that is why Lehman's failure shook the global market to its core... These massive hedge funds could not operate while frozen, causing market growth to come to a screeching stop on a systemic worldwide scale.
In the years following Lehman's ultimate failure, many have wondered why Uncle Sam never came to Lehman's aid the way it had for so many other companies in crisis during the recession.
In September 2010, former U.S. Federal Reserve Chair Ben Bernanke claimed the government's decision not step in had to do with Lehman's trading partners pulling away from the bank prior to its bankruptcy filing. That signaled two issues with Lehman, Bernanke claimed:
There was widespread distrust in the institution before news of its failure made headlines.
Lehman's problems were probably not isolated to just one fiscal product or sub-business of the bank; instead, because so many of Lehman's business partners jumped ship before Sept. 15, it was safe to assume the institution suffered widespread vulnerabilities and problems.
Trump or Clinton? Money Morning's own D.R. Barton, a 28-year technical trader and celebrated financial coach, has some insight to share on which 2016 presidential candidate is better for stock market. He says there is only one who will truly do U.S. investors justice...
Follow us on Twitter or on Facebook.