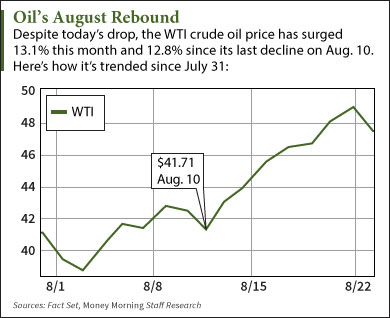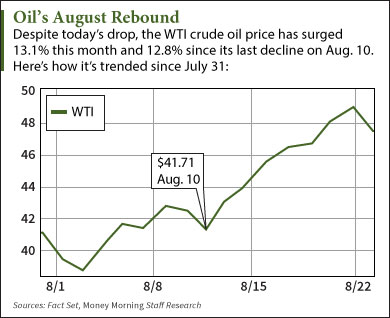 The WTI crude oil price today (Monday, Aug. 22) is falling for the first time since Aug. 10.
At 11:30 a.m., the West Texas Intermediate (WTI) crude oil price today was down 3% to $47.05 a barrel. FactSet Research Systems Inc. (NYSE: FDS) reports today's decline is the first in seven trading sessions. Futures for September delivery are still up 13.1% so far this month.
Editor's Note: Demand for oil is soaring in one Asian nation. And no, it isn't China. Find out which country will be at the center of worldwide oil demand for decades…
The Brent crude oil price was slightly less volatile today. Brent – the global benchmark – fell 2.9% to $49.38 a barrel. Futures for October delivery are up 13.4% in August.
And there's one big reason why crude oil prices are falling today…
This Is Why the WTI Crude Oil Price Today Snapped Seven Days of Gains
Oil prices today are down because the front-end September futures contract expires after markets close.
You see, oil futures contracts expire on the 20th or 21st of every month. Since Aug. 20 and 21 were over the weekend, the September 2016 contract expires today (Aug. 22).
The WTI crude oil price is often volatile on expiration days as traders sell their positions before the contracts roll over into the next month's contract. The next month's contracts are usually more expensive. Since the front-end September contract expires today, it will roll over into the October contract tomorrow. That will be the front-end futures contract for traders until it expires on Sept. 20 or 21.
Despite today's decline, the oil price is stabilized in its current $40 range. In fact, Money Morning Global Energy Strategist Dr. Kent Moors recently recommended a way to make money from this "range-bound" oil environment.
Don't Miss: Investing in gold or silver is one of the best ways to protect your money from market volatility. That's why we developed this handy guide to precious metals. Read here…
He recommends buying one particular oil exchange-traded fund (ETF). This fund is expected to return at least 19.4% in the next year thanks to its broad exposure to one of this year's best-performing oil indexes.
Here's our recommended oil ETF to buy now, whose top holdings are some of the biggest oil producers set for big gains this year…
Profit from the WTI Crude Oil Price Today with This Crude Oil ETF
Moors – a 40-year veteran of the oil market – recommends the SPDR Oil & Gas Exploration & Production Fund (NYSE Arca: XOP).
This oil ETF tracks 58 oil exploration and production (E&P) companies headquartered in the United States. Some of its biggest holdings include Devon Energy Corp. (NYSE: DVN), Exxon Mobil Corp. (NYSE: XOM), and EOG Resources Inc. (NYSE: EOG). All three have surged a combined 78.6% in 2016.
According to Moors, the XOP fund is a great way to make money from range-bound oil prices. That's because it's exposed to the oil-producing sector without being exposed to individual futures contracts or oil stocks.
The fund also doesn't have small producers in its portfolio, which can be riskier than larger producers. While small companies have less cash flow, larger ones have more cash on hand to cover their debts.
"A rule of thumb when using ETFs in the present range-bound environment is this: It makes sense to stay away from funds that focus on small companies, especially given the acute debt crisis among operators underway in the U.S. market," Moors said on July 15.
Since the start of 2016, XOP has surged 21.7% to $36.79. That crushes the S&P 500's 6.8% rise over the same period.
FactSet reports XOP's top 10 holdings will see a combined return of 100.5% in the next 12 months. Since those 10 make up 19.29% of the fund's total weight, the overall ETF could gain a minimum of 19.4% over the same period. That's just taking into consideration 10 out of the fund's 58 holdings.
Stay tuned to Money Morning for more opportunities to profit from the WTI crude oil price.
Up Next: There's One Simple Reason Why OPEC Won't Cut Production
Alex McGuire writes about oil prices for Money Morning. Follow him on Twitter for constant updates on the oil market.