Stock market crash warning signs continue to mount. That's why today (Friday), we're bringing readers the best investments to make during a stock market crash to both protect your portfolio and profit from a downturn.
Before we get to those stock market crash investments, here's what sent stocks tumbling today and the other stock market crash warning we're watching...
The Dow Jones Industrial Average, S&P 500, and Nasdaq all opened sharply lower today as interest rate jitters reentered the markets. Shortly after today's opening bell, the three key benchmarks were down 0.78%, 0.85%, and 0.76%, respectively.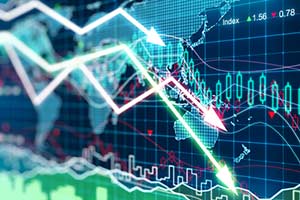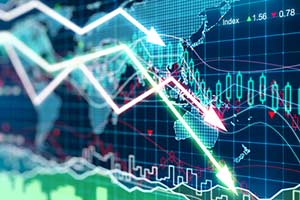 Stocks fell after Boston Fed President Eric Rosengren, who is an FOMC voter, said in a speech Friday morning that a reasonable argument could be made for normalizing the Fed's monetary policy based on recent data.
Inflation still hasn't hit the Federal Reserve's desired 2% target, but Rosengren suggested the strong labor market could drive consumer prices higher. He said there is evidence of upward pressure on wages and salaries. That could lead to inflation hitting the Fed's target.
Rosengren didn't specifically say the normalization should begin in September. But he didn't dismiss the idea, either. Worries are increasing that the Fed faces serious risks if it waits much longer to raise rates. The next FOMC meeting is Sept. 20 and Sept. 21. The Fed last raised interest rates in December 2015 to 0.25% to 0.5%.
Trending Now: This penny stock could bring triple-digit gains - and save a dying industry at the same time. Click here to learn more...
Market odds of a rate hike after Rosengren's speech jumped from 18% to 27%, according to the CME Group's FedWatch Tool.
And the Fed isn't the only reason some investors are bracing for a 2016 stock market crash...
North Korea just conducted its fifth and biggest nuclear test on Friday. North Korea said it has mastered the ability to mount a warhead on a ballistic missile. Officials also claimed it tested the warhead as protection against "threats and sanctions" from hostile elements.
The timing raised eyebrows. You see, it comes on the heels of U.S. President Barack Obama's trip to Asia last week to attend a G20 meeting, followed by a tour of other Asian nations.
That news also put investors on edge.
Today's stock market drop is a stark change from what we've been seeing. For the last two months, U.S. stocks have traded in a narrow range on low volume. The S&P 500 hadn't logged a move -- up or down -- of more than 1% on a closing basis since July 8.
Sign up for SMS so you never miss special events, exclusive offers, and weekly bonus trades.
And the concerns in the market today only add to the stock market crash warning signs we've been sharing with investors all year, including:
The growing use of negative interest rates. A third of global government debt now has a negative yield.
Weak corporate earnings. The S&P 500 saw an average earnings decline of 3.2% in Q2 2016, according to FactSet. Q2 2016 marked the first time the index has recorded five consecutive quarters of year-over-year earnings declines since 2009.
Brexit concerns. The fallout from Brexit is starting to pile up, and the full outcome will take years. London real estate prices have plummeted, and a number of global companies are looking to move out of the country.
A global economic slowdown. U.S. GDP grew just 1.1% in Q2 2016. In Q1, real GDP rose a measly 0.8%. Meanwhile, the IMF downgraded its forecast for global growth after Brexit by 0.1%. That puts 2016 global growth at 3.1%, unchanged from last year's pace and the slowest since the financial crisis.
Money Morning Global Credit Strategist Michael Lewitt has been warning investors about these four red flags for months.
According to Lewitt, it is mathematically impossible for negative interest rates to generate positive economic growth. He maintains that negative rates are nothing more than a means of destroying capital.
Related Content: This Biotech Stock Is Set to Soar 115%
But the fact that there are so many warning signs doesn't mean you should take your money out of the markets. In fact, Money Morning experts have just shared the best investments to make before a stock market crash and when the market is falling.
These investments will protect your hard-earned money and even help you profit during a stock market crash...
How to Profit During a Stock Market Crash
Money Morning Capital Wave Strategist Shah Gilani recommends adding the ProShares Short S&P 500 ETF (NYSE Arca: SH) to a portfolio right before the next stock market crash.
As a reverse exchange-traded fund (ETF), SH is designed to profit from a decline in the daily performance of the broad-based S&P 500.
An investment in SH right before the 2008 stock market crash returned gains of more than 40% from September 2008 to January 2009. During this year's Fed-incited sell-off between January and mid-February, the ETF jumped roughly 15%.
This ETF isn't meant to be held for a long stretch, as its long-term gains aren't impressive. But data shows that holding it for just a few months (in 2008, for example) can bring huge gains.
It's also important to point out that this ETF should only represent a small portion of any portfolio. Market timing isn't easy. But when you are on the right side, gains can be substantial. SH rose 1% to $38.35 intraday Friday as stocks swooned.
And if you're looking to protect your portfolio, Lewitt recommends bulking up on cash ahead of a stock market crash. But that doesn't mean you should just be socking away money - he has a better method.
His suggested portfolio consists of 10% to 20% cash. An equal amount is allotted to gold. And if you can't get your hands on physical gold, he recommends gold ETFs.
One of best gold ETFs to buy now is the SPDR Gold Trust (NYSE Arca: GLD). It offers an innovative, cost-efficient, and secure way to participate in the gold market.
GLD trades just like a stock. That means investors can buy and sell gold via the trading of a stock that's on a regulated stock exchange. The value of GLD is directly correlated to the value of the gold held by the ETF (less expenses), as well as fluctuations in the price of gold.
If you want to invest directly in gold mining companies, you can turn to gold stocks now, too.
Money Morning Executive Editor Bill Patalon's favorite gold stock is Goldcorp Inc. (NYSE: GG). The company was forced to cut costs, meaning Goldcorp today is a leaner and more efficient mining company.
At $40.12, GG is up 16.22% year to date. But analysts believe GG could gain 45% from current levels.
If we see a stock market crash, gold prices and gold stocks should soar as investors head into safe-haven investments.
Editor's Note: You can profit from gold prices no matter where they are moving. We have everything you need to know about gold in our new guide on gold investing...
Follow us on Twitter @moneymorning and like us on Facebook.
Related Articles: