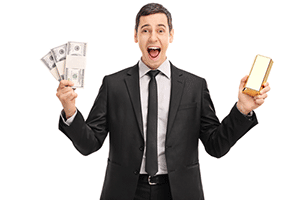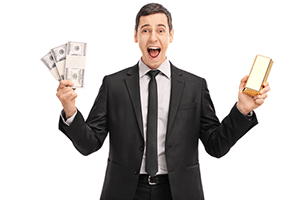 Gold prices have fallen more than 4% in October, but our latest gold price prediction shows prices climbing by the end of 2016.
In fact, Money Morning Resource Specialist Peter Krauth believes gold prices will climb by double digits before 2017.
But before we share Krauth's 2016 gold price prediction, we wanted to make sure Money Morning readers understood why gold prices are so volatile right now.
Why Gold Prices Are Volatile Right Now
On Oct. 4, gold prices dropped $43 in just one day.
"Most pundits are saying gold prices dropped because the U.S. dollar rallied after Richmond Fed President Lacker made his case for raising rates," Krauth said on Oct. 7.
Krauth said there are two bearish factors weighing on gold prices now: A stronger dollar and a potential interest rate hike.
First, let's look at how a stronger dollar impacts gold prices.
Buying gold is a bet against the U.S. dollar. When the dollar is down, gold prices tend to climb. When the dollar is stronger, gold is less appealing as an investment and gold prices fall.
For example, gold prices climbed 3.27% from Feb. 8 to Feb. 10 when the strength of the dollar fell from $96.58 to $95.94 during that same time.
But as the dollar has climbed 2.5% in the last month, gold prices have fallen nearly 5%.
The other bearish factor on gold prices is interest rates…
Gold doesn't offer a dividend or pay interest. So when interest rates are raised, investors put their money in something that can provide an interest rate payment like bank accounts or government bonds.
Currently, an online bank account with Goldman Sachs Group Inc. (NYSE: GS) offers an interest rate of 1.05%. Goldman could offer even more if interest rates are raised.
Editor's Note: You can become a Goldman Sachs partner for just one dollar, but here's why you shouldn't… 
And an interest rate hike could be coming soon…
According to CME's FedWatch Tool, the market believes there's a 70.6% chance that the Fed raises rates in December. The fact that rates will probably climb has created some profit-taking among gold investors.
But even though gold prices have plunged nearly 5% in the last month, Krauth sees more gains on the way in his gold price prediction. Here's more on his bold gold price prediction for 2016…
The Bold Gold Price Prediction You Can't Afford to Miss