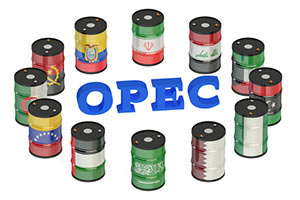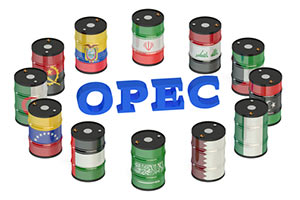 The next OPEC meeting is set to be held Nov. 30 in Vienna, Austria, and is shaping up to be the cartel's most decisive this year.
After the landmark Sept. 28 OPEC meeting in Algiers, where cartel members agreed to cut oil production in an effort to boost prices, skepticism has been growing over OPEC's ability to finalize the deal.
News of the agreement caused oil prices to climb above $50 a barrel, but crude oil prices were still volatile in October.
The Nov. 30 meeting was expected to finalize the specifics of a production cap and usher in consistently higher oil prices. But several countries now appear to be backing out as the next OPEC meeting approaches.
We'll bring you up to speed on why oil is currently trading at such low prices... Then, we'll answer the big question: Will the next OPEC meeting lead to higher oil prices?
The Forces Keeping Oil Cheap
OPEC's agreement was big news for the oil market because of its potential to boost the price of oil. When oil prices are up, major oil-producing countries are able to make more money off of their oil. But there are two main issues standing in the way of higher oil prices.
Because oil trades in U.S. dollars, a stronger dollar means oil becomes more costly for traders whose countries use other currencies.
Currently, the dollar is strong and is helping to keep oil prices low. In mid-October, the dollar hit a seven-month high, as reported in The Wall Street Journal Dollar Index.
Another reason traders are bearish on oil prices is because of the current supply glut. When there's too much oil on the market, prices fall as suppliers undercut each other to find buyers. An ongoing oversupply of oil has been dogging the oil market since mid-2014.
There doesn't seem to be much slowing down oil production, either. As CNN reports, OPEC production set a record high in September.
It's not just OPEC, either. Two of the world's top three oil producers are seeing rising oil production as well. Russian output rose in September to more than 11 million barrels a day. That's a number it hasn't reached since the Soviet era. In the United States, the oil rig count climbed for the 16th consecutive week this week to 432 rigs. A rising number of rigs is a leading indicator of more oil production.
So, when OPEC announced its Sept. 28 meeting ended with an agreement to cut oil production, traders saw higher oil prices on the horizon. But the story doesn't end there...
The Real Story Behind the Sept. 28 OPEC Agreement
The OPEC agreement to cut production reached in Algiers came as a surprise, since OPEC members had failed to reach an agreement at meetings earlier in the year. Oil jumped above $50 in the wake of the agreement, which was a boost compared to its sub-$35 a barrel price at the start of the year.
However, not everyone has been optimistic the agreement will last.
Dr. Kent Moors, Money Morning Global Energy Strategist and author of Oil & Energy Investor, was recently in Paris speaking to colleagues from the International Energy Agency (IEA). There, he found many experts in Europe viewed OPEC's plan to cap oil production with "calculated indifference."
Why are energy experts skeptical of OPEC's landmark deal?
Despite the optimism and rising oil price coming out of the Sept. 28 meeting in Algiers, OPEC had not actually agreed on a specific cap on production. A formal agreement detailing specifics would still need to be ironed before the Nov. 30 OPEC meeting.
In Moors' view, the Sept. 28 agreement, widely heralded as a "breakthrough," was more of an idea without any specifics.
An agreement to cap production is meaningless without specific production numbers each country would have to meet. And that opens up a host of questions.
Which oil production level will the cut come from? How much will each country be allowed to produce? Will there be any exceptions?
Currently, Iran, Iraq, Libya, and Nigeria are each asking for exceptions to an oil cap, claiming they each have a right to produce more oil. Getting these countries on board is crucial for the completion of a final deal.
And even if a deal is made, what will stop members from overproducing anyway?
Past agreements have usually placed caps on monthly production totals, which the cartel members agree not to go beyond, but some overproduction usually occurs. Overproduction is particularly likely to happen among financially needy nations that aren't willing to give up short-term revenue to abide by OPEC's agreements.
With so many countries already asking for exceptions, overproduction might be a serious problem even if a deal is struck.
A deal can only push up oil prices if the member countries police themselves. There is no outside authority that can force countries to hold their oil production down.
So, can OPEC reach a deal and boost oil prices?
The Big Question: Will the Next OPEC Meeting Lead to Higher Oil Prices?