Thankfully, the presidential election is almost here.
There's a wealth of research out there documenting what happens to the markets immediately after a Republican or Democrat wins the White House and what it means in the long term.
Conventional wisdom - and research by Yale Hirsch, in fact - suggests that no matter who wins the presidency, stocks tend to decline the first year after an election and then rise over the next three.
That is, until recently... markets went up after George H.W. Bush's election in 1988, both of Bill Clinton's wins, and President Obama's first win.
So with all this uncertainty, it's no surprise that traders are having a tough time. And on top of that, we're smack dab in the middle of earnings season...
So today, I want to show you a trading technique that should prove much more reliable than trying to play the outcome of the election.
Let's get started...
Follow This "Four-for-Four Rule" to Set Your Trades
Since we're still in the middle of third-quarter earnings season, it's time to take a short break from the election and get back to the companies set to report their earnings per share and revenue numbers.
Don't Miss: This is your ticket to bigger and better returns... and it won't cost you a penny. What are you waiting for? Read more... 
Here's a look at the companies that are due to report earnings. This is from proprietary tools, but you can obtain this information from any financial site that tracks and reports earnings. Now let's search for any strong patterns that could offer some profitable trading ideas...

What you want to look for are the stocks that have either a four-for-four record of positive earnings or a four-for-four record of negative earnings numbers.
Now in the list above, you'll see that Mallinckrodt Plc. (NYSE: MNK) has beat its earnings in each of the past four earnings seasons. However, the movement of the stock following earnings is less impressive, as you can see in this chart: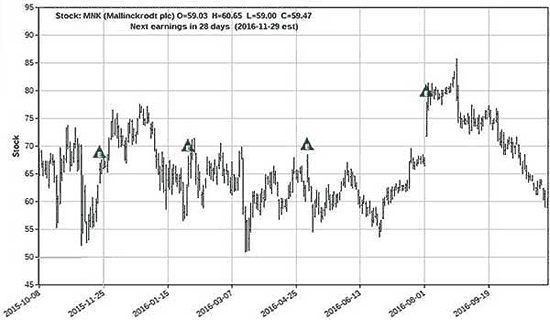 So I'm going to highlight another stock with the same four-for-four record - but with a much better price movement - NVIDIA Corp. (Nasdaq: NVDA):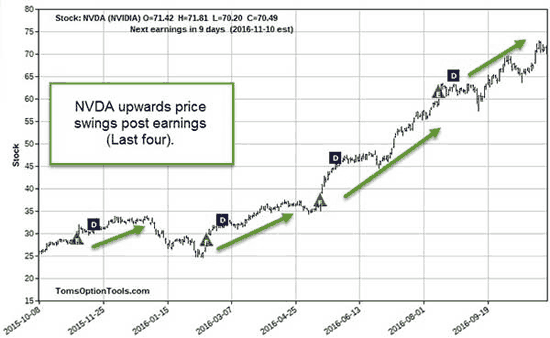 As you can see, NVDA has shown upward momentum in four of the four past earnings seasons.
Now, given the high volatility we're looking at through the end of this week, I wouldn't suggest any short-term or weekly trades. Ultimately, the risks simply outweigh any reward potential. But that doesn't mean you can't place trades that will expire much further away...
Join the conversation. Click here to jump to comments…
About the Author
Tom Gentile, options trading specialist for Money Map Press, is widely known as America's No. 1 Pattern Trader thanks to his nearly 30 years of experience spotting lucrative patterns in options trading. Tom has taught over 300,000 traders his option trading secrets in a variety of settings, including seminars and workshops. He's also a bestselling author of eight books and training courses.