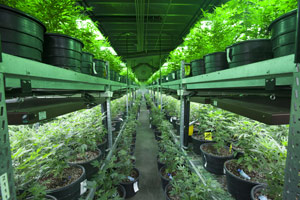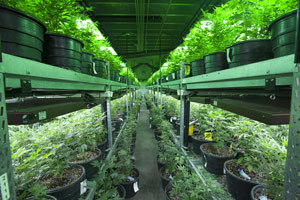 Donald Trump wasn't the only big winner Tuesday night. The marijuana industry scored a major victory in numerous states, and that has the best marijuana stocks poised for huge gains.
A record number of nine states had marijuana initiatives on the ballot on Nov. 8.
Legal recreational marijuana initiatives passed by a large margin Tuesday night in California, Massachusetts, and Nevada. Votes are still being tallied in Maine. Arizona is the sole holdout so far, with 52% voting against legalizing marijuana for recreational use.
On the medical marijuana side, it was a sweep. Voters in Florida, North Dakota, and Arkansas approved their states' medical marijuana initiatives. Meanwhile, voters in Montana voted to relax restrictions on the state's existing medical laws.
Special Report: Cannabis Is The Gold Rush of the 21st Century. 30 Stocks to Invest in Now.
Proponents are calling Tuesday's results the biggest electoral victory for marijuana reform since 2012. That was when Colorado and Washington first approved the drug's recreational use.
The win in California, and the strong showing nationwide, paves the way to nationwide legalization of marijuana. California has long been deemed a bellwether among both supporters and opponents of marijuana reform.
First, there's the sheer size of the state. California boasts about 12% of the U.S. population. Second is the economic impact. Last year, California became home to the world's sixth-largest economy, according to data from the International Monetary Fund and the U.S. Bureau of Economic Analysis.
California's vote of approval is a game changer for the marijuana industry. And that should be a massive catalyst for the best marijuana stocks…
The Best Marijuana Stocks Just Received Flashing Green Light
You see, California's adoption of legal marijuana could pressure federal regulators to do an about face on their decades-long prohibition on marijuana use and how the federal government treats marijuana. Cannabis is now a Schedule I illegal drug. That includes increasing access to banking.
Heading into Election Day 2016, 25 states and the District of Colombia had already passed laws legalizing marijuana in some form. Four states and D.C. had legalized recreational use. Already a growing industry, marijuana sales are expected to skyrocket.
Legal marijuana sales in the United States grew to $5.7 billion in 2015. That was a sharp increase from $4.6 billion in 2014, according to ArcView Market Research. Recreational sales, meanwhile, ballooned to $1.2 billion last year from $374 million the year before.
ArcView's new report forecasts vigorous sales growth this year. Retail marijuana sales are projected to reach $7.1 billion in 2016. That would represent a 26% year-over-year increase. By 2020, legal market sales are expected to exceed $22 billion.
That growth will continue to be a massive catalyst for the top marijuana stocks on the market.
Marijuana stocks have been on a tear this year in anticipation of victories on Election Day. Many are sporting high double-digit and triple-digit gains.
As a service to Money Morning readers, we've created a 90-page cannabis investing guide called "The Roadmap to Marijuana Millions." This "bible of weed investing" reveals the world's top marijuana stocks every serious investor should consider right now. Normally valued at $499, it can be yours absolutely free. To learn how to get your free copy, click here. This offer is only available to the first 500 people who respond today. So please go here now to reserve your copy.
Follow us on Twitter @moneymorning and like us on Facebook.
Related Articles: