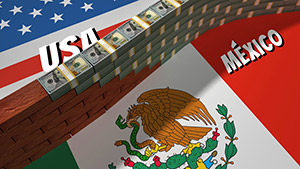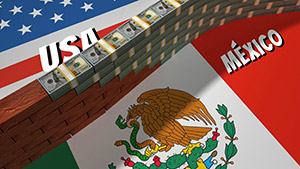 As Trump makes his way towards the Oval Office, he'll bring with him his many plans for change in America. Perhaps the most striking is Trump's solution for immigration: the wall.
Today we're asking the big question U.S. taxpayers both for and against the policy want to know:
Exactly how much will Trump's wall cost — and who's footing the bill?
The Cost of Being Great
Donald Trump proposed that the successful completion of this "big, beautiful, and powerful" wall would cost $8 million to $12 million on Feb. 9.
When asked how he reached that estimate by MSNBC host Tamron Hall, Trump explained, "It's a very simple calculation. What we're doing is we have 2,000 miles, correct? 2,000 miles. It's long, but not like 13,000 miles, like they have in China," he said.
And so is born The Great Wall of Trump.
"Of the 2,000, we don't need 2,000, we need 1,000 because we have natural barriers… and I'm taking it price per square foot and a price per square, you know, mile," he said.
Trump's wall, which he also said would be 35 to 40 feet high, would be constructed out of precast concrete, about three times as much concrete as the Hoover Dam.
The problem with Mr. Trump's price estimate, however, is that it's optimistically low.
According to a new report from Bernstein Research, a Wall Street investment research firm, assuming a length of 1,000 miles and a height of 40 feet, the wall would require $711 million worth of concrete and $240 million worth of cement. When you factor in labor costs, the total cost of the wall is between $15 billion and $25 billion.
Trending Now: How Small Investors Can Take on Wall Street… and Win
Similarly to Bernstein, The Washington Post reported on Sept. 1 that the wall would cost upwards of $25 billion.
"I would build a great wall, and nobody builds walls better than me, believe me, and I build them very inexpensively."
That's about $13 billion more than Mr. Trump claims the wall will cost.
Additionally, in order to build this wall, Mr. Trump would have to destroy the $7 billion worth of already existing fencing along the Mexico-U.S. border.
So who will be paying for it?
Trump's Wall Costs: Who's Paying?
"I will have Mexico pay for that wall," Trump said in his presidential announcement speech on June 15, 2015. "Mark my words."
However, Mexico seems to disagree.
Mexican officials reiterated again on the Wednesday after the election (Nov. 9) that they would have no part in the construction or financing of the wall. Nor would they reimburse the United States, as Trump has suggested.
Don't Miss: Why Donald Trump's Plan to Bring Jobs Back to the U.S. Won't Work
After the sharp decline in the peso — 13%, the biggest fall in over 22 years — following Trump's victory, Mexico is more reluctant than ever to help the president-elect.
"Very hard times are coming to Mexico," said analyst Gabriela Siller of Mexican bank BASE.
Still, Trump insists that Mexico will be footing the bill… sort of.
His campaign website now says that he will be funding a portion of the wall by increasing visa fees, increasing costs on border-crossing cards, and enforcing trade tariffs (a side-effect of doing away with NAFTA, which Trump has proposed):
In addition, he will put forward a new rule to stop the flow of cash out of the United States. Basically, this rule would hinder Mexican immigrants living and working in the United States from sending any money out of the country without legal documents proving citizenship. Trump claims that Mexico receives an estimated $24 billion each year in remittances from people in the U.S. – just enough to pay for his new wall.
It's to be determined if this rule will be enough, as Trump would need to amend a code of financial regulation, which takes time.
Time that Trump doesn't have. He declared that he will start to build the wall within his first 100 days in office.
That is, if he can get approval from Congress. Congressional aides have suggested alternatives to Trump's concrete wall since the election. "A wall is not realistic because it would block visibility for border agents and cut through rugged terrain," said a House Republican aide and a Department of Homeland Security official to Reuters on Nov. 10.
"Congress won't fund the kind of wall Trump promised, and Mexico won't pay for it. But to save face, President Trump and congressional leaders will likely agree to a modest extension of the existing border fence," predicts Steve Legomsky, an immigration law expert at Washington University School of Law (as told to Reuters on Nov. 10).
Next Up: The First Thing Trump Should Do for the Economy
Do you think Donald Trump will build the wall? Share your thoughts with Money Morning on Twitter @moneymorning or Facebook.
You may also like…
Our New Gold Price Prediction Following the Election
The Top Marijuana Stocks to Watch Now