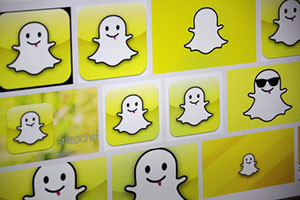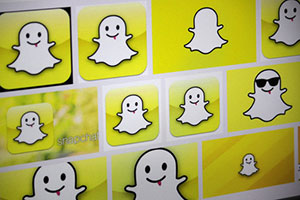 The Snapchat IPO could happen in March 2017, and our readers have been asking us for a list of Snapchat investors to see who is betting big on the social media app.
That's because the Snapchat IPO could be the biggest since the 2014 Alibaba Group Holding Ltd. (NYSE: BABA) IPO. Right now, Snapchat could be valued between $20 billion to $25 billion.
Let's take a look at the biggest companies and investors who've already bet hundreds of millions on Snapchat...
Who Invested in Snapchat?
According to Business Insider on Nov. 4, Alphabet Inc.'s (Nasdaq: GOOGL) investment arm Google Capital made an investment in Snapchat.
The exact date and exact amount invested weren't revealed. But the investment helps to legitimize the profit potential of the social media app to Wall Street.
Snapchat's other big-name investors are Alibaba Group Holding Ltd. (NYSE: BABA), Fidelity Investments, and the T. Rowe Price Group Inc. (Nasdaq: TROW).
In 2015, Alibaba invested as much as $200 million in Snapchat, according to Forbes. The investment could help Alibaba enter the profitable U.S. social media space, as well as potentially help Alibaba gain a bigger foothold in Internet-based commerce.
Trending: Why Snap Inc. Stock Is the Buzz of Wall Street
In a February funding round, Snapchat received a $175 million investment from Fidelity Investments, which valued the company at $16 billion at the time.
According to The Wall Street Journal, Fidelity also bought shares in March 2015.
And in a massive $1.8 billion round of funding that gave Snapchat a $20 billion valuation, T. Rowe Price purchased Snapchat stock, according to Fortune. The investment firm also owns shares of Uber and file-hosting service Dropbox.
These companies are betting on Snapchat's long-term profitability. But just because they bought shares before the Snapchat IPO, that doesn't mean you should invest in Snapchat.
Here's everything you need to know before becoming one of the future Snapchat investors...
Should I Buy Snapchat Stock?
IPO shares are purchased by two groups of investors: large institutions and the public.
Institutions can be considered brokers, large individual investors, banks, and hedge funds. They are offered the shares first, generally at a cheaper price.
That's because they buy very large volumes of stock, which gives a company access to a large amount of cash.
When the stock is available to the public, it will generally open higher than what the large institutions paid for the stock. Investors can still profit from climbing IPO prices, but the early price climb from an IPO don't necessarily mean the stock price will keep trading at that level.
For example, Twilio Inc. (NYSE: TWLO) was priced at $15 per share prior to being publicly traded. It opened on June 23 to retail investors at $23.99 per share and closed at $28.79. That means the average retail investor could have profited as much as 20% on the day.
But the profits for large institutional investors was even greater. Institutional investors netted a profit of 91% on the day.
And being able to buy in at the IPO offering helps shield large institutions against losses...
The TWLO stock price skyrocketed to an intraday high of $70.96 on Sep. 28, but opened this morning at $37.90. That means if you bought TWLO stock while it was trading at record highs, it's since fallen 46%.
But the large institutions are still up 152% just because they were able to buy TWLO stock early.
However, retail investors can still make money from IPOs if they believe in the long-term profitability of the company. Facebook Inc. (Nasdaq: FB), for example, has climbed 211% since its 2012 IPO.
Money Morning Director of Tech & Venture Capital Research Michael A. Robinson has a strategy for potential Snapchat investors.
Robinson suggests placing a limit order as close to the IPO offering price as possible. That way investors can maximize their gains and limit their losses.
Ahead of the Snapchat IPO, we know our readers have a lot of questions. That's why we made this guide with everything you need to know about investing in the Snapchat IPO.
Editor's Note: Timing is everything when it comes to making money in markets - and this new, free service we created puts timing on your side...

Follow Money Morning on Facebook and Twitter.