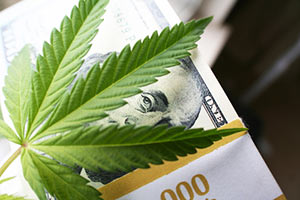 Legal marijuana sales are already projected to reach $3.9 billion in 2017, and we have even better news for investors about marijuana stocks in 2017.
Marijuana stocks could soar even higher because Money Morning Director of Tech & Venture Capital Research Michael A. Robinson believes three more states could legalize marijuana in 2017.
"You see, marijuana advocates aren't finished with their fight. In fact, they're stepping up the pressure," Robinson said on Dec. 6. "They're now eyeing the opportunities that could arise in 2017 – and beyond."
Increased legalization creates more opportunities for businesses that grow and sell marijuana and marijuana edibles, equipment supplies, and businesses that rent and sell specialty marijuana real estate.
Even with those growth numbers, investors should be aware that investing in marijuana is still speculative. Many marijuana stocks are penny stocks because they don't meet the qualifications to trade on major indices. And penny stocks can be notoriously risky.
Also, investors are still waiting to see what will happen to medical and recreational marijuana policies under President-elect Donald Trump.
It's true investors should be cautious when investing in cannabis companies. But there's no denying marijuana is growing into a massive industry that will generate billions of dollars.
And investors who are forward-looking could make long-term gains.
You see, if two of these next states legalize medical marijuana, 60% of the country would have some type of legalized marijuana policy. Other states can look to places that have successfully implemented pro-marijuana legislation to start drafting their own policies.
And when they see how much money is being made, they will want to follow suit…
Must Read: Former Google Exec Quits Dream Job to Launch Marijuana Empire
For example, Colorado collected more than $135 million in marijuana taxes and fees in 2015. The state used the money mostly for school construction projects.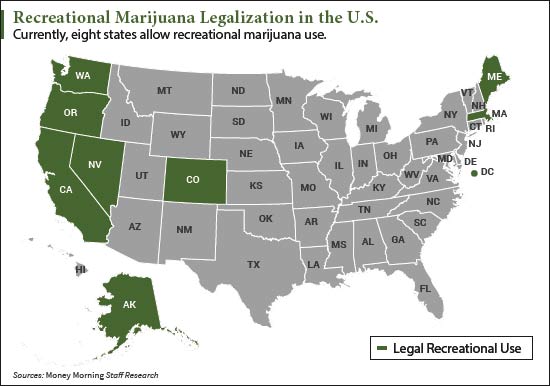 One of these next states could also legalize recreational cannabis, which means close to 20% of U.S. states could have legalized recreational marijuana laws in place by 2017.
These three states potentially legalizing marijuana next year provides more legitimacy to the industry and more profits for companies.
That's why this is the next big catalyst for marijuana stocks in 2017…
Marijuana Stocks in 2017 Could Skyrocket If These 3 States Legalize