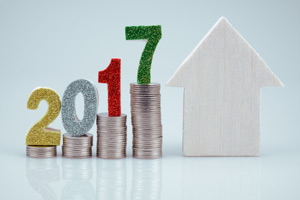 With the markets trading near historic levels at the start of 2017, investors are looking for the best investments when the market is high.
The Dow Jones Industrial Average was just 13 points shy of 20,000 last week and climbed more than 13% overall in 2016. These gains have been largely fueled by the "Trump effect," a positive economic outlook, and the December rate hike decision by the Fed.
In these market conditions, Money Morning likes to invest in what Chief Investment Strategist Keith Fitz-Gerald calls "unstoppable trends." Unstoppable trends are industries that are hugely profitable and will continue to grow regardless of market conditions. Trending industries include medical, defense, and some technology sectors.
Don't Miss: This is your ticket to bigger and better returns... and it won't cost you a penny. What are you waiting for? Read more... 
Companies in these industries are typically diversified, innovative, and financially strong. These types of companies will continue to do well long term, even if the market pulls back.
Here are our top 5 picks of the best investments for this historically high market...
Best Investments When the Market Is High, No. 5: Becton Dickinson and Co.
Becton Dickinson and Co. (NYSE: BDX) is a New Jersey-based developer and manufacturer of medical devices. The company's products include various types of needles and syringe systems, infusion therapy products, and blood collection products. Its devices are used by healthcare organizations for research, laboratory operations, and health-related safety.
Many of the company's products are one-time use medical materials, which are in continuous demand in the healthcare industry. Accelerated aging of Americans and the population explosion worldwide should continue to fuel the demand for these types of products.
Shares of BDX are trading at $165.55, and the company's stock had gains of almost 8% in 2016. On top of that, BDX has a 44-year history of raising investor dividends. Right now, it pays a dividend yield of 1.76%, which is great to have if the markets pull back from these record highs.
Best Investments When the Market Is High, No. 4: Amazon.com Inc.
There are some stocks that continue to appreciate no matter what the rest of the market is doing. Amazon.com Inc. (Nasdaq: AMZN) is one of those companies. If you take a look at the last five years, Amazon stock has climbed more than 333%, compared to just 61.9% for the Dow Jones. It was one of the best investments of 2016, and stock pickers haven't changed their mind about Amazon going into 2017.
It's likely that you or someone you know is a member of Amazon Prime. Just five years ago, it was estimated that Prime had 10 million members. Today that number has climbed to more than 80 million.
Prime isn't just for free two-day shipping. It offers free instant videos, which is only going to increase the demand for the Prime service in the wake of the recent price hikes from Netflix.
To continue growing its revenue, Amazon is currently expanding into groceries, providing exclusive products like the Echo, and exploring speedier delivery options.
AMZN stock is currently trading at $749.87 per share. The company's shares were up 10.95% in 2016.
Best Investments When the Market Is High, No. 3: Apple Inc.
Apple Inc.'s (Nasdaq: AAPL) new iPhone release on Sept. 7, 2016, surpassed last year's opening week sales for the 6s. Most Apple customers (98%) are repeat customers, but this year's phone sale increase was fueled by consumers switching device platforms due to fears about exploding Samsung smartphone batteries.
Phones aside, Apple remains a strong stock and a resilient company due to its innovation and diversification. Apple provides a host of services with its products, including Apple Pay, iCloud, iTunes, and Apple Music. By 2020, it's estimated that these services will account for 29% of Apple's gross income.
There's plenty to get excited about if you love technology. Apple is developing a Siri-powered speaker to rival anything that Alexa can put forth with the help of the recently acquired Emotient, a facial recognition technology company. There are hints of incorporating these facial recognition features into the new product.
AAPL is currently trading at $115.82 per share, with gains of 10% for 2016.
The No. 2 best investment when the market is high comes from an industry that hit $1.6 trillion in sales in 2016...
Best Investments When the Market Is High, No. 2: Raytheon Co.
If you're looking for one of the best investments today, it's hard to beat Raytheon Co. (NYSE: RTN). It doesn't matter if the market is up or down, defense spending continues to increase. In the past year, global annual defense spending hit $1.6 trillion, and this is considered to be an industry that is likely to continue to grow for the foreseeable future.
The U.S. remains the world leader in defense spending, and defense stocks have been some of the biggest winners of the continuing instability around the globe. Our country spends more than $500 billion annually on defense and right now a lot of that is going toward missile systems.
Raytheon is a leader in state-of-the-art missile systems. The company is currently sitting on multiple contracts from the U.S. military for wireless guided missiles, missile upgrades, and missile testing. This is the fastest-growing segment of Raytheon's well-diversified business.
In the third quarter of 2016, Raytheon was awarded a $265 million contract for a surface-to-air missile defense system to destroy incoming missiles or aircraft. This contract is just one of many that help the company generate more than $20 billion in revenue annually.
This year Raytheon is negotiating with Poland to develop a missile defense system worth $5 billion. The contract could be awarded as early as the first half of this year.
Shares of RTN are currently trading at $142, and the stock gained 14% in 2016.
Best Investments When the Market Is High, No. 1: Facebook Inc.
Facebook Inc. (Nasdaq: FB) stock has risen more than 200% since its IPO in May 2012. If you're looking for the best investments for long-term gains, Facebook should be on your list.
The company's daily active user count has soared past the 1 billion mark, enabling it to establish several sources of revenue. Earnings come in from Facebook Ads, Messenger, and Instagram. Virtual reality may be added to its sources of revenue in 2017 as the company is poised to tap the virtual reality market with its Oculus Rift.
Facebook is also currently experimenting with chatbots, which will be another potentially enormous source of revenue. These "robot" chat windows will interact with potential clients, promote products and services, and answer common questions.
There may be a unique buying opportunity in FB stock right now due to a short-term price dip that started at the end of October 2016. The dip has resulted in a 13% drop in price, but Money Morning Director of Technology & Venture Capital Research Michael A. Robinson has set a Facebook price target of $250 a share by 2020. With FB stock currently trading at $115.05, that's a potential gain of 117%. FB shares were up 9.93% in 2016.
Editor's note: Finding the right stocks isn't always easy. Every month Money Morning publishes a list of top stocks to buy. Here is the first list of 2017.
Follow Money Morning on Facebook and Twitter.