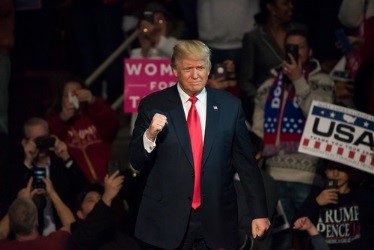 This morning, President Donald Trump met with 12 big-name CEOs from across the nation to restate his administration's corporate tax cut promises.
This reiteration, however, also came with a blatant threat...
The new POTUS likewise used this powwow as an opportunity to remind these bigwigs that he is serious about imposing a significant "border tax" on companies that move production away from the United States.
Here's how Trump delivered this deliberate warning...
Donald Trump: This Border Tax Will Be "Very Major"
"If you go to another country and you decide that you're going to close and get rid of 2,000 people or 5,000 people ... we are going to be imposing a very major border tax on the product when it comes in," Trump said today, according to The Wall Street Journal.
Don't miss this proven trading method for a shot at exceptionally large returns on straight-up stocks - anyone can do it. Click here to see how it works.
As far as the specificity of Trump's "very major border tax" is concerned, the real estate mogul has promoted a selective 35% imposition on companies in violation in the past. That percentage varies enormously from the "border adjustment" that is a key feature of the House Republicans' overall tax plan.
For their part, House GOP members have been proposing to change the corporate income tax into a destination-based cash-flow tax (DBCFT), which is a kind of "border-adjustable" tax.
But with such "border adjustability" comes an increased burden on the taxpayers themselves, which is one of the many reasons Trump isn't a fan...
[mmpazkzone name="in-story" network="9794" site="307044" id="137008" type="4"]
You see, with the House GOP's plan, consumers will have to pay their home country tax rate regardless of where they buy products from. This means that tax competition could be weakened, giving politicians more leeway to boost tax burdens and increase the size and scope of government.
President Trump doesn't like the House Republicans' proposal because it's also "too complicated," reported The Wall Street Journal on Jan. 16.
Furthermore, as Trump pointed out today, what's more important is the end goal of his border tax proposal: "bring back manufacturing to our country," he told the business heads in attendance today. There would also be breaks for companies that create products in the United States, he added.
Among those to whom Trump spoke today was Mark Fields, president and CEO of Ford Motor Co. (NYSE: F), which canceled plans to build a $1.6 billion plant in Mexico after Trump criticized the company on Jan. 3. Joining him were...
Up Next
President Trump's deregulation intentions also include major rollbacks in the banking industry.
For example, Trump repeatedly claimed while on the campaign trail that it was time for a "21st Century Glass-Steagall."
In other words, Trump wants to revert to the 1930s-era legislation that separated investment banks from the commercial banks where depositors actually parked their savings.
Money Morning Capital Wave Strategist Shah Gilani, who's an expert on the political implications of banking deregulation and how it will affect average investors, recently offered his approach for such big bank rollbacks.
Specifically, Gilani thinks it's easier said than done, but there is a way...
Follow us on Twitter @moneymorning or on Facebook.
Related Articles: