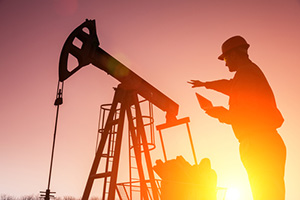 Today, we're showing you the best crude oil stock to buy in 2017 so you can profit from soaring oil prices.
Oil prices surged 50% over the last year, and Money Morning Global Energy Strategist Dr. Kent Moors forecasts another 20% rise in oil prices in 2017.
And buying oil stocks is one of the best ways to profit from higher oil prices.
That's because higher oil prices mean oil companies are making more money, and they're scaling up production.
For example, since OPEC first announced its production cut plans in September 2016, U.S. oil production has increased 6%. During the same time, an ETF that tracks oil stocks, the iShares Dow Jones U.S. Oil & Gas (NYSE Arca: IEO), climbed 11%.
But your gains can be even higher by playing the best crude oil stock instead of an ETF. Struggling companies and bad stocks weigh down ETFs.
So instead of taking the good with the bad in an oil ETF, we're going to show you the best oil stock to buy in 2017.
This oil stock grew 32% over the last year, and it's heading even higher in 2017.
But before we show you our top oil stock, here's why 2017 will be a great year for oil prices...
Why Crude Oil Stocks Will Do Great This Year
We've identified three big reasons to be bullish on oil in 2017.
First, the OPEC production cut is pushing oil prices higher in 2017, and American companies will benefit the most.
On Nov. 30, OPEC and 11 other countries reached a landmark agreement to cut oil production. This was the first time OPEC had agreed to a production cut since 2008.
The basic idea is simple supply in demand. By cutting production, the supply of oil goes down and the price of oil goes up.
WTI crude oil prices are up 14% since the Nov. 30 agreement was announced. The price of crude oil is now $53.04 a barrel.
And as long as the OPEC agreement stays in force, the price of oil is very likely to keep climbing. Moors says the agreement will keep a price floor for oil above $50 a barrel, and oil prices could even climb another 20%.
That's because less oil supply is going to be amplified by growing demand...
Second, the demand for oil is rising.
The EIA projects a 25% rise in global energy demand by 2040. And oil will still be the major source of energy meeting the increased demand.
New Report: Start Collecting a "Second Salary" with These Powerful Income Generators
Exxon Mobil Corp.'s (NYSE: XOM) latest "Energy Outlook" forecast that oil will remain the major source of energy in the years through 2040.
That means more energy will be needed to meet the world's needs, and oil will be the primary source, even as new forms of energy like solar and wind become more popular. This sort of demand will push oil stocks higher.
Third, President Trump is making it even easier for American oil companies to profit.
Trump wants to make the United States "energy independent." To do this, he has proposed cutting regulations on oil and gas companies. And he's already following through.
One of President Trump's first policy decisions was to end restrictions on the Dakota Access and Keystone XL pipelines on Jan. 24.
Energy Transfer Partners LP (NYSE: ETP), the company that owns Dakota Access, has seen its share price climb 7% since the executive order.
President Trump has also filled high-level staff positions with administrators friendly toward the oil industry. The new secretary of state is Rex Tillerson, the former CEO of Exxon Mobil.
Don't Miss: Our Bold 2017 Oil Price Forecast

And President Trump has nominated Oklahoma Attorney General Scott Pruitt to run the EPA. Pruitt brought lawsuits against the EPA on behalf of oil companies when he was the attorney general of Oklahoma.
President Trump has also signed legislation into law that will benefit American oil companies. On Tuesday (Feb. 14), President Trump signed a bill eliminating a Dodd-Frank requirement for oil companies to disclose payments made to foreign governments.
Now that oil prices are heading up and the business climate for oil companies is improving, oil company stocks are going to be one of the biggest profit plays this year. And to help you find the right one, we're giving you our best crude oil stock to buy...
The Best Crude Oil Stock to Buy in 2017