Gold price predictions for 2017 call for clashing market forces but higher prices by year's end.
That's according to the London Bullion Market Association's annual survey of precious metals analysts.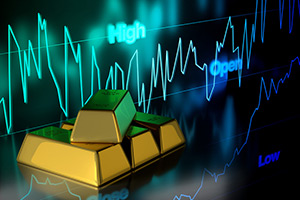 The LBMA survey asks participants to give their high gold price prediction, their low gold price prediction, and what they think the average gold price will be for the year.
The average low gold price prediction was $1,101, while the average high gold price forecast was $1,379. Each represents an 11.2% move from the current gold price of about $1,240 an ounce.
The individual opinions of the 23 analysts in the survey varied widely, although the bulls outnumbered the bears 19 to four. (To qualify as a bull, the analyst's average gold price forecast needed to be higher than $1,181, the average price over the first half of January.)
The one common theme among these wide-ranging forecasts is that 2017 will have an abundance of gold-influencing events – both bullish and bearish.
Here's what the bears are looking for…
Gold Price Predictions for 2017 – What the Bears Say
The most bearish analyst in the LBMA survey was Bernard Dahdah of London investment firm Natixis. His $1,110 estimate for the 2017 average gold price is based on expectations for three rate hikes by the U.S. Federal Reserve.
Higher interest rates are usually seen as negative for gold prices because they raise yields on bonds and other fixed-income investments, making them more attractive relative to gold (which pays out nothing).
Another bear, Robin Bhar of Société Générale (OTCMKTS: SCGLY), outlined several forces that could drag gold prices down in 2017: "Gold has clearly become much less attractive in this environment of rising yields, a stronger dollar and expectations of higher growth, increased spending, and rising inflation," he said. Bhar also cited the risk of Fed rate hikes.
Peter Fertig of Germany's QCR Quantitative Commodity Research Ltd. was most concerned about the effect rising bond yields will have on the price of gold.
"One of the backwinds for gold has turned into a headwind and this is likely to remain a driving force for gold prices in 2017," Fertig said, noting that the 30-year trend of declining bond yields has started reversing.
Fertig also pointed to the likelihood of lower gold demand from India resulting from government crackdowns on gold ownership outside of small amounts of jewelry.
Meanwhile, the more numerous bulls set out several strong arguments for why they see gold prices headed higher this year…
Gold Price Predictions for 2017 – What the Bulls Say
The most bullish analyst in the survey, Joni Teves of UBS Group AG (NYSE: UBS) subsidiary UBS Ltd., holds the distinction of having had the most accurate 2016 LBMA forecasts for both gold and silver.
Her estimate for the 2017 average gold price is $1,350, a 9% increase from current levels. But her high-end gold price prediction is $1,450, a 17% gain.
Related: The Essential Guide to Buying Gold & Silver
Teves sees gold prices getting a push from investors looking to diversify.
"We think gold remains under-owned and macro conditions should continue to encourage even broader participation in the gold market," she said.
One bullish analyst, Nikos Kavalis of Metals Focus, had a top-end estimate slightly higher, $1,460 (an 18% increase from current levels). He believes the forces that drove gold prices higher in early 2016 will play a role this year.
"First, whether the Fed hikes two or three times, short-term real U.S. rates will stay negative throughout the year, weighing on the U.S. currency. Second, so too will real, and in some cases even nominal, rates across other key reserve currencies. Third, the tail risks that encouraged safe-haven interest in gold last year will persist this year," Kavalis said.
Another bullish analyst, Kun Shen of the Bank of China, said that political developments, such as elections in several European nations that could elect populists, as well as the likelihood that President Donald Trump's economic policies "will fall short of expectations," will favor gold.
Shen also noted that gold continues to grow more popular in China, which will boost demand.
Several of the gold bulls mentioned global uncertainty as a strong driver of gold prices in 2017, citing things like Brexit, tensions in the Middle East and the South China Sea, and the unpredictability of nations like Russia, Iran, and North Korea.
But several catalysts the analysts downplayed – or in some cases got backwards – could have at least as much impact on the yellow metal this year. These catalysts are likely to push prices well beyond even their most optimistic gold price predictions…
Why Gold Prices Are Headed for All-Time Highs