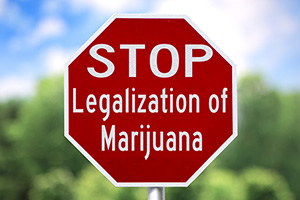 On Thursday, White House press secretary Sean Spicer suggested the Trump administration will soon crack down on state laws regarding recreational marijuana use.
"I do believe that you'll see greater enforcement," Spicer said, while adding that the exact issue is a "question for the Department of Justice."
Spicer also clarified the administration is solely focusing on recreational use of the drug, which is now legal in eight states.
"Again there's a big difference between the medical use... that's very different than the recreational use, which is something the Department of Justice will be further looking into," Spicer added.
Indeed, Trump's new attorney general, Jeff Sessions, has been an outspoken critic on the nation's burgeoning marijuana industry.
The 20-year senator is firmly against legalizing pot for recreational or for medicinal use.
"We need grown-ups in charge in Washington to say marijuana is not that kind of thing that ought to be legalized," Sessions claimed in a Senate meeting on April 5.
And with his new power as attorney general to enforce federal laws, he'll be able to change the expanding marijuana industry in one of two ways...
2 Ways the Trump Admin Can Upend Recreational Marijuana
No. 1: Reverse the Cole Memo
Under former President Barack Obama, the DOJ treated marijuana legalization as a states' issue.
In fact, in 2013 the DOJ released a memorandum, dubbed the "Cole Memo," that outlined what circumstances would call for federal law enforcement to intervene on the marijuana issues of individual states. Basically, so long as the states are effectively able to regulate and enforce their marijuana policies, there would be need for intervention.
However, Sessions has heavily criticized Obama's decision in the past, and on April 5 stated the administration had "allowed the issue of legal marijuana to be minimized."
You see, Sessions could easily reverse the course as the current attorney general by scrapping the memo completely and allowing the feds to start interfering in the states' business. And he could do so at any time...
NEW: Plot your course to a 7-figure weed windfall with the top pot stocks from every ecosystem – growers, edibles, dispensaries, and more. Read more…
"The DOJ could write a letter to governors in legalized states stating that any state issued licenses regulating marijuana sales is a violation of the Controlled Substances Act, and say they have 90 days to revoke licenses. It could issue a new memo to the states that have not implemented marijuana sales yet and say that they advise those states not to allow them," said Jeffery Zinmeister, executive vice president and director of government relations for anti-legalization group Smart Approaches to Marijuana on Dec. 5.
The Trump administration could also stymie recreational marijuana this year by targeting an obscure amendment enacted over a decade ago...