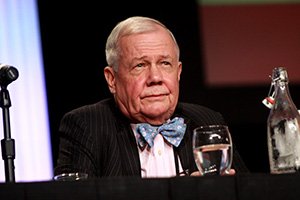 Renowned hedge fund investor and financial markets expert Jim Rogers issued a dire warning for investors today (April 6): Trump will cause a "global financial meltdown."
Rogers - who viewed the election as a lose/lose scenario - bet on a Trump victory, according to The Economic Times.
The meltdown could begin as soon as today, Rogers warned...
"He promised many, many times a 45% tariff on China the first day, that he would name them a currency manipulator, and that he would have a trade war with Mexico, Japan, and Korea," Rogers said in an interview with The Financial News Network.
"If Mr. Trump starts trade wars, the whole world's going to collapse. I mean it - it's over," warned Rogers.
The timing of Rogers' statements coincides with President Trump's meeting with Chinese President Xi Jinping today. They're set to discuss trade, of all things.
In fact, Trump cautioned via Twitter on March 30 that this meeting would be a "very difficult one" because of the trade discussions:

Here's how you can protect yourself from the chaos...
Prepare for the Worst
"Nobody has ever won a trade war, and they always end up disastrous for everybody and not just the people involved," said Rogers.
So, in times of financial turmoil, Rogers suggests traders put their money towards U.S. dollars.
"I own a lot of U.S. dollars because I'm expecting problems," said Rogers. "The U.S. is now the largest debtor nation in the history of the world, but I own a lot of them because turmoil is coming. The dollar will go higher, it might get overpriced, it might turn into a bubble. I hope I'm smart enough to sell at the point."
However, there are other commodities and sectors investors should be seriously considering...
Rogers likes agriculture.
"If Mr. Trump starts trade wars, the whole world's going to collapse. I mean it - it's over," warned Rogers.
"If we are going to have chaos and disaster, being a farmer is one of the best things you can do. In the end, the safest safe haven is agriculture," said Rogers.
Indeed, the dollar is a great way to make a profit off of market turmoil - if you know how to play it right. And agriculture may be safe...
But we like another investment for times like these, when we're experiencing an "era of uncertainty"...
The Smartest Investment You Can Make Right Now
You see, in times of fear and uncertainty, investors don't walk - they run - to safe-haven investments like gold.
But here's the secret...
The smart ones - the investors who want to see real, triple-digit gains - buy up the gold miners.
And one gold mining stock stands out from the rest: Goldcorp Inc. (NYSE: GG).
In fact, Money Morning Executive Editor - and renowned champion stock picker - Bill Patalon has been watching Goldcorp for years, and he thinks now is the ultimate time to play this stock.
Check out the video below; you don't want to miss this.
Rare Gold Anomaly:

The first time it created $1.25 billion in new wealth virtually overnight. The second time, it created a cash windfall of $6 billion - both times making in-the-know investors flat-out millionaires. And it's about to happen again, only this time we expect the cash windfall to reach $13 billion. If you take advantage of this rare gold anomaly right now, you, too, could walk away a millionaire.
Details here...
Follow Money Morning on Twitter @moneymorning, Facebook, and LinkedIn.