Investors are right to look for the best renewable energy stocks in 2017. Renewable energy investing is primed for explosive growth as the costs of clean energy fall and fossil fuel sources dry up.
Today, we've put together a list of the best-performing renewable energy stocks so far this year (with a market cap of at least $100 million):
| | | | |
| --- | --- | --- | --- |
| Company Name | Share Price | YTD | Market Cap |
| Broadwind Energy Inc. (Nasdaq: BWEN) | $9.43 | +133.13 | $150.08M |
| NRG Energy Inc. (NYSE: NRG) | $17.00 | +38.66% | $5.45B |
| JA Solar Holdings Co. (Nasdaq: JASO) | $6.68 | +38.73 | $317.30M |
| SolarEdge Technologies Inc. (Nasdaq: SEDG) | $16.33 | +31.65 | $704.86M |
| Enphase Energy Inc. (Nasdaq: ENPH) | $1.29 | +28.22 | $113.57M |
| TerraForm Global Inc. (Nasdaq: GLBL) | $4.75 | +18.99% | $833.63M |
| Pattern Energy Group Inc. (Nasdaq: PEGI) | $22.04 | +16.06% | $1.97B |
| Hannon Armstrong Inc. (NYSE: HASI) | $21.76 | +14.59% | $1.14B |
| Canadian Solar Inc. (Nasdaq: CSIQ) | $13.83 | +13.63% | $810.96M |
| NextEra Energy Inc. (NYSE: NEE) | $132.39 | +10.82% | $61.85B |
While some of these are off to a hot start, we aren't recommending this list of renewable energy stocks. That's because many of these clean energy stocks are speculative bets or are overhyped (and overpriced).
Instead, we're interested in the next big winner, one that can make you money. And we have one renewable energy stock that could bring you double-digit gains in 2017 alone.
We'll show you exactly which renewable energy stock to buy, too. But we also want to show you why this is the perfect time for renewable energy investing...
Investing in Renewable Energy Will Be Hugely Profitable in 2017
The demand for energy is rising, and the costs of renewable energy are falling. That makes this a great time to invest in alternative energy, as the sector is set to take off.
The EIA forecasts global demand for energy will rise 25% by 2040. That means more energy than ever will be needed to fulfill this global need.
But traditional sources of energy like coal, gas, and oil will be too costly to meet these needs.
Trending Now: Oro Blanco Fuel Could Have Nearly Unlimited Profit Potential
The IEA predicts prices of these resources will rise as supplies dwindle and producers have to turn to more difficult, and costly, reservoirs. That's why the EIA expects renewable energy sources to become the leading supplier of electrical power in the United States if fossil fuel prices rise.
And Money Morning Global Energy Strategist Dr. Kent Moors says the growth of new sources of energy, like renewables, combined with existing sources presents a ripe opportunity to profit.
"Energy abundance is unlocking staggering gains for investors," said Moors.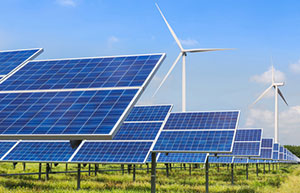 Renewable sources are not only needed to meet the growing demand for energy, they also have several advantages over traditional sources that could make them even more dominant than fossil fuels.
Not only is renewable energy better for the environment, which means society is willing to subsidize these sources, but clean energy is also harnessing unlimited, free energy. It's only a matter of reducing the costs of the technology needed to harness this power.
And those costs are dropping fast...
"Solar energy has already reached grid parity with more conventional sources of power generation, like coal and gas," according to Moors. "Solar power's recent move toward grid parity has actually taken place without subsidies."
As renewable energy sources like solar and wind energy become cost-competitive with natural gas, they will be able to dominate the entire energy market.
While this surge in clean energy hasn't happened yet, it's only a matter of time. That means investors looking for explosive profit potential from the next "big thing" can find it in alternative energy stocks.
Like we said above, "if you just 'play the majors, you may find yourself with less than your fair share" of the massive gains ahead, said Moors. Instead, "the windfall profits in the months ahead will be reserved for a handful of small niche companies poised to become the biggest winners as energy truly goes global."
And we have one of Moors' under-the-radar renewable energy stocks poised for double-digit gains in 2017, right here...
One of the Best Renewable Energy Stocks of 2017
[mmpazkzone name="end-story-hostage" network="9794" site="307044" id="138536" type="4"]
Woodward Inc. (Nasdaq: WWD) is one of Moors' favorite renewable energy stocks because it's a nontraditional pick.
Woodward isn't a typical renewable energy company. It doesn't own wind farms or install solar panels. It doesn't operate electrical power plants that turn clean energy into electricity. It simply develops the technology and makes the parts that make all of that possible.
Woodward makes everything from solenoids, converters, aeroderivative turbines, electrical grids, and the software to make it all work. These are crucial components of the growing renewable energy grid, and every company harnessing wind or solar power relies on these basic components.
That's a great way for you to profit off of the growing renewable sector without having to overpay for the overpriced majors or take a risky bet on a penny stock that might never pay off.
Moors first recommended WWD back in January 2014. Since then, it's up 52%. And Moors thinks the best is ahead for this company as the U.S. and global energy sectors increasingly rely on renewable sources.
WWD currently trades at $68.34 a share, and Wall Street analysts are projecting the stock could reach up to $82, a 20% increase in 2017 alone.
Energy's $48 Trillion Holy Grail: A shocking discovery has unlocked a 36,000-year supply of free energy. Not only is this fuel source endless, it's ready to use immediately. The U.S. Department of Defense just invested $7 billion in a single day, igniting an early-stage "energy boom" that will likely mint millionaires at a dizzying clip. Find out exactly how to play it here...

Follow Money Morning on Twitter @moneymorning, Facebook, and LinkedIn.