Clean energy stocks are still the best energy stocks to own right now, despite President Donald Trump pulling the United States out of the Paris Climate Accord. In fact, renewable energy production will see over 100% growth by 2025.
To help investors find the right renewable energy stocks, we're giving Money Morning readers our top clean energy stock pick today...
Money Morning Global Energy Strategist Dr. Kent Moors says the United States might be pulling out of the climate agreement, but that won't stop renewable energy from being crucial to meeting the global demand for energy.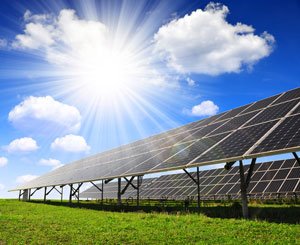 Moors says the climate agreement was non-binding and voluntary, so the United States' decision to leave it won't change much. A more significant development is President Trump's attempt to end the "Clean Power Plan," an Obama-era initiative to promote clean energy, because it's currently America's policy instead of a non-binding agreement.
This Could Make Big Oil Obsolete: One gallon of this new fuel could produce enough energy to power a car for 42,325 miles. It's being hailed by many experts as energy's "Holy Grail." Read more...
But no matter what happens, renewable energy is here to stay, and solar and wind power will be top sources of energy within the next two decades. The cost of clean energy sources is already competitive with fossil fuels, even without the Paris Agreement.
"Solar and wind power will remain competitive on price both here in America and abroad," says Moors.
In fact, the solar and wind energy sectors are poised for triple-digit growth by 2040, whether the United States is part of the Paris Climate Agreement or not.
Before we show you one of the top clean energy stocks to own right now, here's why the renewable energy sector's growth is going to surge...
You Still Need to Own Clean Energy Stocks After the Paris Withdrawal
The United States' withdrawal from the Paris Climate Agreement might make it sound like the world's largest economy isn't going to focus on clean energy anymore. But in reality, renewable energy sources still have tremendous profit potential for investors who know where to look.
The Energy Information Administration (EIA) projects global demand for energy will rise 25% by 2040. Meeting increased global demand is a big reason Moors says "Solar and wind may be the up-and-coming sources of energy, with costs tumbling fast."
That's especially true as the costs of solar and wind energy continue to fall. Since the 1970s, the cost of solar energy has been slashed by 1/150. Just in the last year, solar costs have declined 10%. And now solar energy has achieved grid parity in 20 states, including California, New York, and New Jersey. That means producing electricity from solar energy costs the same as traditional fuels, depending on regional energy prices.
Trending: Why 2017 Is the Year for Investing in Renewables
Similarly, wind energy costs are falling too. Moors notes that, just like solar, wind energy has achieved grid parity in many parts of the world. But wind energy hasn't just achieved grid parity - in some areas, it's actually the cheapest source of new electricity. The EIA reports that the minimum cost of wind energy is the cheapest source of electricity in new power plants, with a cost of $44.3 per megawatt hour. That's even cheaper than the lowest-costing natural gas power plants, which come in at $53.8 per megawatt hour.
This sort of cost-cutting is one of the main reasons renewable energy is here to stay, even without American involvement in the Paris Climate Accord.
The United Nations reports that 55% of all new power in 2016 came from clean energy sources, which is a 10% increase from 2015.
And just this week (Wednesday, June 7), the United Kingdom reported that wind and solar both produced more electricity than oil and gas combined that day, according to The Independent.
And the gains for renewable energy are just beginning; lower costs across the globe are making renewable energy a major growth sector.
Just look at the growth expected for renewable sources of energy according to the EIA. Whether the United States continues its "Clean Power Plan" or not, alternative sources of energy will grow into a leading source of energy by 2040.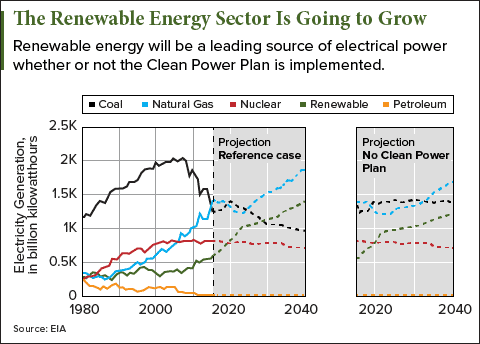 The EIA is forecasting renewable energy production will grow 103% by 2025, but solar energy alone will grow 60% by just 2018 and more than an astounding 500% by 2040.
This sort of growth means alternative energy stocks will be lucrative investments over the next decade.
But investors don't have time to wait to capitalize on the skyrocketing potential of clean energy stocks.
Because the timing is so crucial, here's one of the best clean energy stocks to buy now. This solar stock is ready to capitalize on the 500% potential industry growth ahead...
Our Best Clean Energy Stock to Own in 2017