Wal-Mart Stores Inc. (NYSE:WMT) is ditching its most well-known pricing strategy in an effort to compete with e-commerce leviathan Amazon.com Inc. (Nasdaq: AMZN).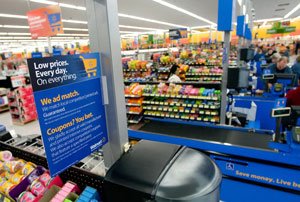 To encourage consumers to use Wal-Mart's app and online store to shop for merchandise, the company has decided to eliminate its price-matching policy at over 800 of its 5,000 stores nationwide - and plans to expand the same strategy company-wide.
Wal-Mart spokesperson John Forrest Ales told Retail Dive last year that the price-matching policy is ending mostly because the retailer is confident that it already has the lowest prices.
Yet consumers are not pleased with the change.
"I complained about them stopping their price-matching... I will just go to the other stores now to buy the items," one Facebook user said in August 2016, when Wal-Mart first began to roll out the change.
"I'm finding that Wal-Mart is no longer the value it used to be," said another user.
Indeed, Wal-Mart is stepping away from its "lowest price guaranteed" stance and switching to a new scheme altogether...
Wal-Mart's New Strategy Is Actually Terrible for Consumers
With the old price-match program, Wal-Mart shoppers could simply show a competitor's ad selling an item for less during checkout and pay that ad's price. Now, customers have to go through a tedious, multi-step process.
This is because Wal-Mart is desperate to find a way to compete with rival Amazon. And in order to do that, it needs something Amazon has in spades: consumer data.
So in order to get the "lowest" prices, customers now have to:
Have a smartphone
Download Wal-Mart's "Savings Catcher" app
Enter their information into the app
Scan their receipts into the app after purchasing
Trust that the app will match the deals to those of local competitors
Wait for the app to offer an e-gift card for the difference, if there is one
In other words, instead of just lowering the price at the register to save you money in one simple step, Wal-Mart now makes customers go through a six-step process just to "give" you money that you can only spend at Wal-Mart.
This keeps the "savings" dollars at Wal-Mart and ensures the company has access to valuable information on shoppers' spending habits and in-store purchase decisions.
The Best Pot Stocks: After months of research, we've found the most lucrative and fastest-growing legal pot stocks in America. And for a limited time, you can get all the details for free. Learn more...
"In this scheme, shoppers may increasingly come to depend on their smartphones for price-matching - and on Wal-Mart for 'always low prices,'" reported Retail Dive. That is, if they don't just start shopping at other stores...
At the same time Wal-Mart is taking away its price-match policy, other retailers are offering it for the first time. Target Corp. (NYSE: TGT), Bed Bath & Beyond Inc. (Nasdaq: BBBY), and Best Buy Co. Inc. (NYSE: BBY) all offer price-match guarantees on their merchandise.
In fact, just last week, even online retailer eBay Inc. (Nasdaq: EBAY) announced that brand-new items on its deals page will qualify for a price-match guarantee.
In short, Wal-Mart and the other retailers are changing the way they do business just to compete with the likes of Amazon. And although Wal-Mart has seriously frustrated its consumers, many companies have fared far worse at the hands of the e-commerce giant....
How to Profit from the "Retail Ice Age"
"Everyone shops - but thanks to the Internet (namely, Amazon), where and how we shop has changed in ways that none of us ever imagined," says Money Morning Capital Wave Strategist Shah Gilani.
And our shopping behavior isn't the only thing that's changed.
For one, the retail landscape is already littered with the corpses of recently deceased companies, including...
Sports Authority
Vestis Retail Group (operator of Sports Chalet and Eastern Mountain Sports)
Aeropostale
Linens 'n Things
PacSun
American Apparel
RadioShack
WetSeal
Eddie Bauer
The list goes on... In fact, Shah's got his eye on dozens and dozens of other companies that are positioned to fail.
"The truth is, there's a ton of money to be made on retail stocks - if you know what you're doing," said Shah.
But before you go shorting retailers left and right, there are a few things you should know...
Follow Money Morning on Twitter @moneymorning, Facebook, and LinkedIn.
Up Next for You...
Will an Amazon Stock Split Happen in 2017?
After the Whole Foods Deal, Amazon Is Eyeing This No. 1 Grocer