The stock market is on a record-breaking bull run, with the Dow topping 22,000 for the first time this month. But while the stock market soars to new heights, investors are beginning to wonder if we are in a stock market bubble…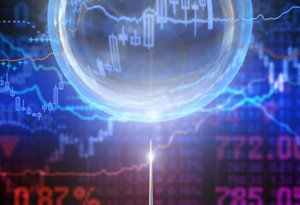 Since March 2009, the Dow is up over 200%, including a gain of more than 11% this year alone. The index just hit a string of nine consecutive days of record-high closes between July 26 and Aug. 7. The Nasdaq has raced to 18% gains in 2017 alone. And just last week (Aug. 8), the S&P 500 hit its all-time high of 2,480.9.
While we think stocks still have plenty of room to head higher and see no signs this run is anything like the tech bubble of the 1990s, investors can always prepare themselves for the unexpected.
One reason a stock market crash is so destructive is that few people see them coming, and then investors rush to exit stocks once it's too late.
Urgent: An $80 billion cover-up? Feds use obscure loophole to threaten retirees… Read more…
Ahead of the 1929 stock market crash, the Dow raced to a more than 300% gain starting in 1922. But investors mistakenly believed there would be no end to soaring stock prices. Famed Yale economist Irving Fisher said stocks had reached a "permanently high plateau" just a month before the 1929 crash.
And when the market fell, unprepared investors panicked, sending stocks plummeting. The Dow lost 86% of its value between 1929 and 1932.
That sort of loss is why we want our readers to be prepared no matter the situation. Even though we aren't in a stock market bubble, there are some signs stocks are trading higher than their fundamentals.
Here are the latest stock market crash warning signs, plus the best way to protect your money during a correction or crash…
Don't Wait for a Stock Market Bubble to Protect Your Money
Stocks have been soaring, which is usually a great sign for investors, but there are some warning signs too.
You see, after the market crash in 2008, the Fed slashed interest rates in an effort to kick-start the economy. Interest rates were cut from over 5% in 2007 to 0.25% in 2008.
This made borrowing money cheap in hopes that businesses would use the money to stay open and expand. Instead, publicly traded companies used the cheap money to repurchase shares of their own stock.
Between 2009 and 2016, public corporations borrowed more than $1.9 trillion, while $2.1 trillion was used to repurchase shares of their own stock.
That's part of the reason some metrics are showing stocks are overvalued.
Trending Now: The Four Best Silver Investments This Year (and Why You Need Them in Your Portfolio Today)
The Shiller P/E ratio – a commonly used measure of stock market value – is currently at 30.4, 81% above its historical average.
That means the current Shiller P/E ratio is higher than before the 2008 stock market crash, when it hit a high of 27.4. And only two other times in history has the Shiller P/E ratio gone higher than it is now: 1929 and 2000. Both years the markets crashed.
That certainly doesn't mean the stock market will crash, but it means investors have some reasons to be cautious. And protecting your money from a stock market crash doesn't mean giving up profits right now.
These two stocks are resilient during downturns (meaning they'll help protect your money) and offer double-digit profit potential right now…
The 2 Best Stocks to Own in a Stock Market Crash