Watch out for "Fedcoin."
That's what a cryptocurrency pegged to the U.S. dollar and issued by the U.S. Federal Reserve will be called.
While the government will sell Fedcoin as a win for citizens, a crypto version of the dollar will actually play a starring role in the death of cash. It will also give the government even more control over your money.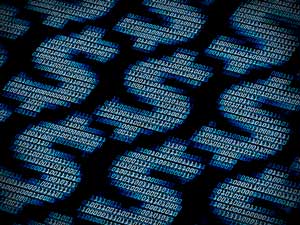 While hypothetical for now, there's good reason to believe the Fed is seriously considering the creation of a Fedcoin.
Of course, the Fed would prefer you believe otherwise. At a blockchain conference in April, Jim Cunha, senior vice president of treasury and financial services at the Federal Reserve Bank of Boston, threw cold water on the notion a Fedcoin is in the pipeline.
"Right now, I can tell you categorically, there is no plan to issue a Fedcoin at any specific date or time," Cunha said.
But we do know the Fed has been studying Bitcoin, cryptocurrencies, and blockchain technology for years. Just last year, the Fed published a research paper that explored how the blockchain can be used for payments, clearing, and settlement.
And Cunha's denial is extraordinarily narrow. Just because no Fedcoin launch date is set doesn't mean the Fed isn't working on the project behind closed doors.
Actually, it would be surprising if Fed officials weren't having private conversations about what a Fedcoin would look like.
BREAKING: New Legislation Could Turn Tiny Pot Stocks into Millions. Click Here…
And at least one Fed official has given Fedcoin a great deal of thought.
Over the past three years, David Andolfatto, a vice president of the St. Louis Federal Reserve Bank and a professor of economics at Simon Fraser University, has written about Fedcoin on his personal blog, given public presentations on it, and has discussed the idea in interviews.
Andolfatto points out his thoughts on Fedcoin aren't official Fed policy. But a Fed vice president publicly discussing the concept of "Fedcoin" speaks volumes. It's also possible the Fed is using Andolfatto's "unofficial" statements as a trial balloon to gauge reaction to the idea.
And bear in mind that the Federal Reserve isn't the only central bank looking at this…
Fiat Cryptocurrencies Like Fedcoin Will Be Commonplace
The Swedish central bank, the Riksbank, is thought to have made the most progress in the creation of its own fiat cryptocurrency.
The Riksbank has an advantage, in that Swedes already are dispensing with their cash. Transactions in cash have declined from 40% of all retail transactions in 2010 to just 10% today.
Other central banks known to be studying the idea of an official, national cryptocurrency include the Bank of Canada, the People's Bank of China, the Monetary Authority of Singapore, and the Deutsche Bundesbank. The PBOC even published a paper last year explaining how a crypto-yuan would work.
The Fed would be remiss if it wasn't exploring these same possibilities.
Don't Miss: How to Buy Bitcoins – Your Guide to Digital Profits
A lot of technical issues will need to be resolved to make fiat cryptocurrencies work. For example, many cryptocurrencies, like Bitcoin, are decentralized. A Fedcoin would be totally controlled by the Federal Reserve (and, by extension, the U.S. banking system).
For instance, the need for centralization raises questions about how the system would be secured to prevent double-spending and other fraudulent transactions. (Miners and users running "full nodes" with the entire blockchain serve that function in Bitcoin).
But whatever the hurdles, the Fed has several very strong incentives for pursuing Fedcoin. For one thing, it would be devilishly effective in wiping out cash…
Say Hello to "Fedcoin" and Goodbye to Your Cash