China's new tactics in the South China Sea will soon give it the power to establish total dominance there - by force, if necessary.
Thanks to calculated diplomacy efforts, China has successfully begun building more naval bases on the Paracel Islands without so much as a peep from its Southeast Asian neighbors - even though it promised not to further "militarize" these islands back in 2015.
These new bases will only make life harder for the U.S. Navy.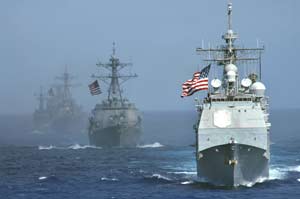 Although America has no claims of its own in the disputed waters, U.S. Navy warships are a frequent sight there, as they conduct Freedom of Navigation Operations (FONOPs). U.S. policy dictates that it will protect the right of states to freely navigate through international waters, which includes the South China Sea - a tacit rejection of China's territorial claim.
Now, China is closer than ever to realizing its aim of pushing the United States out of the South China Sea.
Here's how the Red Dragon did it - and how investors should be playing these geopolitical tensions...
How China Has Manipulated Its Neighbors
The Red Dragon didn't achieve its renewed position of power in the disputed region with the same bully tactics the world is used to reading about.
No, China's military would not be where it is today were it not for its government's calculated diplomacy in the meantime.
Defense Stocks Are Skyrocketing - See How You Could Profit from This Incredible Company Before It's Too Late
For example, on May 8, China pledged $24 billion in aid and investment to the Philippines - formerly its chief rival in the South China Sea dispute. This contribution seemed to quell the island nation's complaint about its usually aggressive northern neighbor. Even Philippines President Rodrigo Duterte admitted on Aug. 25 that trying to fight China would be ultimately futile. "We will not win," he said, according to ABS CBN News - which is another way of saying, "If you can't beat 'em, join 'em."
Then, on Aug. 6, China and its Association of Southeast Asian Nations (ASEAN) counterparts formally adopted a South China Sea code of conduct (COC) - marking a milestone in a diplomatic process that's been 25 years in the making.
And just yesterday (Oct. 31), China cooperated with the nations of the South China Sea (with the exception of Vietnam) in joint maritime rescue drills in the disputed region. These exercises simulated a collision between a Chinese passenger ship and a Cambodian bulk cargo ship, with passengers falling into the sea and the cargo ship catching fire, Xinhua reported. They were the first of such joint feats in over two decades.
Indeed, Beijing's olive branch tactics seem to be working with ASEAN. Although China has consistently broken its 2015 promise not to further "militarize" the islands in the South China Sea, ASEAN nations appear to be cautiously accepting Beijing's actions thanks to its neighborly benevolence.
A U.S.-China Conflict in the South China Sea Could Affect the Entire World
Since the battle in the disputed waters has mostly boiled down to a U.S.-China conflict, the reality of a Sino-American war just moved up on nonpartisan research organization RAND Corp.'s list of "risky possibilities."
According to Reuters on Oct. 31, RAND noted recently that the South China Sea has "become the unanticipated focal point of U.S.-Chinese rivalry."
Even a localized conflict there, the organization added, "could quickly spread into the economic, cyber, and space realms, doing considerable damage to both sides."
Editor's Note: Don't miss a single update on the South China Sea as Beijing steps up its aggressive campaign to oust the United States from the disputed waters. Get real-time alerts sent to your inbox, completely free, here.
Essentially, RAND is worried that a South China Sea battle between Washington and Beijing would become a global war - and fast.
The research organization added in its study that, in order to avoid such a fight, the United States should continue "to enable the capabilities and buttress the resolve of China's neighbors."
That is to say, RAND believes the U.S. military should remain in the disputed region to represent and support ASEAN nations in their fight against Beijing.
But as we've seen, they're not fighting anymore.
However, there is one ASEAN nation steering clear of Beijing's benevolence...
Vietnam - the United States' Key to the South China Sea
Beijing's regional rival Vietnam may spark conflict in the South China Sea sooner than expected.
Despite the acquiescence of its ASEAN neighbors, the small nation remains steadfast in its original sovereignty assertions.
According to Reuters today, Vietnam has built its own military complexes on islands in the South China Sea - specifically, on the Spratly archipelago. As has China.
Vietnam's presence there actually predates Beijing's. It specifically goes back to 2002, when it constructed minor defensive fortifications, helipads, and installed military communications equipment and radar there, reported China Policy Institute (CPI) on Oct. 4.
Hanoi has never wavered from these regional claims.
And to add insult to injury, Vietnam openly welcomed U.S. FONOPs in October 2016 - a direct jab at China - by stating it "respects other countries to exercise their rights in the East Sea as provided for by the UNCLOS, including the rights to freedom of navigation and overflight. Maritime claims and related actions of states must conform to international law, including the UNCLOS," CPI reported.
In response, China has issued countless warnings that the United States needs to get out.
Just this Tuesday, Chinese Ambassador to Washington Cui Tiankai cautioned that "any U.S. effort to contain China's rise or intervene in the South China Sea would be viewed with scorn by Beijing," reported The Financial Times that day.
In short, Beijing's patience with Washington has run out.
Regardless, the United States continues pushing sensitive buttons.
For instance, the U.S. military has been publically discussing selling high-grade military hardware to India and ASEAN nations in a bid to unify the region against China, FT reported on Oct. 31.
FT also reported that U.S. Defense Secretary James Mattis publically and repeatedly affirms "the importance of freedom of navigation through vital trade routes and sovereignty" - a clear nod to China's territorial maneuvers in the South China Sea.
The actual effectiveness of Washington's button-pushing remains to be seen.
But the heightening tensions are pushing a select few stocks way up - crushing even this incredible bull market. We're talking gains of 23%, 65%, and 67% year to date (YTD). Check it out...
How to Profit from the Public Fear of a War with Asia
Here Are 10 "One-Click" Ways to Earn 10% or Better on Your Money Every Quarter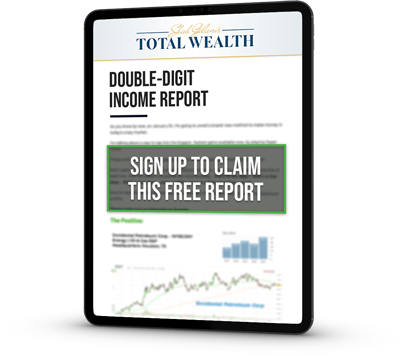 Appreciation is great, but it's possible to get even more out of the shares you own. A lot more: you can easily beat inflation and collect regular income to spare. There are no complicated trades to put on, no high-level options clearances necessary. In fact, you can do this with a couple of mouse clicks – passive income redefined. Click here for the report…