U.S. oil production is poised to bypass Saudi Arabia this year, creating a new investment opportunity in American oil companies...
The EIA released a forecast of 9.69 million barrels per day (MMbpd) for U.S. oil producers in 2018, which is an increase of 5.7% over the 9.16 MMbpd average last year.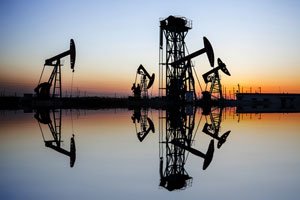 This new prediction is a startling revelation for the world's major oil producers, such as Saudi Arabia, who could soon take a backseat to America's shale oil companies.
And that's creating a profit opportunity for investors who know where to look...
Why U.S. Oil Production Is Surging
Between 2010 and 2016, the annual growth in American oil production averaged 8.6%. From 2015 to 2016, there was only a single year of declining production.
Considering those figures, the forecast from EIA for 5.7% annual growth seems conservative at best.
On Jan. 9, Bloomberg reported that U.S. output was already set to rise to a shocking 10 MMbpd as early as February 2018 and that it will top 11 MM/bpd in November 2019.
Urgent: Feds use obscure loophole to threaten retirees. If you have a 401(k), IRA, or any type of retirement account, this could cause you to miss out on $68,870 or more. Learn more...
Compare this to the nearly 11 MMbpd produced by Russia in 2017 and just under 10 MMbpd produced by Saudi Arabia in December. It's no wonder that U.S. oil producers are receiving so much attention.
On Jan. 19, the International Energy Agency (IEA) reported that the United States could soon be the world leader in oil output, stating that 2018 has the potential to be "record-setting for the U.S."
And one of the key reasons that could happen is that Russia and Saudi Arabia have recently partnered to throttle back output in an effort to prop up oil prices.
That's creating a perfect storm for American oil producers: Rising prices are encouraging production, and OPEC and Russia are helping sustain the higher prices.
Higher American oil production is also a sign oil companies are making more money, and that's creating a profit opportunity for investors who know where to look.
It's one that can be sustained over the long term, too...
The IEA also predicts that the United States could be capable of producing as much as 30 million barrels of oil and gas per day by 2025, which is a 25% increase over today's levels.
Here's how to invest in oil as prices and production are rising in the United States...
Here's Exactly How to Profit from Rising Oil Production
[mmpazkzone name="in-story" network="9794" site="307044" id="137008" type="4"]
Money Morning Global Energy Strategist Dr. Kent Moors has two strategies investors can use to profit from the U.S. oil industry.
The first is the United States Oil Fund ETF (NYSE Arca: USO).
USO tracks the daily price movement of oil. When oil prices rise, you profit. And because USO is an exchange-traded fund (ETF), you can buy and sell it just like a stock. There's no need to trade complicated futures contracts.
Second, you can profit from rising oil prices by owning the right oil company stocks.
But not every company in the oil industry will benefit from rising oil prices, so you need to find well-run companies with potential to grow if you want to profit.
Big oil company stocks are examples of oil stocks investors want to stay away from.
Even though they might be some of the largest companies in the world - and household names - oil companies like Exxon Mobil Corp. (NYSE: XOM), Royal Dutch Shell Plc. (NYSE ADR: RDS-A), and Chevron Corp. (NYSE: CVX) are too bogged down with debt and billion-dollar projects across the world to grow much when oil prices rise.
Instead, look for smaller companies with proven business models.
One of Moors' favorites is Plains All American Pipeline LP (NYSE: PAA). As a midstream oil company, PAA doesn't have to jockey with goliaths like Exxon, who are buying up billions in real estate to find the next productive oil patch. PAA simply transports oil from the oil patches to hubs like Cushing, Okla., or the Gulf of Mexico.
Firms like PAA keep their expenses low and generate more revenue as oil prices - and oil production - rise, which means more of their profits get passed on to shareholders.
Third, Moors has an even better - and more lucrative - way to profit from oil prices. And by using this strategy, oil prices don't have to rise for you to profit.
It's a way to make anywhere from three to nine times your money in oil in the next 60 days - no matter which way the price moves, as long as it's drastic.
Now, you never see average investors trading this way, because they don't know how. But traders at Goldman Sachs, Morgan Stanley, and Deutsche Bank do it all the time.
Seventeen Triple-Digit Winners This Year... and Counting
Keith Fitz-Gerald's Money Map Report subscribers who followed along with his recommendations took down 20 triple-digit winners last year - including a 201.68% return and 132.35% gain that closed out in the same week.
Two days into 2018, they closed another triple-digit winner worth 276.92%.
Each week, Keith shows everyday Americans how to tap into the world's biggest high-profit trends, ahead of the crowd.
There's nothing complicated or overly risky - and no guesswork involved.
Right now, he's looking at another double-your-money opportunity, and there's still time to find out how to subscribe and access all of Keith's recommendations by clicking here now...
Follow Money Morning on Twitter @moneymorning, Facebook, and LinkedIn.