The current bull market is more than nine years old, but stocks are starting to stagnate. The Dow is down over 1% on the year, including a drop of more than 1,000 points on Feb. 5. The market hasn't rallied back to January highs.
That could be a sign we'll see a bear market in 2018.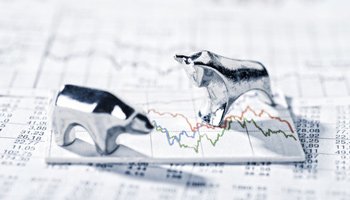 Now, a bear market is defined as a 20% drop from an index's previous high. That means we'd have to see the Dow sink to 21,293, more than 2,500 points from today's level.
The next bear market is possible, but we aren't predicting it will happen anytime soon.
Instead, we want Money Morning readers to be aware of some of the warning signs in the market right now, as well as how they can protect their assets.
Whether it's a coming bear market or a stock market crash, investors should always have a plan in place for the worst-case scenario, and we're here to help…
Why the Next Bear Market Could Be Coming
The stock market is unpredictable. The Dow dropped 700 points on March 22 and another 572 points on April 6 amid trade fears after U.S. President Donald Trump announced potential tariffs on China.
Today (April 24), the Dow plunged another 500 points after disappointing earnings reports.
We simply don't know what the next day or week will hold for the stock market. But there are some signs that a serious stock pullback could be coming.
You Must Act Now: America is headed for an economic disaster bigger than anything since the Great Depression. If you lost out when the markets crashed in 2008, then you are going to want to see this special presentation…
You see, the U.S. Federal Reserve is aggressively raising interest rates. The Fed has hiked rates six times since December 2015, and it could raise rates at least two more times in 2018 alone. Fed Chair Jerome Powell has even signaled that he thinks the economy is doing well enough to support higher interest rates.
That's important, because low interest rates have helped push stock prices to record valuation levels.
After the 2008 financial crisis, the Fed cut rates to their lowest levels ever: 0.25%. That meant borrowing money became as cheap as it could be in order to help boost the economy back to growth.
But public companies used part of the money to repurchase shares of their own stock. Public companies borrowed $2.1 trillion between 2009 and 2016 while buying back $1.9 trillion in their own shares.
And share prices soared…
The cyclically adjusted price earnings (CAPE) ratio, which measures total stock market valuation, is currently at 31.06, which is nearly double its historical average.
Of particular concern is the fact that this ratio has only been higher twice in history – before the infamous 1929 stock market crash and just before the 2000 tech bubble burst.
No one can provide an accurate forecast of stock market crashes, and the CAPE level doesn't mean that we are doomed. And we aren't predicting a 2018 bear market.
But now that the Fed is hiking rates just as stocks are near record-high valuation levels, investors everywhere can't afford to be complacent.
Fortunately, you can protect yourself without sacrificing profits. Here are two resilient stocks that have serious profit potential and a track record of climbing during bear markets…
Own These 2 Stocks Ahead of a Bear Market