Postcards from the florida republic: An independent and profitable state of mind.
The dogs don't like the thunder.
Elsie, a pit-Basset mix we adopted, jumps on the bed when it booms. She builds a fort of pillows around her and then hides beneath a blanket.
The other dog, Gracie, a Chihuahua mix, gets to the point. She just army crawls under the bed.
Then she parks there. We've walked the neighborhood looking for her because she's stayed under the bed for so long that we don't remember if she went outside.
It's that time of year… as we fade into July's final week. Volumes are low in the equities market, and it's the weather that's volatile.
Here, sunset gleams from the West – bright and beautiful. But to the East, the sky looks like something out of The Wizard of Oz. The booms echo across the afternoon. And if you do find yourself in the rain, it's an odd feeling of cold water carving through the humidity. It's all quite a canvas – something you couldn't paint if you tried.
We wrap a relatively dull week ahead of critical market action. While earnings didn't create too many fireworks, all eyes are still on the Nasdaq-100 ahead of Monday's rebalancing.
Plus with trillions set to flow into artificial intelligence, it's important we get an idea of the lesser known companies with the best potential, on Wednesday we'll get that chance with a special briefing. Click here to R.S.V.P.
In addition, we have critical supply chain problems ahead, a policy update from the Fed, and much more. Here's my cheat sheet for the week of July 24, 2023.
Here's How We'll Close Out July
On Monday, earnings kick off with one of my favorite AI companies –Domino's Pizza (DPZ), and we'll see who won the summer blockbuster opening weekend contest between Barbie and Oppenheimer. Meanwhile, I'm keeping a close eye on United Parcel Service(UPS).The company would have just seven days, starting Monday, to resolve a potential strike. Negotiations between the company and the International Brotherhood of Teamsters will impact the jobs of 340,000 workers. The company handles about 28% of U.S. packages (75 million) daily. The rhetoric around this possible strike is serious, with some comparing a possible shutdown to the snarls of the post-COVID supply chain. That might be a bit hyperbolic… but I did buy three months of vitamins, just in case.
By Tuesday, we're back to intensive earnings reports. The Nasdaq will be in focus for three reasons: The rebalancing happens on Monday, but Microsoft(MSFT) and Alphabet(GOOGL) report earnings on Tuesday. That coincides with the Fed meeting, which starts the same day. We're also watching the weekly update on U.S. oil inventory levels.
On Wednesday, the Federal Reserve will raise interest rates by 25 basis points. The range of the Federal funds rate is set for 5.25% to 5.5%. We'll be watching the Fed very closely on Wednesday at 2 PM.
Remember, the market tends to react in a very interesting manner to Fed Chair Jerome Powell's statement between 2:35 pm and 2:37 pm.
On Thursday, we're back to earnings reports. We're watching Mastercard(MA) and McDonald's(MCD) for some clues on consumer spending levels. I'm paying close attention to AbbVie(ABBV) to see how the company is coming along in its effort to replace lost revenue in Humira. ABBV is part of our "Five Stocks to Own Forever" portfolio report from June. Also, watch the decision of the European Central Bank, which will likely raise interest rates again this week. It's hard to expect that the market will engage in a big drop due to these rate hikes, as the optimism around the market has largely centered on fiscal expansion and increased liquidity around the globe.
Friday is a big day for the energy space. We'll get earnings reports from Chevron(CVX) and Exxon(XOM). I'm expecting the former to have strong momentum in its report. We'll likely hear more about both companies' efforts to expand operations in the Permian Basin and get a better outlook for the global oil and gas market.
Here Are the Momentum Readings in This Market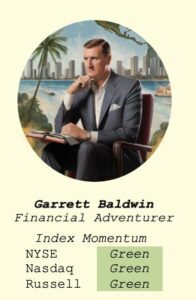 Finally, you might have noticed a little change to Postcards this morning. There's a small box under my picture that outlines the status in momentum across three indices in the market. These are critical measurements to give you a better sense of where the market sits.
Right now, momentum is strong (green) across the board. The last time they turned green was May 31 and June 1, in line with the easing of economic conditions in China. Global liquidity is strong, and capital flows are still positive into the markets (measuring index outliers and price/volume) as we start the week.
We'll see if anything spooks the markets this week. If you start to see any of these indicators turn yellow or red, it might be time to either take some profits or hedge your positions.
Stay alert,
Garrett Baldwin
Florida Republic Capital
About the Author
Garrett Baldwin is a globally recognized research economist, financial writer, consultant, and political risk analyst with decades of trading experience and degrees in economics, cybersecurity, and business from Johns Hopkins, Purdue, Indiana University, and Northwestern.