Your Advisors
Andrew Keene
- Money Morning - Only the News You Can Profit From.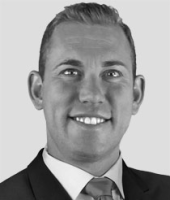 Andrew Keene
Andrew Keene is a globally known trader and a renowned expert on all things options. He provides traders the opportunity to lock in massive profits every single day and educates his students about the same strategies that helped him boost his account to over $5 million in less than two years.

Andrew got his start on the floor of the CBOE where he accepted a clerk's job. And nine months later, he was promoted to floor trader where he went on to become one of the biggest market movers in the game.

Slowly, computers started to replace every last trader on the floor, and he faced his fair share of strikeouts. And suddenly, he found himself seeking a reset button - and he found it... at a Buddhist monastery in Thailand.

But Andrew wasn't done trading. It's in his blood. So he came back with a new mindset and a new trading plan - and that trading plan was delivering more money than he ever imagined. The first year, he made $1.5 million... then $3.4 million on top of that... until finally, he amassed $5 million by his 30th birthday.

It's never been just about the money though, so Andrew began to help thousands of people transform their lives as well, helping them break out of the nine-to-five drag.


Read, Watch & Share Andrew
Andrew'S LATEST HEADLINES
Click here to read more stories