Your Advisors
Garrett Baldwin
- Money Morning - Only the News You Can Profit From.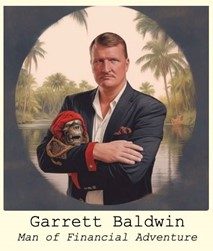 Garrett Baldwin
After working in the financial publishing business for the last 11 years, and investing... for the last 25 years, it is an honor to teach investors from the framework of my deep background in finance, economics, geopolitics, and more. I know what it's like to look for answers. One day, CNBC is telling you that you need to put all of your money in Artificial Intelligence stocks, and the next day they're telling you that you need to hide all your money in the mattress. The entire world is full of noise - and it's hard to find a place that isn't trying to push the next big technology and the next big biotech cure. That is why I always fall back on simple rules… rules that have been followed by some of the world's most prestigious and patient money managers on the planet. These rules aren't secrets… they're not hidden… they're not renamed or repackaged… I'm handing them to you on a plate every single day in these postcards from the Florida Republic. So, if you want to identify real companies with sound management, great cash flow, and opportunities to use basic options to boost your potential income?
Join for free
. If you want to know when corporate executives are buying their own stock and how you can invest at a better price than they do?
Join me in Flashpoint Elite
. If you want to know what stocks to avoid - based on three very simple metrics… Or learn how to find the next red-hot momentum stock in less than 15 seconds… If you want to understand the history of American bubbles and panics and manias… Or you want to laugh at the absurdities of the market (and parenthood)… And if you want to bask in the sun, knowing that each day you learned something important - that can change the way you think, invest, and feel about life… You've stumbled on to the right spot. Welcome to the Florida Republic.
Garrett'S LATEST HEADLINES
U.S. Economy

Sunday, July 30, 2023

Here's the Weird "Business Model" Driving Government Off the Rails

Stocks

Friday, July 14, 2023

What to Do About the Nasdaq's "Great Rebalancing"

trading strategies

Wednesday, July 12, 2023

This "Secret Weapon" Is a Must for Every Trader's Arsenal

Blue Chip Stocks

Friday, June 30, 2023

There Are Three Simple Steps to Allocate Every Nickel in Your Portfolio

Energy

Tuesday, June 27, 2023

There's a Huge "Green Transition" Problem the So-Called Experts Just Don't Get

The Fed

Monday, June 26, 2023

This Obscure Banker Just Blew Up the Most Powerful Voices of Fiscal Insanity

Stocks

Saturday, June 10, 2023

Postcards: The Costliest Disaster America's Facing is 100% Manmade
Click here to read more stories