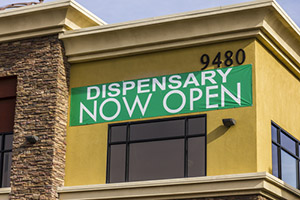 Real estate is the next big catalyst for marijuana stocks in 2017, as more voters demand legalized recreational and medical cannabis in their states.
The average rent for industrial spaces in the United States was $6.30 per square foot in 2016, according to Forbes. In comparison, the average rent per square foot for industrial properties in Northern Colorado for the first half of 2016 was $8.40 per square foot.
Of course, Colorado has the most developed marijuana markets in the country.
That's a 33% premium for marijuana real estate landlords from the national average.
And Colorado isn't the only place where marijuana real estate rental prices are climbing…
In Maine – where voters approved a measure to legalize recreational use on Nov. 8, 2016 – marijuana companies are paying three times the state average rent rates for industrial properties, according to the Portland Press Herald.
Marijuana companies in Oregon are also paying more for rent.
According to Bloomberg, marijuana companies in Oregon are paying $12 to $18 per square foot. In comparison, other businesses in the state pay an average of $5 per square foot to rent similarly sized spaces.
But why are landlords able to charge so much more to marijuana companies?
Banks are unwilling to loan marijuana companies money, which makes it difficult for marijuana companies to purchase properties.
Some properties are also designed to specifically cater to the unique needs of marijuana companies. These properties are better for cultivation and harvesting.
That means landlords can charge more for marijuana properties.
And with 28 states and Washington, D.C., having some form of marijuana legalization, the demand for marijuana real estate is only going to climb.
Special Report: Plot your course to a 7-figure weed windfall with the top pot stocks from every ecosystem – growers, edibles, dispensaries, and more.
That's why for 2017, we have three marijuana stocks in the real estate industry on our watch list.
Already, the first pot stock on our list has climbed 300% this year…
Marijuana Stocks in 2017 to Watch No. 3: AmeriCann Inc.
AmeriCann Inc. (OTCMKTS: ACAN) was founded in 2010 and is based in Colorado.
The company designs, builds, and owns state of the art cultivation and processing facilities for the production of medical cannabis. It also provides venture capital to developing cannabis businesses.
Currently, AmeriCann has over 1 million square feet of sustainable cannabis production infrastructure in development, according to its website.
In July 2014, the company purchased five acres of land in Denver to develop the Denver Medical Cannabis Center.
AmeriCann also owns 52 acres of land in Massachusetts. The marijuana real estate company plans to develop the property as the Massachusetts Medical Cannabis Center (MMCC). According to its website, AmeriCann believes MMCC will turn into the leading cannabis facility in the world.
Construction will start in March 2017, according to CBS.
The company has a market cap of $61.22 million, and the ACAN stock price has climbed 300% so far in 2017.
The next stock on our marijuana match list in 2017 has climbed over 41% in the last 12 months…
Marijuana Stocks in 2017 to Watch No. 2: Grow Condos Inc.
Grow Condos Inc. (OTCMKTS: GRWC) was incorporated in 1999. The company provides turn-key real estate, financing/leasing solutions, and consulting services for cannabis companies.
According to its website, Grow Condos believes the most profitable opportunities in the marijuana industry will be in real estate, education, and advisory services.
The company owns a 15,000-square-foot, 10-unit warehouse facility in Oregon that is fully leased. Grow Condos is also working on a second facility in Oregon that will have five buildings and 37 total units.
The company estimates each unit will be sold for $150,000 to $175,000. And that price could climb to $400,000 per unit if a company needs lights, shelving, and engineers.
In May 2016, the company also announced it was launching a new division called "Smoke on the Water."
Smoke on the Water will be a chain of marijuana-friendly campgrounds and resorts. In addition, Grow Condos will launch the Smoke on the Water Club, which will serve as a social platform for traveling marijuana enthusiasts.
However, the company is still growing its business. And because it's still growing, the GRWC stock price has been volatile.
Over the last 52 weeks, the stock price has traded as high as $2.55 and as low as $0.95.
Brilliant: Cannabis Is the Gold Rush of the 21st Century. 30 Stocks to Invest in Now.
Grow Condos has a market cap of $26.15 million, and the GRWC stock price has climbed 41.52% over the last 12 months.
And our final marijuana real estate stock to watch could climb by nearly 20% in the next 12 months…
Marijuana Stocks in 2017 to Watch No. 1: Innovative Industrial Properties Inc.
Innovative Industrial Properties Inc. (NYSE: IIPR) was founded in June 2016 in California.
Innovative Industrial targets medical-use cannabis facilities for acquisition. As part of its strategy, the company acquires properties that are already operated by state-licensed growers.
Innovative then leases back these properties to medical marijuana companies for long-term, net lease agreements.
According to its website, lease agreements are generally 15 years or more.
And roughly three weeks after its Dec. 1, 2016, IPO, IIPR closed a major deal…
On Dec. 19, 2016, Innovative Industrial Properties announced it closed a sale-leaseback transaction with PharmaCann LLC. The company acquired PharmaCann's 127,000-square-foot cultivation and processing facility in New York, according to Business Wire.
So far in 2016, the IIPR stock price has climbed 4.29%. In comparison, the Dow Jones Industrial Average has climbed just 0.46%.
And according to FactSet, the IIPR stock price has a one-year price target of $22.50. From today's opening price of $18.80, that's a potential profit of 19.68%.
As a service to Money Morning readers, we're now making available a 90-page cannabis investing guide called "The Roadmap to Marijuana Millions."
This "bible of weed investing" reveals the world's top marijuana stocks every serious investor should consider right now.
Normally valued at $499, it can be yours absolutely free. To learn how to get your free copy, click here.
This offer is only available to the first 500 people who respond today. So please go here now to reserve your copy.
Follow Money Morning on Facebook and Twitter.