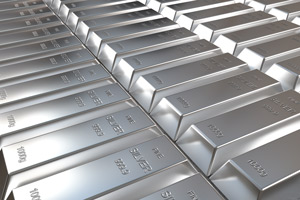 Silver prices are up more than 16% in 2016, but for many investors, owning physical silver is not a realistic option.
That's why we've created a silver ETF list of the most popular silver funds. These are not our specific recommendations; instead, the silver ETFs are among the most highly traded on the market.
While silver prices have been weighed down by strong economic figures lately, this shouldn't deter investors long term. In fact, you might find some great bargains in the silver market before another price surge.
Here's why we see the price of silver climbing even higher from here...
Why Invest in Silver Now
Silver prices may be down since their peak in early August, but that's to be expected. Economic news such as a stronger case for an interest rate hike this year and news that the ECB could begin backing off its asset purchase program have put a damper on silver prices.
Silver prices fell roughly 20% between August and December, but this was an expected pullback. There is little doubt that the world's political and volatile economic climate gives support for a safe-haven investment.
Let's also not forget that silver, unlike gold, is increasingly required for industrial uses, with demand set to soar 54% from last year's level. Money Morning Resource Specialist Peter Krauth expects silver to climb back to the mid-$20 level within the next six to nine months.
And for many investors, picking a silver ETF is easier than buying silver bars or coins...
Silver ETFs vs. Physical Silver
A common misconception with those who want to invest in silver is that you'll need to make room in your basement for hoards of the precious metal. While this is certainly an option, there are simpler ways to become a profitable silver investor.
Trending: Get the Best Investing Research Today to Grow Your Money
ETFs make it easy to invest in either silver itself or in silver mining companies. This provides both instant diversification and easy management, as you can buy and sell shares of your ETFs just as you would a normal stock.
Here's a look at a silver ETF list with the names of some of the most popular funds on the market now...
Silver ETF List No. 6: Central Fund of Canada (NYSEMKT: CEF)
If you're one of those precious metal investors who believes there's nothing like owning real gold or silver, but you still don't want to store it, the Central Fund of Canada Ltd. (NYSE: CEF) might be a good fit.
This ETF must hold 90% of its net assets in both gold and silver bullion (current rate is 95%). Of this, 85% must be in physical form, and the remainder can be in certificates. The fund's assets are stored at the Canadian Imperial Bank of Commerce in its underground vaults.
CEF is an established fund that has been around since 1961. This ETF is traded both on the NYSE and the Toronto Stock Exchange. You can purchase shares of CEF for $11.65, and the fund has shown gains of 16% year to date (YTD).
Silver ETF List No. 5: Global X Silver Miners (NYSE Arca: SIL)
Instead of being supported by physical silver, the Global X Silver Miners (NYSE Arca: SIL) gives investors a way to invest in a wide range of silver mining companies. This fund boasts $450 million in assets and has a reasonable expense ratio, at 0.65%.
The fund was established in 2010, and some of its top holdings include Fresnillo Plc., Silver Wheaton Corp., and Pan American Silver Corp.
SIL is trading at $34.09, and this ETF is up 83% YTD.
Silver ETF List No. 4: ETFs Silver Trust (NYSE Arca: SIVR)
While the ETFs Silver Trust (NYSE Arca: SIVR) isn't the most popular of the silver ETFs, it has the benefit of a low expense ratio, at just 0.3%. This fund aims to replicate the performance of the price of silver bullion and holds physical silver in custody.
The ETF was established in 2009 and has over $339 million in assets, of which more than 48.9 million ounces of silver are held. This fund might be a good choice for investors who'd like an ETF that will closely track the price of silver.
SIVR is currently trading at $16.09, with gains of 18.7% YTD.
Silver ETF List No. 3: ProShares Ultra Silver (NYSE Arca: AGQ)
ProShares Ultra Silver (NYSE Arca: AGQ) is considered a leveraged silver ETF. The fund's goal is to achieve daily investment returns that are two times the daily price of silver bullion. It accomplishes this through leveraging its investments, which makes it a volatile investment at times.
This fund was established in 2009 and has assets of more than $275 million. The expense ratio for this ETF is higher, probably due to daily trading, at 0.95%.
AGQ is trading at $34.65, with gains of 28% YTD.
Silver ETF List No. 2: Sprott Physical Silver Trust (NYSE Arca: PSLV)
[mmpazkzone name="in-story" network="9794" site="307044" id="137008" type="4"]
The Sprott Physical Silver Trust (NYSE Arca: PSLV) is another ETF known for being supported by physical stores of silver bullion. Stores of silver are housed at a third-party location in Canada, where they are subject to periodic inspection.
The trust currently has more than $1 billion in assets, where the ETF has an intent of holding 97% of net assets in physical silver bullion. The only downsides to this ETF are premiums charged over spot price and its administrative fees, which start at 0.45%.
Shares of PSLV are trading at $6.27, with gains of 19% YTD.
Silver ETF List No. 1: iShares Silver Trust ETF (NYSE Arca: SLV)
The iShares Silver Trust ETF (NYSE Arca: SLV) is the most popular silver ETF on the market. This fund is massive, with a backing of around $6 billion in physical silver that is stored in both New York and London. Each share of the ETF represents the value of approximately one ounce of silver.
You can currently buy shares of SLV for $15.68, and the ETF has gained 19% YTD.
Editor's Note: Timing is everything when it comes to making money in markets - and this new, free service we created puts timing on your side...
Follow Money Morning on Facebook and Twitter.