In Dow Jones news today (Monday, April 10), the index managed a small gain as investors prepare for U.S. Federal Reserve Chair Janet Yellen to speak at the University of Michigan after the closing bell. Investors largely shrugged off concerns about rising tensions over Syria and North Korea and instead turned their focus to the beginning of earnings season.
Video
The Ultimate "Rocky" Stock
Let's look at the numbers from Monday for the Dow, S&P 500, and Nasdaq:
Dow Jones: 20,658.02; +1.92; +0.01%
S&P 500: 2,357.16; +1.62; +0.07%
Nasdaq: 5,880.93; +3.11; +0.05%
Today's market highlights:
One of the world's largest publicly traded food companies is under pressure to replace its CEO.
Markets are keeping a keen eye on statements by members of the Federal Reserve.
Energy gains offset losses in the financial sector thanks to another rally in crude oil prices.
Now, here's a look at today's most important market events and stocks, plus a preview of Tuesday's economic calendar.
DJIA Today: Dow Trades Higher as Crude Oil Prices Rally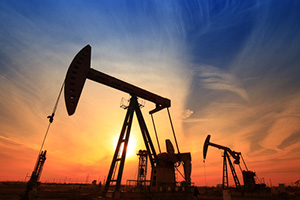 The Dow Jones ticked higher thanks to an uptick in crude oil prices. Oil prices posted their fifth straight gain on news that Libya's largest oil field has been shut down. Energy traders continue to monitor geopolitical concerns following the U.S. military strike on Syria last week. According to reports, a militant group blocked a pipeline linking an oil terminal to Libya's Sharara oil field. The WTI crude oil price today added 1.6% to $53.08 - the highest since March 7 - while Brent crude gained 1.3% to $55.98.
Urgent: Saudi Arabia's $100 Billion Plan to End Big Oil
Energy stocks helped offset a downturn in financial stocks. Hess Corp. (NYSE: HES) rallied more than 4% and was the top-performing energy stock of the session. Shares of Chevron Corp. (NYSE: CVX) added 0.5%, while Exxon Mobil Corp. (NYSE: XOM) also gained 0.5%.
Financial stocks slid ahead of a busy week of earnings reports. Shares of Bank of America Corp. (NYSE: BAC), Citigroup Inc. (NYSE: C), and Morgan Stanley (NYSE: MS) all reported losses on the day.
In other financial news, shares of Wells Fargo & Co. (NYSE: WFC) are under pressure after an independent investigation produced a stunning dive into the company's crooked culture. According to the team's report, Wells Fargo will claw back roughly $75 million from its former CEO and an executive who oversaw the firm's community banking division for failure to reign in the company's aggressive sales practices.
Gold prices fell 0.3% to $1,254 as investors prepared for statements by Fed Chair Janet Yellen. The central bank hinted in March that it plans to wind down its $4.5 trillion balance sheet and could begin the process of interest rate normalization. Over the weekend, St. Louis Fed President James Bullard told an Australian audience that the Fed's decision to reduce its balance sheet could reduce the necessity to raise the official funds rate. Expectations of such action offset increased concerns about growing geopolitical uncertainty surrounding North Korea's nuclear weapons program and recent threats from Russia and Iran over last week's U.S. military strike on Syria.
But the big story is happening in the eastern part of the globe. Over the weekend, Japan said that it will stop the United States from taking military action in North Korea. Kim Jong-un's country has engaged in six missile tests in 2017, raising new concerns that the rogue country could soon develop the technology to fire a nuclear weapon within range of the United States. Over the weekend, an unnamed military official in Japan said his country and South Korea would prevent any military intervention by the United States.
Act Now: Clean Energy Stocks Are Sitting on a $48 Trillion Gold Mine
Still, there are rumors swirling that the United States is considering "bombarding North Korea's nuclear facilities." Money Morning has tackled this possibility and recommends that investors begin to look at putting their money in one little company in the event that the United States and North Korea become entangled in a major military conflict.
Stock Market News and Top Stocks to Watch Today: April 10, 2017
Tuesday's U.S. Economic Calendar (all times EDT)
NFIB Small Business Optimism Index at 6 a.m.
Redbook at 8:55 a.m.
JOLTS at 10 a.m.
Four-Week Bill Auction at 11:30 a.m.
10-Year Note Auction at 1 p.m.
Minneapolis Federal Reserve Bank President Neel Kashkari speaks at 1:45 p.m.
Up Next: 7 Ways to Tell If Your Gold Is Real