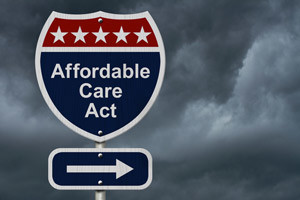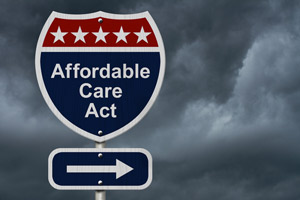 In Dow Jones news today, the markets were flat thanks to increased uncertainty over the fate of a new healthcare bill that would replace the Affordable Care Act (aka Obamacare).
The House declared that there would not be a vote on the bill during the final hour of trading.
The index pared gains and the S&P 500 stayed in the red after the Freedom Caucus said that there would not be enough votes in the House of Representatives to pass the new bill.
Let's look at the numbers from Thursday for the Dow, S&P 500, and Nasdaq:
Dow Jones: 20,656.58; -4.72; -0.02%
S&P 500: 2,345.96; -2.49; -0.11%
Nasdaq: 5,817.69; -3.95; -0.07%
Now, here's a look at today's most important market events and stocks, plus a preview of Friday's economic calendar.
Dow Jones Today: Dow Flat as Representatives Call Off Obamacare Vote
The healthcare debacle on Capitol Hill overshadowed a mixed day of economic data. New home sales hit a seven-month high in February, but weekly jobless claims rose more than expected. Healthcare stocks were among the largest losers during the session. Shares of Humana Inc. (NYSE: HUM) dropped 1.6%, while UnitedHealth Group Inc. (NYSE: UNH) dipped over 1%. Healthcare stocks were the biggest drag on the Dow and S&P 500.
Don't Miss: Trump's Secret Weapon Set to Foil China's Master Plan
The failure to pass the bill is a major problem for markets, as the Republicans focus on the healthcare and ignore income and corporate tax reform, financial and energy deregulation, and a major infrastructure bill. These three policies have been drivers of optimism in the markets in recent months and would likely have a far greater economic impact on domestic growth than the replacement and repeal of the healthcare law.
Video
Stock Talks with Bill Patalon
Oil prices slipped again Thursday due to concerns about rising U.S. production. Rising domestic inventories have pushed crude to roughly four-month lows. The WTI crude oil price today dipped 0.7%, and Brent crude fell 0.2%. Money Morning Global Energy Strategist Dr. Kent Moors explains what the real problems are behind the recent decline in crude oil prices. Here's what you should know about crude prices.
Must Read: Five Double-Digit Dividend Plays to Secure Your "Second Salary"
But the big story today is the "other vote" on Capitol Hill.
Almost by design, the healthcare battle overshadowed news that Republicans narrowly passed a vote to repeal a set of private regulations set in place under the Obama administration. The rules required Internet service providers to offer greater customer protection of user data and privacy.
It was a big win for firms like AT&T Inc. (NYSE: T), Comcast Corp. (Nasdaq: CMCSA), and Verizon Communications Inc. (NYSE: VZ), which lobbied strongly against the regulations.
Stock Market News and Top Stocks to Watch Today: March 23, 2017
In earnings news, shares of Five Below Inc. (Nasdaq: FIVE) jumped more than 10% after the retailer reported a surprise in quarterly earnings estimates. Accenture Plc. (NYSE: ACN) saw a 4.5% drop after it fell short of Wall Street profit expectations.
Shares of Sears Holding Corp. (Nasdaq: SHLD) gained 2.6% on news that the company will divest its licensing brands, including Kenmore and DieHard. The news comes a day after the embattled retailer released a regulatory filing that cast doubt on its financial survival.
Friday's U.S. Economic Calendar (all times EDT)
Durable Goods Orders at 8:30 a.m.
Federal Reserve Bank of Chicago President Charles Evans Speaks at 8:30 a.m.
San Francisco Federal Reserve Bank President John Williams Speaks at 8:30 a.m.
Louis Federal Reserve Bank President James Bullard Speaks at 9:05 a.m.
PMI Composite Flash at 9:45 a.m.
New York Federal Reserve Bank President William Dudley Speaks at 10 a.m.
Baker Hughes Rig Count at 1 p.m.
Up Next: Why Warren Buffett Buys Apple Stock
Follow Money Morning on Facebook and Twitter.