By Jason Simpkins
Last week, (July 20) Chevron Corp. said it would challenge a $290 million back tax claim issued against the Caspian Pipeline Consortium by Russia's Federal Tax Service.  This is yet another attempt by President Vladimir Putin to seize control over all aspects of energy production and transportation within Russia.
The Caspian Pipeline Consortium is a group of international interests who operate a pipeline that transports Kazakh crude through Russia to markets elsewhere. The pipeline runs 935 miles from the Tengiz field in Kazakhstan to Novorossisk on the Black Sea. Chevron Corp. owns a 15% stake in the venture while Exxon Mobil Corp. owns 7.5% and the governments of Kazakhstan and Oman own 19% and 7% respectively.  However, it is the Russian oil monopoly OAO Transneft, which owns the largest piece of the pie, a 24% stake acquired in June.
Currently, decisions concerning the pipeline's operation are reached by consensus, but state owned Transneft has attempted to persuade the pipeline's other governing bodies to instead leave decision-making in the hands of a simple majority shareholder vote. This would give the company, and the Russian government, far more control over the pipeline. Failing in that effort, it now seems the country will resort to strong-arming the consortium members with its Federal Tax Service.
Russia, which is the world's largest energy producer, has a history of using such tactics to manipulate foreign owned energy projects and usurp their authority.  The Federal Tax Service is the same agency that ran OAO Yukos Oil Co. formerly one of the world's largest private oil companies, out of business after demanding more than $30 billion in back taxes.
Last year, OAO Gazprom, another state owned energy giant, agreed to buy 50% plus one share of Royal Dutch Shell Plc's Sakhalin-2 oil and gas project for $7.45 billion. The deal was the culmination of a yearlong campaign in which the Russian government threatened to block Sakhalin-2's investment plans and cancel building permits on environmental grounds.  This furthered President Vladimir Putin's goal of gaining total control over Russia's energy industry.
Last month, Russia put enough pressure on BP Plc. to convince the company to sell one of the World's largest gas fields, the Kovytkta field, to Gazprom. BP's local joint venture, TNK-BP, sold its 62.8% stake in the field after Russian authorities threatened to revoke the company's license to develop it.
Also as part of the deal, BP was "compensated" with inclusion in a $3 billion joint venture that will help take Gazprom worldwide. If the venture is successful TNK-BP could be rewarded with the opportunity to buy 25% of the Kovytkta field back.  Really, the arrangement is an attempt to coerce BP into helping Gazprom grow from a strictly Russian company into a global market giant. This will allow Russia, and Putin, to use its position as an energy provider as leverage in diplomatic negotiations.
Gazprom: Russia's Ambassador to Europe
For evidence of just how heavily Russia relies on its state-owned energy corporations in foreign policy, look no further than a deal recently reached between Gazprom and France's Total.  The company was chosen after five years of deliberation to help Gazprom develop a large offshore gas field in the Arctic. The project is estimated to cost $20 billion and is expansive enough to satisfy the entire world's oil demand for an entire year.
Together, Gazprom and Total will create a special-purpose company to organize the design, financing, construction, and operation of the Shtokman project's phase one infrastructure. The company created will own this infrastructure for 25 years. Gazprom will maintain a 51% stake in the company and Total will be awarded 25% ownership.
After the completion of phase one operations, Total will relinquish its share to Gazprom.  All of the reserves will belong to Gazprom as well.  Gazprom would just as soon do the entire job itself, but it is heavily reliant on foreign funding and lacks the expertise required to extract oil from a reserve located 984 feet below the surface of the Barents Sea, more than 370 miles off the coast of Murmansk. Additionally, the deal gives Russia another strategic foothold in European politics.
Of all the companies vying for Gazprom's favor, Total was, by most accounts, the least likely champion. However, the decision was more political than practical. Russia, i.e. Putin, has a history of striking sweetheart energy deals with European countries with the end goal of turning their national energy companies into lobbyists for Moscow's commercial and political agenda. This deal with Total is just the latest in a series of European joint venture deals that includes projects in Germany, Italy, and Great Britain.
The deal also comes at a time when France has recently elected a new president in Nicolas Sarkozy. Some have suggested that Sarkozy might take a harder line than his predecessor Jacques Chirac, but by offering a lucrative deal to Total, Putin has seized the opportunity to strike first and court France's favor.
Putin's Foreign Policy Gets America's Attention
Russia's use of energy exports for diplomatic leverage as well as its intimidating arsenal nuclear weapons has, not surprisingly, rubbed Washington the wrong way.
Last week, Reuben Jeffery, the under-secretary at the state department for economic, energy, and agricultural affairs, traveled to Russia with the hopes of addressing some of these issues.
"It's no secret there have been some adjustments to contractual terms of pre-existing energy production and development arrangements that are troubling and we want to have a dialogue on this topic." Jeffery said in an interview with Financial Times.
The U.S. has repeatedly encouraged nations like Kazakhstan and Turkmenistan to build a pipeline west, across the Caspian Sea to Turkey, in the hopes of circumventing Russia and providing central Asia with access to the world's gas markets.
The announcement that Russia, Turkmenistan, and Kazakhstan recently agreed to build a natural gas pipeline across central Asia to Russia, further tightening Putin's grip over energy routes out of the region, came as a huge blow to that effort.
Jeffery commented on the failure of other nations in the region to work around Russia saying, "The objective as we talk about alternative routing systems is to create legitimate market-based competition, and to develop some redundancy in the system in the event of legitimate physical breakdown, or other political issues that might arise that might lead somebody to cut off supply."
That someone in question is Vladimir Putin who through Gazprom cut off gas supply to the Ukraine after the nation refused to pay quadruple the amount it previously paid for Russian gas.  The rest of Europe, which relies heavily on Ukraine for the transit of Russian fuel, felt the effects of the 2006 dispute as well.
Hungary, Poland, and Austria reported that gas piped to them from Russia through Ukraine slowed down as much as 40%. French Utility Gaz de France SA reported a decline of 25%-30%. This is exactly the kind of occurrence that has U.S. lawmakers riled up and determined to find solutions.
What's Next For U.S. – Russia Relations
In 2006, a bipartisan taskforce was created with the specific goal of addressing the current diplomatic relations with Russia.  The task force was sponsored by the Council on Foreign Relations, and chaired by former Vice Presidential nominees John Edwards and Jack Kemp.
The report, titled Russia's Wrong Direction: What the United States Can and Should Do noted that, "The political balance sheet of the past five years is extremely negative. The practices and institutions that have developed over this period have become far less open, pluralistic, subject to the rule of law, and vulnerable to the criticism and counterbalancing of a vigorous opposition or independent media."
The report also addressed specific areas of concern including:
De-Democratization: The report refers to the country's political institutions as "corrupt and brittle," saying "Russia's capacity to address security concerns of fundamental importance to the United States and its allies is reduced. And many kinds of cooperation – from securing nuclear materials to intelligence sharing – are undermined."
Energy Supplies: "Russia has used energy exports as a foreign policy weapon: intervening in Ukraine's politics, putting pressure on its foreign policy choices, and curtailing supplies to the rest of Europe.  The reassertion of government control over the Russian energy sector increases the risk this weapon will be used again."
Diplomatic Relations: "A country that has, in the space of a single year, supported massive fraud in the elections of its largest European neighbor and then punished it for voting wrong by turning off its gas supply has to be at least on informal probation at a meeting of the world's industrial democracies."
Russia and its president have responded in kind, taking the opportunity to slam the U.S. and its foreign policy on three separate occasions since May.  Putin has accused the U.S. of "hegemonic behavior," as well as "neo-imperialism," and provoking an arms race.
Unfortunately, the United States could struggle to curtail Russia's aggressive foreign policy and that may be part of the reason for its emergence. It's possible that Putin senses a little bit of blood in the water and suspects that the America is, perhaps, stretched too thin.
The U.S. is embroiled in conflict in the Middle East, going back and forth with Iran over the ambitions of its nuclear program and bogged down and seemingly out of solutions in Iraq.  Several flare-ups have occurred with China in recent months and countering its economic and political growth spurt looks to be a long-term venture. Meanwhile, the dollar is falling and some believe its status as the world's main reserve currency is in jeopardy.
Lost in the shuffling of U.S. foreign policy priorities could be an oil-rich nation whose GDP grew 6.7% in 2006 and whose economic growth rate hit a six-year high of 7.9% year over year in the first quarter of 2007.  With so much on the plate of the United States, the question the rest of the world is left with is "Who's going to stand up to Russia?"
Here Are 10 "One-Click" Ways to Earn 10% or Better on Your Money Every Quarter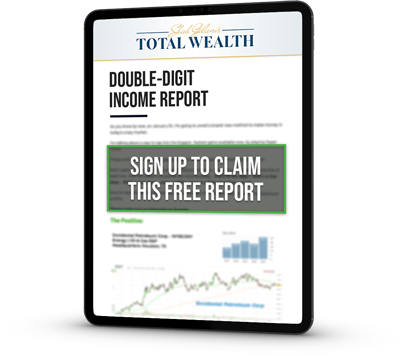 Appreciation is great, but it's possible to get even more out of the shares you own. A lot more: you can easily beat inflation and collect regular income to spare. There are no complicated trades to put on, no high-level options clearances necessary. In fact, you can do this with a couple of mouse clicks – passive income redefined. Click here for the report…