One way to profit from gold's rise is by investing in physical gold. But another sometimes more lucrative way to profit from rising gold prices is to invest in gold stocks.
From gold miners to royalty companies and ETFs there are many different ways to invest in gold stocks.
Today, gold stocks don't just serve as stable investments, but also potentially lucrative investments.
What Are The Best Gold Stocks Today?
Alluvial Mining PLC (PG5.F), a gold mining stock is up 3.59% today; Anglogold Ashanti Ltd (NYSE:AU), another mining company, is up 1.93% today.  Likewise, Royal Gold, Inc. (NasdaqGS:RGLD), a gold royalties company, has soared over 26% this month. That said, there is plenty of room for investing in gold stocks today.
How to Invest in Gold Stocks
"The first thing a potential investor would need to do is to decide what portion of their portfolio they would want to commit to the sector," said Peter Krauth, Money Morning's Global Resources Specialist. "Then they would need to decide the kind of risk tolerance they have within the sector."
Krauth explains how to do that and which gold stocks are best for each risk level in the following video and explains the relationship between gold prices and gold stocks price movements.
He also shares what he thinks is one of the single best gold stocks to buy right now. Read more...
Whats your input on gold stocks? Join the conversation on Twitter on #GoldStocks in 2014, and be sure to follow @MoneyMorning.
Related Articles
Expert Commentary:
1,600 Reasons to Buy Gold Now
Gold prices fell 28% in 2013, but does this mean gold's decade-plus bull run is over? Many signs point to a gold rally in 2014 – so buy gold now.
Higher Gold Prices in 2014
Gold prices today continue to bounce up and down based on speculative headlines.
A possible U.S. attack on Syria, a possible quantitative easing (QE) taper by the U.S. Federal Reserve - these possibilities have meant daily volatility in the price of gold.
The "Smart Money" Is Buying Hard-Hit Gold Stocks Now
Part of the recent move up in gold prices to more than $1,400 an ounce and the uptick in gold stocks is a response to the crisis in Syria.
However, there is a lot more occurring just beneath the surface than geopolitics.
Read more stories about gold stocks.
Related Chart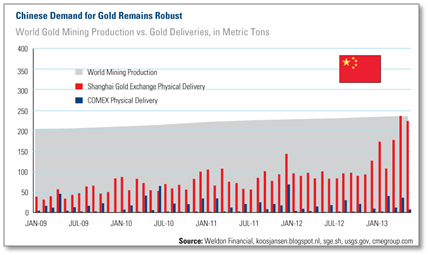 Shocking New Gold Chart: Look Now, Before Everyone Else Gets to See
What I'm about to say will challenge even the most steadfast gold bears - or anyone for that matter right now who thinks that gold has seen its better days.
The chart below tells a story - a big story. In fact, I encourage you to forward this to anyone you know who is serious about their money.