It was Oct. 19, 1987 – Black Monday – and the stock market had just crashed. At the time, I was an analyst in the Financial District in San Francisco.
My then-boss called me from Wall Street. And he sounded like he was ready to sell everything.
But I had other ideas.
After all, if Macy's holds a 25% off sale, shoppers rush down in droves. So why do so many investors panic when the market corrects?
By doing so, they miss out on great bargains.
We're not doing that. We're going shopping…
Fill the Shopping Bag with Cheap Tech Stocks to Buy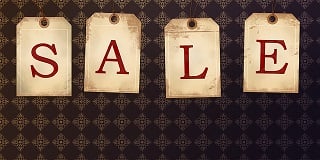 While my boss freaked out, I got excited about all the money I would soon make. And history proved me right.
Had you simply invested $2,000 in a Dow Jones Industrial Average index fund the day after the 1987 crash and held it through this week, you'd now have $17,800 – a 790% jump. And that includes the dot-com crash of 2000-2002 and the Great Recession of 2007-2009.
That's why you should look at corrections as a chance to add to your portfolio's long-term gains. And yet, sell-offs present us with a challenge as well. If we buy on the dips too early, we run the risk of getting stopped out to protect capital.
To avoid that, I've developed a system to determine if a stock has fallen so far that it's become available at what I call a "Stupid Cheap Price."
You could look at financial data to find winners you think should rebound based on cash flow, earnings, and operating margins. However, that can consume hours of your time.
There's a simpler method.
All you need to do is look at the stock's 50-day moving average, and then take a discount from that to arrive at an attractive price – the Stupid Cheap Price.
This is a price that over the past 10 weeks investment pros think should be the minimum price for this stock.
I've used this process over many years of investing to great effect. And I generally like to get a discount of at least 10% from the 50-day line.
With that in mind, I want to share with you four stupid cheap stocks to buy that should be on every tech investor's shopping list.
Join the conversation. Click here to jump to comments…
About the Author
Michael A. Robinson is one of the top financial analysts working today. His book "Overdrawn: The Bailout of American Savings" was a prescient look at the anatomy of the nation's S&L crisis, long before the word "bailout" became part of our daily lexicon. He's a Pulitzer Prize-nominated writer and reporter, lauded by the Columbia Journalism Review for his aggressive style. His 30-year track record as a leading tech analyst has garnered him rave reviews, too. Today he is the editor of the monthly tech investing newsletter Nova-X Report as well as Radical Technology Profits, where he covers truly radical technologies – ones that have the power to sweep across the globe and change the very fabric of our lives – and profit opportunities they give rise to. He also explores "what's next" in the tech investing world at Strategic Tech Investor.