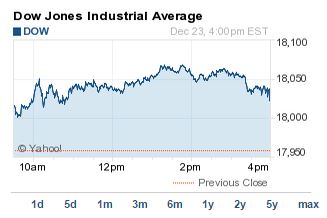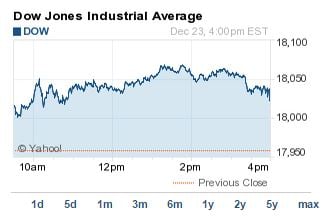 The Dow Jones today struck an all-time high, surpassing the 18,000 mark for the first time and marking the fastest 1,000-point gain in history. The news is hardly surprising. Money Morning's Shah Gilani predicted in November that the Dow would hit 18,000 by the end of the year.
Today's Scorecard:           
Dow: 18,024.11, +64.67, +0.36%    
S&P 500: 2,082.17, +3.63, +0.17% 
Nasdaq: 4,765.42, -16.00, -0.33%
What Moved the Markets Today: The Dow added 64 points Tuesday, fueled by a strong GDP report from the U.S. Department of Commerce. This morning, in a third revision to third-quarter GDP, the agency said the U.S. economy grew at a pace of 5%, its strongest level in more than a decade. This easily surpassed consensus estimates of 4.3%. Despite optimism about future economic growth, biotech stocks were the hardest hit on the day, with the Nasdaq Biotech Index slipping 4.5%, its worst one-day session since April.
Now check out the biggest stories from the stock market today:
Now our experts share some of the most important investment moves to make based on today's market trading – for Money Morning Members only:
Three Tech ETFs That Will Double Your Money: Money Morning Tech Specialist Michael A. Robinson is forecasting a strong year for stocks – and especially tech stocks – in 2015. And folks who pick the "right" profit plays can do even better than the market. Here's how to grab those market-trouncing gains with three profit plays that appear tepid on their face, but are actually high-octane claims on the hottest slices of Silicon Valley growth…

Three Scary Tech Stocks to Avoid in 2015: Just because 2015 will be a strong year for tech stocks doesn't mean every single one will be a winner in the New Year. With that in mind, let's take a look at 2015's three worst tech stocks. Tread carefully, though – their numbers may terrify you…
One Stock That Will Profit from a New, Breakthrough Medical Direction: Modern medicine, for all of its sophisticated drugs, complex gadgets, and amazing surgical procedures, rarely cures anything. It treats. It manages. It postpones the inevitable. But return a patient to normal, optimal health? Rarely. So when an innovation comes along that can effect a complete and permanent remission of disease or restore damaged organs to a pristine state, it should cause your keenest investing instincts to perk up and pay attention…