A controversial Indiana law has big-name companies taking action against the state...
The Religious Freedom Restoration Act, signed into law by Indiana governor Mike Pence on March 26, allows individuals and corporations in the state to use religion as a defense if they are sued.
Its import is more far-reaching than that, however. Businesses could use the Indiana law to legally turn away gay, lesbian, and transgender people. Religious and ethnic minorities are vulnerable as well. (Note that on April 2, the under-pressure Governor Pence issued a "fix" that is really not a fix. It provides that Indiana's RFRA can't override local anti-gay discrimination laws - however, most counties in the state have no such laws to speak of.)
The new Indiana law sparked a trend. On March 27, the Arkansas Senate overwhelmingly approved a nearly identical religious freedom bill that would also allow businesses to refuse service to whomever they please based on religion.
Business leaders across the nation have begun to speak out against the Indiana law, including Apple Inc. CEO Tim Cook, Wal-Mart CEO Doug McMillon, Nike CEO Mark Parker, and more. Aside from moral objections, they argue it will make it harder to attract employees and customers in the state.
Here's a list of the companies (it grows daily) that have spoken out - or even taken action - against the Indiana law...
List of U.S. Companies Against the Indiana Law
Apple Inc. (Nasdaq: AAPL)
On March 27, CEO Tim Cook, who came out in October 2014, tweeted his opposition to the Indiana law. He urged Arkansas Governor Asa Hutchinson to veto his state's bill.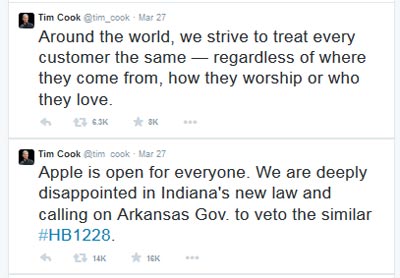 Salesforce.com Inc. (NYSE: CRM)
When the Indiana law passed, CEO Marc Benioff immediately withdrew his multibillion dollar company's events from the state. He pledged a "slow-rolling of economic sanctions" in an interview with Re/Code.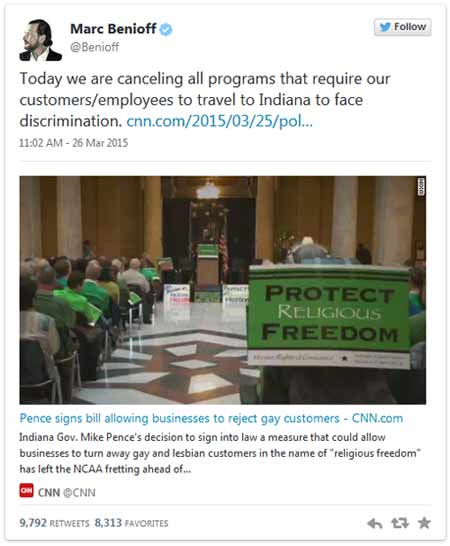 Benioff was one of the first major CEOs to voice his opposition, and spent weeks urging the Indiana government not to pass the law.
Wal-Mart Stores Inc. (NYSE: WMT)
CEO Doug McMillon doesn't want Arkansas, Wal-Mart's home state, to follow suit.
"Today's passage of HB1228 threatens to undermine the spirit of inclusion present throughout the state of Arkansas and does not reflect the values we proudly uphold," McMillon said in a statement on March 24. "We feel this legislation is also counter to our core basic belief of respect for the individual and sends the wrong message about Arkansas, as well as the diverse environment which exists in the state."
Angie's List Inc. (Nasdaq: ANGI)
The Indianapolis-based business-reviewing website has halted plans for expansion in the state.
Sign up for SMS so you never miss special events, exclusive offers, and weekly bonus trades.
"We are putting the 'Ford Building Project' on hold until we fully understand the implications of the freedom restoration act on our employees, both current and future," CEO Bill Oesterle said in a statement. "Angie's List is open to all and discriminates against none and we are hugely disappointed in what this bill represents."
The would-be project aims to convert an old Ford manufacturing facility into new offices.
Nike Inc. (NYSE: NKE)
CEO Mark Parker released a statement to the Human Rights Campaign on March 24 stating his opposition.
"Nike proudly stands for inclusion for all. We believe laws should treat people equally and prevent discrimination. Nike has led efforts alongside other businesses to defeat discriminatory laws in Oregon and opposes the new law in Indiana which is bad for our employees, bad for our consumers, bad for business and bad for society as a whole. We hope Indiana will quickly resolve this."
Microsoft Corp. (Nasdaq: MSFT)
Together with Nos. 7-10 below, Microsoft signed a letter of opposition drafted by the Human Rights Campaign that reads:
"These state laws set a dangerous precedent that stifles investment and economic growth by jeopardizing a state's status as a welcoming place for employees to live and thrive."
Wells Fargo & Co. (NYSE: WFC)
American Airlines Group Inc. (OTCMKTS: AAMRQ)
Orbitz Worldwide Inc. (NYSE: OWW)
Levi Strauss & Co.
Gap Inc. (NYSE: GPS)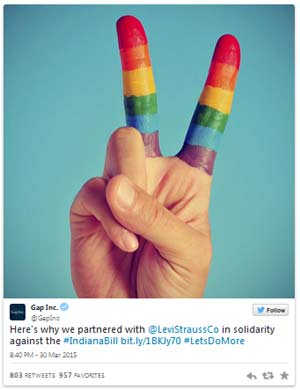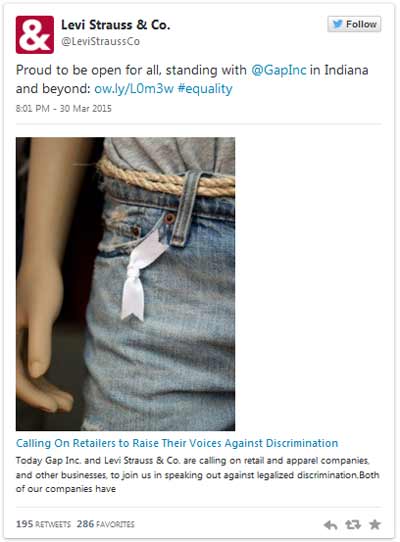 The Indiana law brought together two apparel competitors, Gap and Levi Strauss, in a joint statement of condemnation.
"Discriminatory laws are unquestionably bad for business, but more importantly, they are fundamentally wrong," the companies wrote in a joint blog post. "At Gap Inc. and Levi Strauss & Co., we are proud to say we are open to business for everyone."
Eli Lilly and Co. (NYSE: LLY)
LLY employs nearly 11,000 people in the state of Indiana. They called the Religious Freedom Reformation Act "bad for Indiana and for business."
"One of our long-held values is respect for people, and that value factors strongly into our position," spokeswoman Janice Chavers stated. "We want all our current and future employees to feel welcome where they live."
PayPal Inc.
In a March 30 CNBC interview, cofounder Max Levchin said he would "encourage PayPal's new CEO and other CEOs in Silicon Valley to evaluate their relationship with the state of Indiana. If local bills and laws say that it is OK to discriminate, you have to make sure that you are protecting your employees and you keep them safe and comfortable."
The same day he tweeted:

Twitter Inc. (NYSE: TWTR)
Twitter used its own platform to voice its opposition on March 30.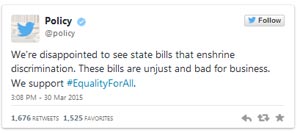 Yelp Inc. (NYSE: YELP)
"It is unconscionable to imagine that Yelp would create, maintain, or expand a significant business presence in any state that encouraged discrimination by businesses against our employees, or consumers at large," CEO Jeremy Stoppelman stated March 26. "We're looking at you, Arkansas."
Subaru of America Inc.
Subaru has a factory in Lafayette, Indiana. It issued a statement to Green Car Reports editor John Voelcker on March 30, which he shared on Facebook: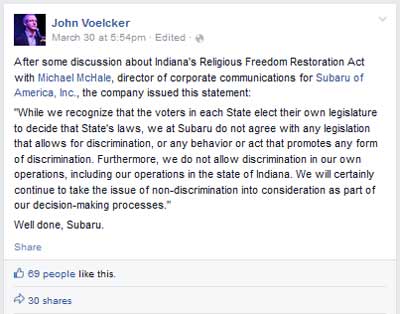 Square Inc.
The mobile payment company released a statement against the Indiana law on its website. It reads, in part:
"A new Indiana law allows businesses to discriminate against customers, particularly based on traits like sexual orientation. We believe this is wrong, contrary to our core values, and inconsistent with the ideas of fairness and access on which the American marketplace was built. There is no place in business for laws or practices which deny people access to goods and services based on who they are, what they look like, where they're from, or whom they love."
Accenture Plc. (NYSE: ACN)
The accounting firm giant spoke out on Twitter: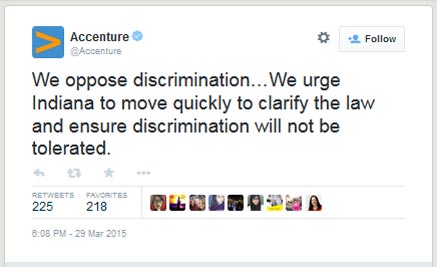 Anthem Inc. (NYSE: ANTM)
Anthem is the largest for-profit healthcare company in the Blue Cross and Blue Shield Association, and is headquartered in Indianapolis. Its CEO signed a letter of opposition to the Indiana law. Eli Lilly, Angie's List, Salesforce, and Nos. 20-24 below also signed.
"We are deeply concerned about the impact it is having on our employees and on the reputation of our state," the letter reads. "All of our companies seek to promote fair, diverse, and inclusive workplaces. Our employees must not feel unwelcome in the place where they work and live."
Cummins Inc. (NYSE: CMI)
Dow AgroSciences LLC
Emmis Communications Corp. (Nasdaq: EMMS)
Indiana University Health
Roche Diagnostics Corp.
Airbnb Inc.
The lodging-for-rent king signed a "Joint Statement from Tech Industry Leaders," directed to Indiana legislators.
We've already mentioned some of the signors - Yelp, Salesforce, Square, Twitter, Microsoft, and PayPal. Nos. 26-72 reflect the rest. Note that this list grows by the day.
Affirm Inc.
Zynga Inc. (Nasdaq: ZNGA)
Lyft
SV Angel
Ebay Inc. (Nasdaq: EBAY)
YCombinator
Zillow Group Inc. (Nasdaq: Z)
Mixbit
Homejoy
Evernote Corp.
IfOnly (Traina Interactive Corp.)
Nextdoor
NextLesson
Quip
Formation 8
Elance-oDesk Inc.
Path
BackOps
North Technologies
Jawbone
Cisco Systems Inc. (Nasdaq: CSCO)
About.me
Sidecar Technologies Inc.
Sequoia Capital
Glassdoor
Emerson Collective
Alphalight
ThirdLove
SherpaVentures
Tumblr Inc.
LinkedIn Corp. (NYSE: LNKD)
Gilt
Bebo Inc.
Braintree
Shutterstock Inc. (NYSE: SSTK)
Dropbox
Spark Capital
ZestFinance
RedOxygen
eMaint.com
Tippling Point Community
Box Inc. (NYSE: BOX)
Gogobot
Webtrends Inc.
First Round Capital
RealNetworks Inc. (Nasdaq: RNWK)
Intel Corp. (Nasdaq: INTC)
Tweet the author @TaraKateClarke to join the conversation.
Read More: