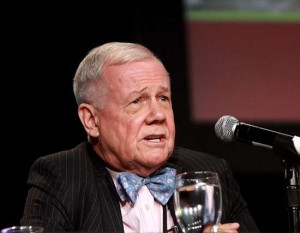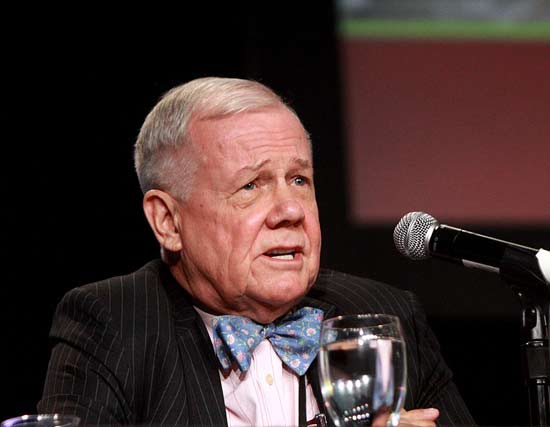 When Jim Rogers speaks, investors listen.
His Quantum Fund gained 4,200% to the S&P 500's 47% from 1973-1983 - just one feat exemplary of Rogers' market intuitiveness. The commodities guru is credited with calling the bottom in oil prices in the late 1990s.
On Aug. 24 - "Black Monday" - Jim Rogers appeared in an interview with BBC's Radio 4.
At the time, the Dow Jones Industrial Average had just seen its largest intraday decline in its 133-year history. It fell 1,089 points after the opening bell that day, ultimately closing down 586 points. The S&P 500 came within 34 points of triggering a market-wide circuit breaker.
The stock market sell-off took its toll on commodities...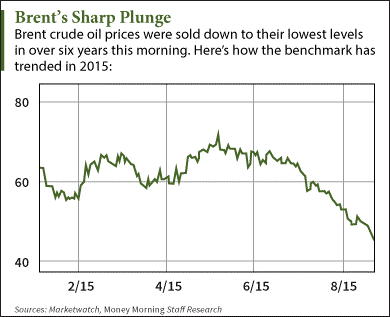 Brent crude oil prices also slid into a free fall. The international benchmark has plummeted 18.8% in August so far, dipping below $44 a barrel. Futures have fallen 38.6% from the 2015 high of $69.94 seen just over three months ago.
WTI crude oil prices have fallen even more - the U.S. benchmark has tumbled 20% this month, 34.6% this year, to hit below $39 a barrel. [Editor's Note: Will oil prices recover from the "Black Monday" crash? Get our analysis here...]
There are ample reasons to be pessimistic about commodities right now.
But according to the famously contrarian Rogers, investors shouldn't rule out a comeback for the depressed sector...
Jim Rogers Interview Optimistic on Commodity Prices
"As far as commodities are concerned, it's all about supply and demand, and you're having huge cutbacks in supply," Rogers told BBC's Radio 4. "We're already having supply problems in some agricultural products, and we're going to have problems with oil products."
"So I don't think that the bull markets in commodities have gone away forever, because supply is going to be a [factor]. You can have a bull market with flat demand or even declining demand if supply is not there."
Of course, oil prices in particular have been under pressure since last summer. The U.S. shale and fracking boom and high oil production have created a supply glut.
Still, according to Rogers, the oil market is perfectly capable of curing itself...
"One old saying in the investment world is that the cure for low prices is low prices. They solve themselves as supply dries up," Rogers said. "Oil reserves have been declining all over the world. We've been consuming more than we've been finding, and now the frackers are out of business. Or will be out of business soon, they may not know it yet, but they are going to be out of business soon. So don't give up on commodities."
[epom key="ddec3ef33420ef7c9964a4695c349764" redirect="" sourceid="" imported="false"]
Tweet the author @TaraKateClarke, or leave a comment on Money Morning's Facebook page.
Commodity Prices Today vs. 1999: Commodity prices hit their lowest level of the 21st century on "Black Monday." The Bloomberg Commodity Index, which tracks the movement of 22 raw materials, fell to new lows following the worldwide market sell-off. This chart shows how the commodity index has trended over the last 16 years...
Related Articles:
[epom key="af2c76260947049b29e0c934424e4536" redirect="" sourceid="" imported="false"]