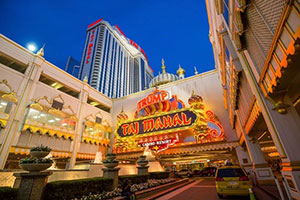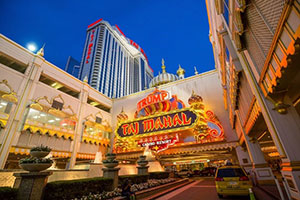 The Trump Taj Mahal in Atlantic City, N.J.
This morning, Republican presidential candidate and presumptive nominee Donald Trump revealed a host of economic policy initiatives he has in mind for when he's commander in chief.
In an interview with CNBC, the billionaire businessman said his primary goal is to clear the way for U.S. corporations to succeed…
First, Trump stated he would scrap a slew of federal regulations that he deems even more burdensome on U.S. corporations than high taxes.
"We're lowering taxes very substantially and we're going to be getting rid of a tremendous amount of regulations," Trump proclaimed.
He didn't specify which regulations he'd do away with, however.
The real estate mogul also said that, for now, he supports the Fed's current low-interest-rate policy. (The Fed initially cut rates to 0% in 2008 and raised them slightly to 0.25% last December.) "Let's be honest," he said, "I'm a low-interest-rate person."
But Trump stopped short of praising activity by the U.S. Federal Reserve any further.
In fact, he mentioned replacing Fed Chair Janet Yellen when her term expires in 2018…
Donald Trump Wants America to Refinance Its Debt
"I have nothing against Janet Yellen whatsoever," Trump expounded to CNBC. "She's a very capable person. But she's not a Republican. When her time is up, I would most likely replace her because of the fact that I think it would be appropriate."
Trump then discussed the idea of raising interest rates — and the impact doing so would have on the U.S. dollar and American businesses.
"If we raise interest rates and if the dollar starts getting too strong," Trump explained, "we'll have some very major problems."
He also speculated on the impact of U.S. debt if rates were to rise.
"I am the king of debt, I love playing with it, but now we're talking about something very, very fragile," he said, before revealing how he'd like to refinance some of America's debt to help pay for infrastructure repairs.
Trump has experience in successfully restructuring his business debt. In 2003, he refinanced three of his Atlantic City casinos – Trump Marina Hotel Casino, Trump Plaza Hotel & Casino, and Trump Taj Mahal Casino Resort – that were $475 million in the hole.
"Part of the problem is when a lot of this debt comes due, what happens if the rates are high and we have no budget that can even conceivably take care of this," Trump said.
If interest rates go up just 1%, Trump warned, it would be devastating for the economy.
Here's the full interview:
Donald Trump tells CNBC that he would like to replace Fed Chair Janet Yellen on May 5, 2016.
Follow us on Twitter @moneymorning or like us on Facebook.
"Berning" the Books: In his speeches, Democratic presidential hopeful Bernie Sanders typically has sharp words when it comes to U.S. corporate taxes. He says U.S. companies don't pay their "fair share." And a new study by the Government Accountability Office (GAO) – a study Sanders requested – backs up the claim. Here's more on how and why U.S. corporate taxes never get fixed…