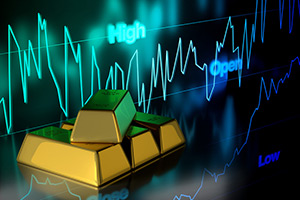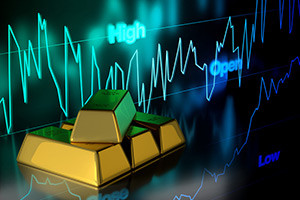 Gold stocks have been one of the stellar market outperformers in 2016 – and it's not too late to shop for some top gold stocks to buy now.
So far, the price of gold per ounce has climbed over 25% this year. The stocks of gold mining companies are up much more than the stock market averages, with double- and even triple-digit gains on the year.
Investors now asking "which gold stock should I buy?" have a few choices, as there's not just one gold stock to buy to profit from this trend of rising prices.
Below, we look at three gold stocks to buy now to profit from the rising yellow metal price…
Factors Supporting the Climb in Gold Stocks and Prices
First, why has gold soared so much in 2016?
The first reason is demand. Gold coin sales, for example, hit record levels this year. Big banks, both here and abroad, are buying up gold. Deutsche Bank AG USA, for instance, invested approximately $2 billion in gold miner shares.
Central banks also hold large quantities of gold. In 2013, the Swiss National Bank had $500 million in gold.
The second reason for a rise in gold stocks and prices is the sluggish global economy, in which gold is an alternative investment to bonds. Both in the United States and worldwide, central banks are holding their interest rates at record lows or (in many European countries) have pushed them into negative territory.
Trending Now: How to Profit from These "Living Dead" Firms as the Fed Keeps Them on Life Support
That raises two issues. First, low and negative rates are intended to stimulate the economy. How low can they go if economies remain not stimulated enough to show robust GDP increases? Second, investors looking at the bond markets are not stimulated to buy. U.S. investors would receive record low returns. Global investors are essentially paying some European central banks to hold their money, rather than being paid themselves.
The impact of Brexit – the late June vote by the UK to exit the European Union it's been part of for decades – is also negatively impacting the global economy. It will take at least two years to negotiate the terms, and a shrinking world economy is likely to be one outcome in that time.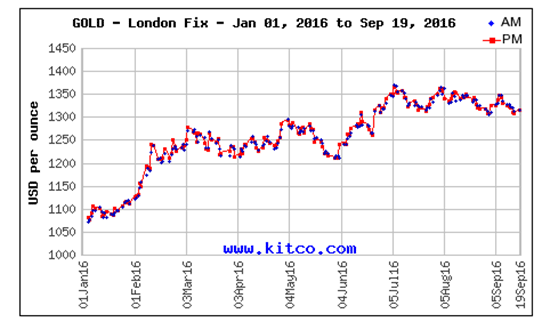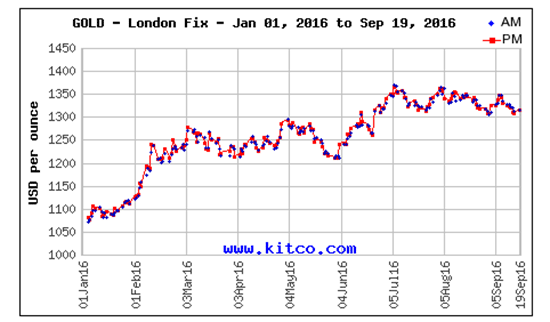 The third reason gold stocks and prices are up is the yellow metal's role as a safe-haven investment. Investors go to gold when economies are weak, markets drop, and the political environment is uncertain. Given the slack in corporate profits, markets are not safe from extreme decline going forward. The U.S. and European political scenes are both uncertain. Gold is the beneficiary.
So the question is not if gold stocks should be considered, but rather, it is more about which gold stocks to buy.
Peter Krauth, Money Morning's Resource Investing Specialist, forecasts a gold price per ounce of $1,500 by year-end. That's a more than 11% increase from current levels.
Not only that, but Krauth's estimate for 2020 gold prices per ounce is a whopping $5,000. That's more than 272% higher than prices today.
So, when it comes to answering which gold stock to buy, here are three suggestions.
Gold Stocks to Buy: The Top Pick Gold Miner
One of our favorite gold stocks to buy now is Goldcorp Inc. (NYSE: GG).
GG stock has risen 43% so far in 2016. And it's not done yet.
Money Morning Executive Editor Bill Patalon forecasts that GG could provide investors with a potential 35% gain from current levels. Of this outperforming gold mining sector, GG is positioned the best for the future.
GG has focused heavily over the last several years on cutting costs and spending. As a result, it leads the list of efficient gold mining companies.
Its reduced costs have also equaled impressive cash flows. Goldcorp management has let analysts know that it expects operating costs this fiscal year to be even lower. They forecast production levels at gold of 2.8 million to 3.1 million ounces. Their "all-in sustaining cost" is $850 to $935 per ounce.
Ryan McIntyre, a senior investment analyst at Tocqueville Asset Management, sets GG's target price at $23 per share, approximately 35% above the current price, $16.98. A survey of a group of analysts reveals an average price expectation of $26.50.
Gold Stocks to Buy: A More Than 100% Return in 2016