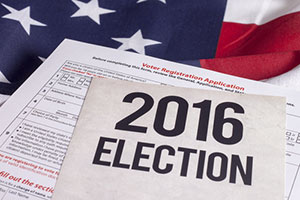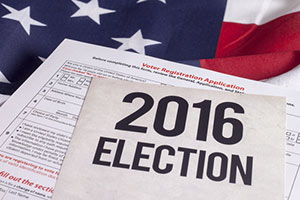 The biggest mover of the stock market today (Monday) is tomorrow's U.S. presidential election.
Stocks, commodities, and currencies are all extremely volatile today as we await the most contentious presidential election in memory. The biggest election news today is the FBI announcing it found no evidence to warrant charges against Hillary Clinton.
Shortly after the opening bell, the Dow Jones Industrial Average surged 237 points, or 1.3%, to 18,125. The blue-chip benchmark extended those gains in morning trading, with the Dow up nearly 2% by 2:00 p.m.
The S&P 500 climbed 1.3% on the open. By midmorning, the broad-based benchmark was up 1.61% to 2,119.70. That marked its biggest gain since Sept. 12. It also put the index on track to end a string of nine consecutive down sessions – its longest losing streak in nearly 36 years.
Up Next: Get the Best Investing Research Today to Grow Your Money
The Nasdaq jumped 1.82% to 5,138.27.
But it wasn't just U.S. markets that saw big price swings today. Here's how the 2016 presidential election is impacting global stock markets today, and commodities…
How the Stock Market Today Is Reacting to Election News
The rally in the stock market today started overseas. Stocks across Europe and Asia were also higher on Monday. The peso soared 2.1% against the dollar. The Mexican currency has been weighed down in 2016 by a possible Donald Trump win.
With the FBI signaling it has put an end to the Clinton email investigation, many investors believe Clinton has revitalized her chances of winning Tuesday's election. It also removes the uncertainty of possible additional revelations about a potential Clinton administration.
The latest Wall Street Journal/NBC News poll shows Clinton holding a four-point lead over Donald Trump. That's an improvement over recent polls. Yet it's less than half the 11-point lead she held in a mid-October survey before the most recent FBI investigation.
Many investors believe a Clinton victory, at least in the near term, would be more supportive of stocks. That short-term stretch of market calm in the wake of a Clinton win would also help keep the U.S. Federal Reserve on pace to hike interest rates at the December FOMC meeting.
That thinking gave the U.S. Dollar Index a boost today, too.
The Wall Street Dollar Index, which measures the greenback against a basket of 16 currencies, was last up 0.61% at 88.06.
The CBOE Volatility Index, better known as the VIX, dramatically dropped. After trending higher over the last several weeks, the market's fear gauge was last down 16.93% at 18.70.
Meanwhile, a stronger dollar and a return to riskier assets pressured precious metals. Gold prices fell 1.74%, or $22.70, to $1,280.30 in morning trading. Silver prices slid 1.55% to $18.22.
The yield on the 10-year U.S. Treasury note rose to 1.817%, up from 1.783% on Friday. Yields move inversely to prices.
Despite today's sharp stock gains, an air of uncertainty continues to hang over markets.
Numerous polls show a tight race. And with the Brexit surprise still fresh, polling information cannot be taken for granted.
One thing is certain. The action in the stock market today signals that something big is about to happen. Tuesday's election will either clear the cloud of uncertainty that's been cloaking markets, or that uncertainty will linger longer and loom larger.
Up Next: This penny stock has much more than just triple-digit profit potential…
Follow us on Twitter @moneymorning and like us on Facebook.
Related Articles: